The Bride from Odessa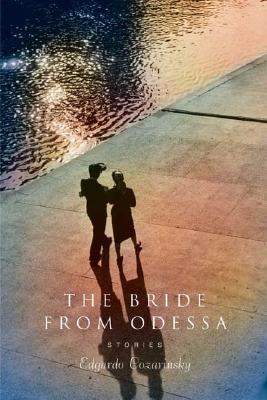 The Bride from Odessa
Stories
Farrar, Straus and Giroux, Hardcover, 9780374116736, 176pp.
Publication Date: September 1, 2004
* Individual store prices may vary.
Not Currently Available for Direct Purchase
or
Shop Local
Enter your zip code below to purchase from an indie close to you.
Description
Set in Buenos Aires, Lisbon, Vienna, Budapest, and Odessa, both before and after World War II, the eleven stories in The Bride from Odessa belong to a great Argentine cosmopolitan tradition: that of the uprooted exile, the plaything of history, who sets down in a strange but proud land and looks back nostalgically to the Europe of his ancestral memory.

Edgardo Cozarinsky's characters are writers, lovers, scholars, artists, and dreamers. An ambitious young Jew, about to marry and embark for a new life in Argentina, is accosted by an unknown woman who departs with him to Buenos Aires; a pianist in a Buenos Aires nightclub finds himself drawn back to Germany in 1937; an Argentine-American Jew travels to Lisbon to unravel the threads of his grandparents' wartime affair. The Bride from Odessa describes a secret land without borders--it is provocative and mysterious fiction of the highest order.
About the Author
Edgardo Cozarinsky was born in Buenos Aires in 1939 and has lived in Paris since 1974. Best known for his subtle semi-documentary films, he has also written a previous collection of short stories, Urban Voodoo, and prizewinning essays.
Praise For The Bride from Odessa…
"Elegant, cool, precise...Any examination of the past is necessarily incomplete and Cozarinsky has found the perfect form in these fragmentary stories." - -The Times Literary Supplement

"A profound knowledge of the cultures of Mitteleuropa, of the literatures of France, the United States and Britain gives Cozarinsky's narratives a fiery intellectual strength and a powerful originality. The Bride from Odessa, in its deceptively quiet manner, belongs on the same shelf as those other sceptical masterpieces, the novels of Joseph Roth and the memoirs of Julien Green." -- Alberto Manguel

"[The Bride from Odessa is] a collection of short stories so finely conceived and wrought as to be simultaneously works of art and yet apparently as natural as breathing...These stories sing, all of them, laments for the cruelties and disappointments of life. But they also speak, wonderfully, of the courage that men and women bring to the business of just keeping going." --Alan Massie, The Scotsman

"Cozarinsky achieves more in a few pages than most writers manage in three or four hundred." --Josh Lacey, The Guardian

"Brilliant... This book is a collection of strange fragments, disturbing fables rich in the sensual detail of places." --Matthew Reisz, The Independent