Crossing State Lines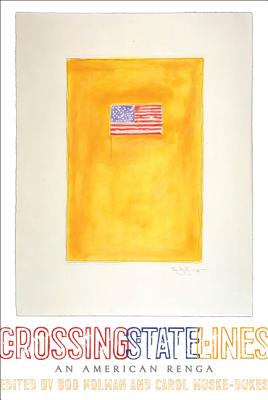 Crossing State Lines
An American Renga
Farrar, Straus and Giroux, Hardcover, 9780374132132, 80pp.
Publication Date: March 29, 2011
* Individual store prices may vary.
Buy Now
or
Shop Local
Enter your zip code below to purchase from an indie close to you.
Description
A collaborative poem about America, from fifty-four of our best poets
"Crossing State Lines" "An American Renga" is a poetic relay race across the continent: fifty-four poets responding to ideas of America and to each other. This is a collaborative journey of impressions from the election and inauguration of President Obama, through foreclosures, job losses, chords of country music, and bombs in Baghdad, to a poet-soldier's rifle-sight in Afghanistan.
The renga itself, in the ancient tradition of Japanese linked verse, provides the form of this historic conversation among the poets, as they meditate, within ten lines, on a moment in America. "Crossing State Lines "begins with Robert Pinsky's recounting of a line of poetry by Lincoln as fall deepens and "maples / kindle in the East," and ends some five hundred lines later, with Robert Hass's "greeny April" on the Pacific coast.
All proceeds from sales go to America: Now and Here.
About the Author
Recently dubbed a member of the "Poetry Pantheon" by the New York Times Magazine and featured in a Henry Louis Gates, Jr. profile in The New Yorker, Bob Holman has previously been crowned "Ringmaster of the Spoken Word" (New York Daily News), "Poetry Czar" (Village Voice), "Dean of the Scene" (Seventeen), and "this generation's Ezra Pound" (Poetry Flash).

Carol Muske-Dukes is the author of eight books of poems, four novels, and two essay collections, and is an editor of two anthologies, including "Crossing State Lines: An American Renga", which she coedited with Bob Holman. Many of her books have been New York Times Notable selections. Muske-Dukes is a professor of English and creative writing at the University of Southern California, where she founded the PhD program in creative writing and literature, and she recently fulfilled her appointment as poet laureate of California, appointed by the governor's office. Her poetry collection "Sparrow" was a National Book Award finalist and she is a six-time Pushcart Prize winner. She writes for the "New York Times Book Review "and the "New York Times "op-ed page, the "Los Angeles Times", the Huffington Post, and the "New Yorker"'s "Page-Turner" blog. Her poems have been published and anthologized widely, including in several editions of "Best American Poetry". Muske-Dukes has been the recipient of a Guggenheim Fellowship, a National Endowment for the Arts grant, a Library of Congress award, Barnes & Noble's Writer for Writers Award, and many other honors. She lives in Southern California and New York.