Paper Lantern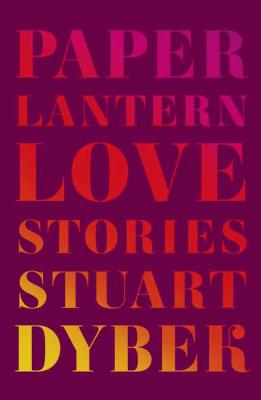 Paper Lantern
Love Stories
Farrar Straus Giroux, Hardcover, 9780374146443, 207pp.
Publication Date: June 3, 2014
* Individual store prices may vary.
Buy at Local Store
Enter your zip code below to purchase from an indie close to you.
or
Buy Here
Description
A new collection of short stories by a master of the form with a common focus on the turmoils of romantic love
"Ready "
"""Aim "
"On command the firing squad aims at the man backed against a full-length mirror. The mirror once hung in a bedroom, but now it's cracked and propped against a dumpster in an alley. The condemned man has refused the customary last cigarette but accepted as a hood the black slip that was carelessly tossed over a corner of the mirror's frame. The slip still smells faintly of a familiar fragrance."
So begins "Tosca," the first in this vivid collection of Stuart Dybek's love stories. Operatically dramatic and intimately lyrical, grittily urban and impressionistically natural, the varied fictions in "Paper Lantern" all focus on the turmoil of love as only Dybek can portray it. An execution triggers the recollection of a theatrical romance; then a social worker falls for his own client; and lovers part as giddily, perhaps as hopelessly, as a kid trying to hang on to a boisterous kite. A flaming laboratory evokes a steamy midnight drive across terrain both familiar and strange, and an eerily ringing phone becomes the telltale signature of a dark betrayal. Each story is marked with contagious desire, spontaneous revelation, and, ultimately, resigned courage. As one woman whispers when she sets a notebook filled with her sketches drifting out to sea, "Someone will find you."
Some of Dybek's characters recur in these stories, while others appear only briefly. Throughout, they and we are confronted with vaguely familiar scents and images, reminiscent of love but strangely disconcerting, so that we might wonder whether we are looking in a mirror or down the barrel of a gun. "After the ragged discharge," Dybek writes, "when the smoke has cleared, who will be left standing and who will be shattered into shards?" "Paper Lantern" brims with the intoxicating elixirs known to every love-struck, lovelorn heart, and it marks the magnificent return of one of America's most important fiction writers at the height of his powers.
About the Author
Born and raised on the southwest side of Chicago, Stuart Dybek teaches in the writing program at Western Michigan University. He is the author of a short story collection, "The Coast of Chicago," and a book of poetry," Brass Knuckles," as well as the forthcoming fiction, "I Sailed with Magellan," and a new collection of poetry, "Streets in Their Own Ink," His award-winning poetry and fiction have appeared in numerous magazines, including "The New Yorker," "The Atlantic Monthly," "Harper's," "The Iowa Review," "Antaeus," and "Ploughshares,"
Praise For Paper Lantern…
Praise for I Sailed with Magellan

"Dybek's gift—a considerable one—is a sorcerer's ability to commix the commonplace and the grotesque." —Los Angeles Times

"Spellbinding stories that are, by turns, hilarious, stunning and tragic, but always deeply moving, genuine and compassionate." —Chicago Tribune
Monday, Jun 23, 2014
The stories in Stuart Dybek's latest collection concern themselves with strong feelings, and sometimes with crazed longings. Reviewer Meg Wolitzer finds them "a little alarming, a little wonderful." More at NPR.org