Faithful and Virtuous Night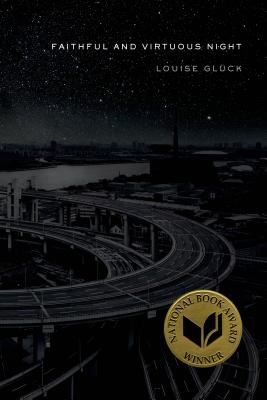 Faithful and Virtuous Night
Farrar Straus Giroux, Hardcover, 9780374152017, 71pp.
Publication Date: September 9, 2014
* Individual store prices may vary.
Buy Now
or
Shop Local
Enter your zip code below to purchase from an indie close to you.
Description
Winner of the 2014 National Book Award for Poetry
A luminous, seductive new collection from the "fearless" ("The New York Times") Pulitzer Prize winning poet
Louise Gluck is one of the finest American poets at work today. Her "Poems 1962 2012 "was hailed as "a major event in this country's literature" in the pages of "The New York Times." Every new collection is at once a deepening and a revelation. "Faithful and Virtuous Night" is no exception.
You enter the world of this spellbinding book through one of its many dreamlike portals, and each time you enter it's the same place but it has been arranged differently. You were a woman. You were a man. This is a story of adventure, an encounter with the unknown, a knight's undaunted journey into the kingdom of death; this is a story of the world you've always known, that first primer where "on page three a dog appeared, on page five a ball" and every familiar facet has been made to shimmer like the contours of a dream, "the dog float ing] into the sky to join the ball." "Faithful and Virtuous Night "tells a single story but the parts are mutable, the great sweep of its narrative mysterious and fateful, heartbreaking and charged with wonder.
About the Author
Louise Gluck won the Pulitzer Prize for The Wild Iris in 1993. The author of eight books of poetry and one collection of essays, Proofs and Theories: Essays on Poetry, she has received the National Book Critics Circle Award for Poetry, the William Carlos Williams Award, and the PEN/Martha Albrand Award for Nonfiction. She was named the next U.S. poet laureate in August 2003. Her most recent book is The Seven Ages. Louise Gluck teaches at Williams College and lives in Cambridge, Massachusetts.
Praise For Faithful and Virtuous Night…
Praise for Poems 1962–2012 "Ms. Glück's new and career-spanning Poems 1962–2012 is a major event in this country's literature, perhaps this year's most major . . . Put together, these compact volumes have a great novel's cohesiveness and raking moral intensity. They display a supple and prosecutorial mind interrogating not merely her own life but also the sensual and political nature of the world that spins around it." —Dwight Garner, The New York Times