All We Know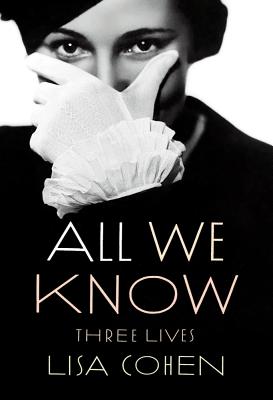 All We Know
Three Lives
Farrar, Straus and Giroux, Hardcover, 9780374176495, 448pp.
Publication Date: July 17, 2012
* Individual store prices may vary.
Not Currently Available for Direct Purchase
or
Shop Local
Enter your zip code below to purchase from an indie close to you.
Description
Esther Murphy was a brilliant New York intellectual who dazzled friends and strangers with an unstoppable flow of conversation. But she never finished the books she was contracted to write a painful failure and yet a kind of achievement.
The quintessential fan, Mercedes de Acosta had intimate friendships with the legendary actresses and dancers of the twentieth century. Her ephemeral legacy lies in the thousands of objects she collected to preserve the memory of those performers and to honor the feelings they inspired.
An icon of haute couture and a fashion editor of British "Vogue," Madge Garland held bracing views on dress that drew on her feminism, her ideas about modernity, and her love of women. Existing both vividly and invisibly at the center of cultural life, she like Murphy and de Acosta is now almost completely forgotten.
In "All We Know," Lisa Cohen describes these women's glamorous choices, complicated failures, and controversial personal lives with lyricism and empathy. At once a series of intimate portraits and a startling investigation into style, celebrity, sexuality, and the genre of biography itself, "All We Know" explores a hidden history of modernism and pays tribute to three compelling lives.
"All We Know "is one of "Publishers Weekly"'s Top 10 Best Books of 2012.
About the Author
Lisa Cohen is a self-taught artist who was born in Cape Town, South Africa. She moved to the United States in the early 1980s, eager to embrace freedom of expression. She paints and lives in New Orleans with her family.

Eliot A. Cohen is the Robert E. Osgood Professor of Strategic Studies at the Paul H. Nitze School of Advanced International Studies (SAIS) of the Johns Hopkins University and founding director of the Philip Merrill Center for Strategic Studies there. A graduate of Harvard College, he received his Ph.D. in political science at Harvard in 1982. After teaching at Harvard and at the Naval War College (Department of Strategy) he served on the policy planning staff of the Office of the Secretary of Defense, coming to SAIS in 1990. His most recent book is "Supreme Command: Soldiers, Statesmen, and Leadership in Wartime" (Free Press, 2002): other books include (with John Gooch) "Military Misfortunes: The Anatomy of Failure in War". In 1991-93 he directed the US Air Force's official multi-volume study of the 1991 Gulf War, the "Gulf War Air Power Survey". He has served as an officer in the United States Army Reserve, and as a member of the Defense Policy Advisory Board of the Office of the Secretary of Defense as well as other government advisory bodies.
Praise For All We Know…
"Splendid . . . [A] sophisticated, droll and astute triple biography. [Cohen] had me underlining ideas and facts on the majority of its quick-moving pages . . . The photographs are strikingly integrated with the text, the times and topics are riveting, and Cohen is exceedingly well-matched to her subjects—sly, comfortable with contradiction, confident that these flawed figures were important, not mere accents to the company they kept . . . Part of the joy of All We Know is the sharpness of the subjects; they write wittily of themselves, each other and innumerable compatriots in the cultural centers of Europe and the United States, often in dazzling style."—Karen R. Long, The Plain Dealer (Cleveland)

"Enchanting . . . Eloquent . . . Marvelous . . . Grand and thrilling . . . [A] strikingly elegant and assured biographical study of three now almost forgotten lesbian women . . . [All We Know]'s strength lies in the extraordinary, exfoliating, anatomy-like mass of detail [Cohen] has uncovered about her subjects: her tender, erudite, weirdly jubilant, often microscopic work of historical and biographical recovery . . . You are stunned by its depths; and you hope its excellence and pertinence and originality will not lead, doomfully, to its sinking without a trace, as fine things connected with the subject of lesbianism have had a way of doing for so long. It's a major work of scholarship and interpretation." —Terry Castle, London Review of Books

"[A] tour de force examination of the intersecting roles of gender, sexuality, class, literature, art, fashion, and modernism . . . Throughout this brilliant and gorgeously written book runs an undercurrent of deep sympathy and an acute eye for revealing details."—Kate Tuttle, The Boston Globe
"Provocative and beautifully paced . . . [A] superbly satisfying book . . . By bringing these three footnotes into the spotlight, Ms. Cohen allows us to look deeper into our definitions of failure, identity and modernity, while also reappraising the stature of artfulness as opposed to art."—Laura Jacobs, The Wall Street Journal
"[A] magisterial book . . . All We Know is really much more about reflecting on lives (especially in the case of de Acosta) than about chronicling them. Experimental biography, if such a genre can be said to exist, is a high-wire act. Cohen never loses her balance . . . There's no hint of mess in this almost perfect book."—Craig Seligman, Bloomberg News
"[A] seductive, brilliant new book . . . Meticulously researched and compulsively readable . . . [Cohen's] treatment of these larger-than-life and, often, destructive figures is coolly appreciative; though unflinching in her analysis of their failings, she is never judgmental . . . Cohen's account of the paradoxes of history and temporality is as notable for its light touch as it is for its subtlety and depth. A monument to great achievement as well as to incompleteness, All We Know does justice to both the distortions and the truths of these three lives . . . To say that All We Know is a biography does not really capture its complexity, surprise, or sheer interest . . . In her attention to the multiple connections between her major figures and to the shaping influence of informal social worlds, Cohen has written something larger and more ambitious [than a biography]: All We Know is the story of a milieu as much as it is an account of individual lives, and a remarkably subtle and thoughtful treatment of sexual desire, identity, and the cruelty of history."—Heather Love, Los Angeles Review of Books
"Fascinating . . . Vivid . . . A gossipy yet deeply intellectual account of the first generation of women who considered themselves 'modern' . . . All We Know is a revolutionary take on the genre of biography, aiming not so much at each of its three subjects but at their generation and how it struggled to invent female personhood for the 20th century."—Bethany Schneider, Newsday
"Fascinating . . . a boldface name—stuffed triptych of undeservedly little-known modernists: the intellectual and would-be biographer Esther Murphy, the arts enthusiast Mercedes de Acosta, and the feminist and British Vogue fashion editor Madge Garland, whose observations—'fashion is both personal and ephemeral, it cannot be preserved'—hint at a fleeting beauty that defined all three."—Megan O'Grady, Vogue
"Reading All We Know is like taking to a well-sprung dance floor in the arms of someone who can't put a foot wrong."—Hilary Spurling, author of Matisse the Master
"All We Know is a remarkable book about three extraordinary women. These serious and eccentric women have been rescued from oblivion by Lisa Cohen's absorbing book. She turns conventional biography upside down and inside out. This is a deeply researched, skillful, and entertaining trilogy of overlapping stories."—Michael Holroyd, author of A Book of Secrets
"[A] remarkable, sui generis study . . . [Cohen is] a brilliant biographer, one who marries scholarship to literature in a totally unprecedented way."—Hilton Als, The New Yorker
"In her deeply researched, incisive, and scintillating first book, Cohen presents a triptych of brief lives portraying now forgotten but nonetheless singular women whose intelligence, passion, creativity, daring, and charisma were shaping forces in modern culture . . . Cohen's astute, graceful, and far-reaching profiles not only acquaint us with three extraordinary, innovative, and influential women who rejected gender expectations but also illuminate the essential visions and voices twentieth-century lesbians and gays brought to evolving modernity."—Donna Seaman, Booklist (starred review)
"Woven through the history of modernism are glittering strands of lives that seem certain to fade from the historical record, but without whom the fabric of that great cultural upheaval would lose color and design. In an unfathomable feat of research and storytelling, Lisa Cohen recovers three of those lives and suggests that the ephemeral nature of their legacies is central to their importance in their own time—and in ours."—Honor Moore, author of The Bishop's Daughter
"An astonishingly original, scholarly, sensitive, and above all beautifully written work."—Selina Hastings, author of The Secret Lives of Somerset Maugham
"Staggering . . . Astounding . . . Lush . . . Cohen writes with an outstanding amount of research and knowledge . . . Cohen has such a masterful command of information that the story never stops fascinating the reader."—Courtney Gillette, Lambda Literary
"Lisa Cohen has written a stunning, sophisticated account of three unconventional lives. Following in the noble tradition of Gertrude Stein's Three Lives, David Plante's Difficult Women, and Hilton Als's The Women, Cohen's triumvirate narrative illuminates mysteries of taste, innuendo, fashion, fandom, conversation, and sexuality. Heroically researched and deliciously readable, All We Know is a tender homage to archives, to ephemera, to fruitless quests, and to a spent life's haunting nuances."—Wayne Koestenbaum, author of Jackie Under My Skin
"Ambitious . . . Erudite . . . [A] meticulously researched biography."—Kirkus Reviews
"This well-researched, gossipy, informative, and entertaining biographical triptych is also a thoughtful, three-part inquiry into the meaning of failure, style, and sexual identity . . . Cohen secures a definitive place for [Esther Murphy, Mercedes de Acosta, and Madge Garland] in the socio-cultural history of the period."—Publishers Weekly (starred review)
"Lisa Cohen's All We Know is a remarkable achievement. Cohen's sensitivity to the nuances of personality is matched by a keen analytic intelligence. She has a strong narrative gift, a superb way with words, and an appreciation for oddity that expands the horizon. All We Know is an utterly fascinating, brilliantly executed book—a splendid act of historical reclamation."—Martin Duberman, author of Stonewall
"In All We Know, Lisa Cohen sets out to resurrect three almost-forgotten women who, especially in the 1920s and '30s, were boldface names in the literary, art, and fashion whirl of London, Paris, and New York. And she succeeds beautifully."—Annalyn Swan, author of de Kooning
"Lisa Cohen is a biographer's biographer. In her riveting and highly original All We Know, she tells a vivid tale of the interlocking lives of three women of the past century—a brilliant talker, an intimate of both Garbo and Dietrich, a fashion editor—and of the soigné bisexual world they inhabited."—Brad Gooch, author of Flannery
"With an accessible prose style free of academic jargon, Cohen brings deserved attention to these women who lived often in conflict with themselves and their age. Strongly recommended."—Margaret Heilbrun, Library Journal
Saturday, Jan 19, 2013
Just nominated for the National Book Critics Circle Award, Lisa Cohen's biography All We Know: Three Lives follows the stories of three women of the early 20th century. "I wanted to write a book that wasn't just about one great person," Cohen says, "but about a kind of collectivity." More at NPR.org