My American Revolution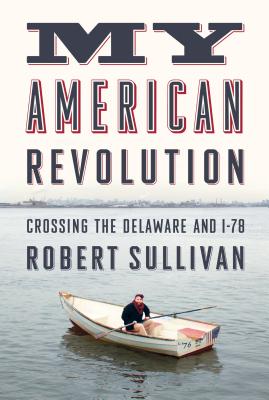 My American Revolution
Farrar Straus Giroux, Hardcover, 9780374217457, 259pp.
Publication Date: September 4, 2012
* Individual store prices may vary.
Buy at Local Store
Enter your zip code below to purchase from an indie close to you.
or
Not Currently Available for Direct Purchase
Description
Americans tend to think of the Revolution as a Massachusetts-based event orchestrated by Virginians, but in fact the war took place mostly in the Middle Colonies in New York and New Jersey and the parts of Pennsylvania that on a clear day you can almost see from the Empire State Building. In "My American Revolution," Robert Sullivan delves into this first Middle America, digging for a glorious, heroic part of the past in the urban, suburban, and sometimes even rural landscape of today. And there are great adventures along the way: Sullivan investigates the true history of the crossing of the Delaware, its down-home reenactment each year for the past half a century, and toward the end of a personal odyssey that involves camping in New Jersey backyards, hiking through lost "mountains," and eventually some physical therapy he evacuates illegally from Brooklyn to Manhattan by handmade boat. He recounts a Brooklyn historian's failed attempt to memorialize a colonial Maryland regiment; a tattoo artist's more successful use of a colonial submarine, which resulted in his 2007 arrest by the New York City police and the FBI; and the life of Philip Freneau, the first (and not great) poet of American independence, who died in a swamp in the snow. Last but not least, along New York harbor, Sullivan re-creates an ancient signal beacon.
Like an almanac, "My American Revolution "moves through the calendar of American independence, considering the weather and the tides, the harbor and the estuary and the yearly return of the stars as salient factors in the war for independence. In this fiercely individual and often hilarious journey to make our revolution his, he shows us how alive our own history is, right under our noses.
About the Author
Robert Sullivan is the author of "The Meadowlands" and "A Whale Hunt," both "New York Times" Notable Books of the Year, and a recipient of a National Endowment for the Arts creative writing fellowship. A contributing editor to "Vogue," he is a frequent contributor to the "New Yorker," His work has also appeared in "Conde Nast Traveler" and the "New York Times Magazine," He lives in Hastings-on-Hudson, New York.

Praise For My American Revolution…
Praise for My American Revolution:
"Imagine Herodotus on steroids, not rambling in a roughly straight line from Cyrus to Xerxes, but diverging onto untrodden paths that transmogrify into fluvial streams of consciousness. That sort of detour through history pretty much sums up the quixotic scenic route Robert Sullivan travels in his winsome book My American Revolution. Following up on the captivating volumes about the New Jersey Meadowlands, rats and cross-country excursions, Sullivan has written a provocative Baedeker for a landscape of loss . . . We may never learn for certain what Sullivan himself is revolting against, but it's a good bet that convention and linearity are among his targets. He approaches them with gusto, not only chronicling reenactments of 'Washington Crossing the Delaware,' but embarking on his own 33-mile march to Morristown, NJ . . . My American Revolution gives geography and meteorology overdue recognition as historical catalysts, pointing out, for example, that strategically placed 18th-century signal points metamorphosed into cold war missile sites and finally into 9/11 memorials, in a trajectory that suggests a continuum. A revolution, after all, is something that orbits, or comes full circle, which Sullivan eventually does in a world 'before straight lines ruled the day.' The reader more or less returns to the starting point, but with a brand-new perspective. What a trip!" —Sam Roberts, The New York Times Book Review
"A nostalgic, witty, and always informative topographic retrospective of the sites pertinent to the American Revolution takes Vogue contributing editor and journalist Sullivan to the action seen by the middle colonies especially—New York, Connecticut, and New Jersey . . . Sullivan's historic anecdotes form a loose-limbed, irreverent, surprising take on American history." —Publishers Weekly
"Engaging, humorous, and often surprising . . . Sullivan combines solid historical knowledge, sensitivity to the physical landscape, and a wry sense of the absurdities inherent in mythmaking to provide a thoroughly enjoyable and original perspective."—Booklist
Historical reenactors refer to what they do as 'living history,' the idea being that it's easier to learn from a three-dimensional experience than is from a book or lecture, because it establishes a physical connection with the past. It was something like this desire, familiar to most amateur history buffs, that drove Sullivan . . . to relive some of the iconic deeds of American Revolution, such as crossing the East River to Manhattan in a small boat in homage to George Washington's escape after the disastrous Battle of Brooklyn. Sullivan is himself a New Yorker, and his zeal for local history comes across in the way that he treats each task with enthusiastic respect. For him, hiking through New Jersey along the path of Washington's troops is more than a hike—it's a communion with our shared past that bears an importance beyond mere observation. This is half history and half just good fun . . . It's inspiring to watch him attempt to capture even the tiniest bit of the audacity of the American founding." —Nick Mancusi, The Daily Beast
"Robert Sullivan has interesting ideas, and sometimes he makes interesting books out of them . . . Now Sullivan turns his attention to the American Revolution, though no one familiar with his work will be surprised that his approach to it is almost entirely eccentric. My American Revolution is about as far from a conventional account of that conflict as one could get. Instead it is an episodic portrait of the war as it may have been at the time and as it is understood—or misunderstood—by many of us now . . . This book is about . . . an effort to find the past in the present, to reconcile each to the other. At its best, My American Revolution accomplishes this with grace and humor . . . [Sullivan] certainly accomplishes one of his main purposes: to make us see not merely the revolution but also ourselves in new light." —Jonathan Yardley, The Washington Post
"[An] eccentric, entertaining take on the war . . . He highlights events he can retrace, including the famous river crossing and Washington's subsequent trek to New Jersey's Watchung Mountains, as well as the Battle of Brooklyn and the general's journey to New York for his inauguration. He's a well- informed guide you appreciate as much for his asides and digressions." —Jeffrey Burke, Businessweek
"My American Revolution is a brilliant rereading of an entire landscape. It offers an ingenious approach to history by suggesting that noticing and retracing with care and wit, finding hints and clues, are ways of re-creating the past in all its complexity. It is, on the one hand, a funny book, filled with mishap and adventure, but it is also deeply and seriously engaged with capturing the spirit of a place. It deserves to become one of the indispensable books about New York." —Colm Tóibín, author of Brooklyn
"In his meditative, elliptical way, Sullivan does with the Revolutionary era what Tony Horwitz did with the Civil War in his 1998 book, Confederates in the Attic—he tracks down the re-enactors, amateur historians and oddballs (himself included) for whom the drums of war never really stopped beating." —Stephen Heyman, T: The New York Times Style Magazine

"It's difficult to resist this eclectic, highly personal examination of America's war of independence . . . [My American Revolution] is as strange and beautiful as the group of porpoises that reportedly escorted ships heading to Manhattan for our first president's inauguration." —Kate Tuttle, The Boston Globe

"In his uplifting new book, My American Revolution: Crossing the Delaware and I-78, Robert Sullivan. . . mixes local history and personal examination. His outcome is . . . ecstatic. Sullivan claims that the real Revolutionary War wasn't fought in and around Boston but in the middle colonies of New York and New Jersey, his lifelong haunts. He scours these areas for the War of Independence that time forgot, 'going out on reconnaissance missions into the landscape that might not seem ancient, camouflaged now as it is by cities and strip malls, by toxic waste sites and high-end commercial properties.' Such historical excursions grant Sullivan a 'more resonant awareness, a deeper realization of the landscape not offered in a sentence, or on a chart, but in [his] bones.' . . . Sullivan restores to their original brightness figures on the verge of disappearing from history . . . Rebelling against mainstream accounts of the war, Sullivan realizes that revolutionary energy still thrives in the peripheries . . . Sullivan's exuberant character sketches are as irresistible as they are informative. He is the history teacher you wanted but never had: funny, unpretentiously curious, able to imagine the past with astonishing vitality—a true poet of living history as well as a consummate subversive, showing us how recoveries of the abandoned past are essential for liberty and justice. The people you never heard of, it turns out, can be the ones you most need to hear." —Eric G. Wilson, The Minneapolis Star Tribune
"As Mr. Sullivan traverses the forests, mountains and rivers in and around New York City, he provides a glimpse into the historical minutia of the Revolution as a history buff, a 21st-century patron, a father, a son. This is a work about digging up lost facts and understanding their purpose in the larger framework of what the American Revolution was and how it is remembered . . . Writing in a conversational tone, Mr. Sullivan leaves the arguments to the historians, the details of Revolutionary paintings and writings to art and literary scholars, placing his own experiences of crossing the Delaware and Interstate 78 at the heart of this work. My American Revolution is a perfect read for someone looking to learn a few neat details of the American Revolution." —Evi Heilbrunn, The Pittsburgh Post-Gazette
"Wildly different . . . delightful . . . a rambling and often humorous account of [Robert Sullivan's] very personal discovery of the pivotal role of New York City and New Jersey in our Nation's struggle for independence . . . His manner is that of the friendly and engaging guy you run into at the corner bodega who is suddenly talking your ear off about something that happened just down the street 237 years ago—and making you listen, and maybe even agreeing to meet him next Saturday for more poking into the past. In a time when followers of every political persuasion stridently claim to further the cause of the original Patriots, this often very funny book, filled with engaging insights and hilarious misadventures, is a wonderfully mind-clearing companion. A dust-jacket blurb hails it one of the 'indispensable books about New York.' I would edit that to an indispensable book about claiming a vital time and place as your very own." —David Foster, SandPaper
"[Sullivan is] a fine, and fun, traveling partner and guide. Also, a superb writer and deeply dedicated historian." —Nancy Rommelmann, The Oregonian

"A delightful story-within-a-story by a writer with the talent to both live up to the book's promise that 'you'll never think about the American colonies' war for independence the same again'—and a man in a handmade boat reenacting the famous evacuation of Brooklyn. Along the way, this Henry-David-Thoreau-by-way-of-Chuck Klostermann crosses the Delaware, camps out in New Jersey backyards and enlists his daughter to help him recreate a signal beacon used by George Washington's troops—albeit using a Boy Scout mirror from behind a Dumpster in a parking lot on a Saturday morning. The story is a whimsical yet enlightening field trip, led by the coolest history teacher you never had, putting both the writer and the reader in a front row seat for the story of our country's founding. And through his brilliant melding of history and humor, Sullivan—whether accidentally or on purpose—introduces us to the humanity of our forefathers." —Brian Lisik, Thesuburbanite.com
Praise for Robert Sullivan:"[Sullivan] explains the world amusingly; it's a place where progress is triggered by basic human desires . . . and carried out by clever people in entertaining historical anecdotes." —Bruce Barcott, The New York Times Book Review