Give Me Everything You Have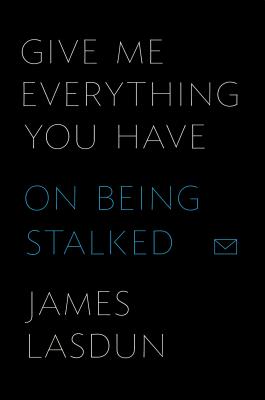 Give Me Everything You Have
On Being Stalked
Farrar Straus Giroux, Hardcover, 9780374219079, 218pp.
Publication Date: February 12, 2013
* Individual store prices may vary.
Buy at Local Store
Enter your zip code below to purchase from an indie close to you.
or
Not Currently Available for Direct Purchase
Description
A true story of obsessive love turning to obsessive hate, Give Me Everything You Have chronicles the author's strange and harrowing ordeal at the hands of a former student, a self-styled "verbal terrorist," who began trying, in her words, to "ruin him." Hate mail, online postings, and public accusations of plagiarism and sexual misconduct were her weapons of choice and, as with more conventional terrorist weapons, proved remarkably difficult to combat. James Lasdun's account, while terrifying, is told with compassion and humor, and brilliantly succeeds in turning a highly personal story into a profound meditation on subjects as varied as madness, race, Middle East politics, and the meaning of honor and reputation in the Internet age.
About the Author
James Lasdun was born in London and now lives in upstate New York. He has published two novels, including" The Horned Man", as well as several collections of short stories and poetry. He is the author of "Give Me Everything You Have: On Being Stalked". He has been long-listed for the Man Booker Prize and short-listed for the Los Angeles Times, T. S. Eliot, and Forward prizes in poetry; and he was the winner of the inaugural U.K./BBC Short Story Prize. His nonfiction has been published in "Harper s Magazine", "Granta", and the "London Review of Books".
Praise For Give Me Everything You Have…
"Smart, rigorous and beautifully written."  —Scott Bradfield, The New York Times
"James Lasdun's extraordinary tale of erotic obsession is so gripping that I read the first 70 pages in one ­buttock-clenching rush—there is no greater narcotic than insanity combined with lust . . ." —Camilla Long, The Sunday Times (UK)
"What imbues Give Me Everything You Have with its considerable humanity is Lasdun's thoughtful exploration of the broader subjects of reputation, temptation, virtue, honor and ego." —Annie Groer, Washington Post
"What is finally most riveting about this strange and unsettling book is not the grim fascination of Lasdun's situation; it's the moral intelligence and intensity with which he examines it." —Mark O'Connell, The Observer

"Brilliant." —William Leith, The Spectator

"What Amy Chua's Battle Hymn of the Tiger Mother was to parenting a couple of years ago, Lasdun's Give Me Everything You Have may well be to teaching: a controversial personal reflection on the professor-student relationship . . . a fierce and compelling memoir." —Maureen Corrigan, Fresh Air
"No book I've read has ever covered the subject in more emotional depth and with deeper intellectual analysis . . . Lasdun's book is a work of semi-autobiography, but it grips like a fine thriller." — Peter James, The Globe and Mail (Toronto)
"Grimly fascinating and stunningly well-written . . . a brilliant meditation on some of the thorniest issues of contemporary society" —Emma Garman, The Daily Beast
"An extraordinarily odd and disturbing story. Like Nasreen, Lasdun is a 'real writer,' 'someone for whom words are a source of primal delight.' The poet in him is skilled at following tiny snags of thought into marvelous, rich mini-essays: on Gawain, DH Lawrence, Patricia Highsmith's Strangers on a Train. Himself the author of brainy, sophisticated noirs, he's brilliant at using folk and modern narrative forms to enliven each other . . ." —Jenny Turner, The Guardian
"[A] discomfiting, often brilliant book." —Ian Thomson, The Independent (UK)
"The adroit narrative . . . is as complex as insanity itself, as addictive as the obsession it describes…cool, smooth, and exquisite . . ." —Melissa H. Pierson, barnesandnoblereview.com
"A spellbinding account… Turning from the tyranny-fostering abyss of the Internet, [Lasdun] creates a vista of story, independent of a computer screen, and wide enough to contain the fire of the darkest angel." —Robert Burke Warren, Chronogram Magazine
"A superb book." —Richard Grant, Telegraph Magazine (UK)
"It is this willingness to appropriate his worst experience that shows Lasdun's true courage as a writer and that enables him to turn his book into something more than just another memoir…" —Adam Kirsch, The New Stateman
"deftly evokes the chill power of cyberstalking" —Edward Kosner, Wall Street Journal
"spellbinding" —Tina Jordan, Entertainment Weekly
"The ominous precision of the book's early pages is riveting… Lasdun is a skilled and sensitive critic of the accidental epistolary novel we're all writing all the time." —Molly Fischer, Slate
"an elegant meditation on insecurity and paranoia" —Gerald Jacobs, The Sunday Telegraph (UK)
"…however frantic Lasdun was, the writer part of him was fascinated, and realised what a good story this was. It's this ambivalence that gives the book its depth and its intriguing sense of moral cross-currents…terrifically good on what it's like to feel you have lost control of your own life." —John Preston, The Daily Mail
"An enthralling and thoughtful book." —Laura Miller, Salon
"This subtle, compassionate take on the subject is rife with insights into the current cyberculture's cult of anonymity, as well as the power, failure, and magic of writing." — Publishers Weekly, Starred Review
"Lasdun has always been a suspenseful writer, keenly aware of the boundary between obsession and madness. His 2002 novel, The Horned Man, portrays the grip of paranoia which overcomes a university professor who believes he is being framed for a series of sex crimes. 'How had I managed to lay myself open to an act of such preposterously elaborate vindictiveness,' the hero wonders. Here Lasdun asks himself the same question. Walking the reader through the early days of their friendship, he rarely chronicles an escalation without also interrogating his own response to it . . . These prismatic waves of self-questioning do not just make for a psychologically rich narrative. They also aptly recreate the vortex of doubt into which stalking—particularly cyberstalking—plunges its victim." —John Freeman, The Boston Globe
"To write about an almost unknown assailant, for whose virtuoso malevolence there appears to be no rational explanation, is to attempt to describe something as formless as malevolence itself. Lasdun accomplishes the task with his habitual luminous elegance, drawing into his account wider questions of honour, reputation, masculinity, creativity, the nature of evil and the experience of being 'an unbelieving, not even entirely kosher Jew [who] finds himself subjected to a firestorm of unrelenting anti-Semitism.'" —Jane Shilling, The Daily Telegraph (UK)
"Give Me Everything You Have is a powerful treatise on the power of the internet as a tool for harm . . . Lasdun's exquisite prose has a judicial precision and a chilly candour . . . He relaxes in the last third of the book, an account of a trip to Jerusalem… The trip, which had seemed to offer some respite from Nasreen's harassment, also offers a haunting depiction of the kind of bleary-eyed stress that makes one 'attach great importance to any circumstance that resonates with your own' . . .  Throughout the book, such resonances provide a vivid portrait of a rather brilliant poet's mind as it links all it encounters back to its tormentor." —Emily Stokes, The Financial Times
"The passages that conclude this elegant book are striking in their generosity. In them Lasdun, who describes himself as altogether secular, identifies Nasreen's gaping and unstoppable need to engage with a transhistorical religious and artistic impulse. I won't reproduce the sentences here; they are too beautiful to take out of context. Suffice it to say that even though Nasreen is emotionally ill, Lasdun recognizes that she has merely amplified and acted out an agony that stirs in the bowels of every one of us. We want love. We want affirmation. We want the universe to notice us and answer our heartfelt pleas. And the universe is almost always silent . . ." —Pamela Erens, Los Angeles Review of Books
"James Lasdun's Give Me Everything You Have is a classic of true crime. It is an account of a long and terrifying ordeal in which the author has, for years, been stalked, threatened and defamed by an obsessed woman, an ex-student of his. I had selected Give Me Everything You Have from the tall stack of books next to my bed for a nightcap read but was up until dawn with it. The author recounts the details of this spectacular persecution with wisdom, moments of humor, and grace." —Norman Rush
"Here is a chilling account of what it is to experience 'verbal terrorism' in the age of email and the Internet—a riveting memoir of James Lasdun's nightmare experience of having been stalked for five years by a former student. This must be the most informative, the most insightful, and the most beautifully written of any account from the victim's perspective of what has come to be called 'cyberbullying.'" —Joyce Carol Oates
"Give Me Everything You Have is a reminder, as if any were needed, of how easily, since the arrival of the Internet, our peace can be troubled and our good name besmirched." —J. M. Coetzee, Nobel Prize–winning author of Diary of a Bad Year
"James Lasdun's Give Me Everything You Have is an autobiographical work, rare, beautiful, bitter, and profoundly accepting of his own experience: a former female student stalks him viciously for years. The story Lasdun tells is applicable to all human experience." —Paula Fox
"Give Me Everything You Have is a riveting, searingly honest meditation on desire, the writing life, and a consciousness held prisoner by a force beyond its reach or control. James Lasdun has taken a dark event from his life and placed it powerfully in the wider realm of literature and myth." —Michael Greenberg, author of Hurry Down Sunshine
"Give Me Everything You Have is a stunning fusion of memoir, travelogue, and compelling literary self-analysis. With the intuitive and psychological panache of Saul Bellow and the mythic intelligence and sweep of Robert Graves, James Lasdun explores the personal and historic qualities of terror and victimhood. The inquisition on anti-Semitism in all its inglorious aspects is both alarming and profound. It's an original, honest, and courageous book." —Philip Schultz, Pulitzer Prize–winning author of Failure
"This is one of those books that had to be written—for personal reasons on the part of the author, as well as for larger cultural reasons on behalf of the rest of us. James Lasdun's sensitivity to nuance and threat, his commitment to the value of the written word, his awareness of life's ironies, have all been brought to bear on this brilliantly told, painfully gripping story that is at once highly literary and completely true. Its ancestors are Nikolai Gogol and Edgar Allan Poe; its historical moment is precisely now." —Wendy Lesser, author of Room for Doubt
"Give Me Everything You Have is an enthralling, complicated book. What begins as a noir thriller of electronic stalking becomes a deep meditation on the ways in which an unwelcome, irrational attraction changes the life of the person who is desired—permanently." —Ellen Ullman, author of By Blood