The Nimrod Flipout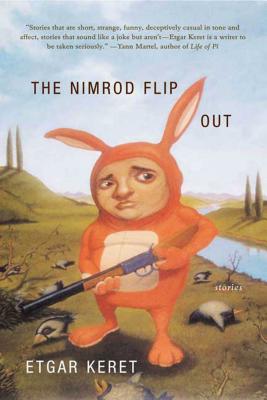 The Nimrod Flipout
Stories
Farrar Straus Giroux, Paperback, 9780374222437, 167pp.
Publication Date: April 4, 2006
* Individual store prices may vary.
Buy Now
or
Shop Local
Enter your zip code below to purchase from an indie close to you.
Description
From Israel's most popular and acclaimed young writer "Stories that are short, strange, funny, deceptively casual in tone and affect, stories that sound like a joke but aren't" (Yann Martel, author of "Life of Pi")
Already featured on "This American Life" and "Selected Shorts" and in "Zoetrope: All Story" and "L.A. Weekly," these short stories include a man who finds equal pleasure in his beautiful girlfriend and the fat, soccer-loving lout she turns into after dark; shrinking parents; a case of impotence cured by a pet terrier; and a pessimistic Middle Eastern talking fish. A bestseller in Israel, "The Nimrod Flipout" is an extraordinary collection from the preeminent Israeli writer of his generation.
About the Author
Etgar Keret was born in Tel Aviv in 1967. His stories have been featured on "This American Life "and "Selected Shorts". As screenwriters/ directors, he and his wife, Shira Geffen, won the 2007 Palme d Or for Best Debut Feature ("Jellyfish") at the Cannes Film Festival. His books include "The Nimrod Flipout" and "Suddenly, a Knock on the Door".



Born in Jerusalem in 1939, Amos Oz is the author of numerous works of fiction and essays. His international awards include the Prix Femina, the Israel Prize, and the Frankfurt Peace Prize, and his books have been translated into more than thirty languages. He lives in Israel.
Praise For The Nimrod Flipout…
"His enchantingly witty stories suggest that a keen intelligence can still flourish even when the air is full of flying metal ... Our best chance is that Etgar Keret will become a craze, a craze for sanity." --Clive James

"The best work of literature to come out of Israel in the last five thousand years--better than Leviticus and nearly as funny. Each page is a cut and polished gem. Do yourself a favor, walk over to the counter and buy this book now." --Gary Shteyngart, author of THE RUSSIAN DEBUTANTE'S HANDBOOK

"Stories that are short, strange, funny, deceptively casual in tone and effect, stories that sound like a joke but aren't--Etgar Keret is a writer to be taken seriously."
--Yann Martel, author of THE LIFE OF PI

"Keret's short stories are filled with antiheroes. There are no brave Maccabees, no swashbuckling warriors. Instead, his sketches dramatize the mundane details of daily life. "When you wake up in the morning," he says, "before you've had your first cup of coffee, what you think about is not, Why isn't there a Palestinian state? You say, 'Why doesn't my girlfriend love me?' Or 'I hope somebody didn't steal my car.' "
Stories can be dreams, of a sort, and Keret's seem to promise that there is more to life than Merkava tanks and suicide killers, more even than nanotech or IPOs. His quirky collections--which have sold more than 200,000 copies in Israel--offer a glimpse into the Israeli subconscious. They satisfy jumbled, humble hopes--not the high-blown fantasies of the original frontiersmen." --Kevin Peraino, Newsweek

"Etgar Keret's short stories are fierce, funny, full of energy and insight, and at the same time they are often deep, tragic, and very moving." --Amos Oz, author of A Tale of Love and Darkness

"To try to describe Keret's work in fewer words than the work itself is a project perverse, paradoxical, modern, and strange--in short, it is like an Etgar Keret story, except not as funny and not as interesting. So I ask you to open the book and read." --Neal Stephenson, author of Cryptonomicon

"Etgar Keret is the voice of young Israel . . . [His] stories still seemed to deal with all the important things, friendship, sadness, fear . . . Unlike anything else the country [is] producing." --Linda Grant, The Independent