Overwhelmed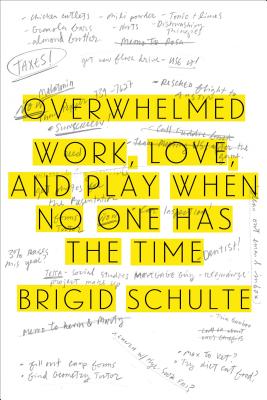 Overwhelmed
Work, Love, and Play When No One Has the Time
Sarah Crichton Books, Hardcover, 9780374228446, 353pp.
Publication Date: March 11, 2014
* Individual store prices may vary.
Buy at Local Store
Enter your zip code below to purchase from an indie close to you.
or
Not Currently Available for Direct Purchase
Description
Can working parents in America or anywhere ever find true leisure time?
According to the Leisure Studies Department at the University of Iowa, true leisure is "that place in which we realize our humanity." If that's true, argues Brigid Schulte, then we're doing dangerously little realizing of our humanity. In "Overwhelmed," Schulte, a staff writer for "The Washington Post," asks: Are our brains, our partners, our culture, and our bosses making it impossible for us to experience anything but "contaminated time"?
Schulte first asked this question in a 2010 feature for "The Washington" "Post" "Magazine" "How did researchers compile this statistic that said we were rolling in leisure over four hours a day? Did any of us feel that we actually had downtime? Was there anything useful in their research anything we could do?"
"Overwhelmed" is a map of the stresses that have ripped our leisure to shreds, and a look at how to put the pieces back together. Schulte speaks to neuroscientists, sociologists, and hundreds of working parents to tease out the factors contributing to our collective sense of being overwhelmed, seeking insights, answers, and inspiration. She investigates progressive offices trying to invent a new kind of workplace; she travels across Europe to get a sense of how other countries accommodate working parents; she finds younger couples who claim to have figured out an ideal division of chores, childcare, and meaningful paid work. "Overwhelmed "is the story of what she found out.
About the Author
BRIGID SCHULTE is an award-winning journalist for The Washington Post and The Washington Post Magazine. Born and raised in Portland, Oregon, she graduated from the University of Portland with degrees in English literature, journalism and German and French. She has a master s degree from the Columbia University Graduate School of Journalism in New York City. She has won numerous writing awards, including the Pulitzer Prize. She lives in Alexandria, Virginia, with her two children, Liam and Tessa, and her husband, Tom Bowman, Pentagon correspondent for NPR.
Praise For Overwhelmed…
"Schulte takes a purely practical and secular approach to a question that philosophers and spiritual teachers have debated for centuries--how to find meaningful work, connection, and joy—but her research is thorough and her conclusions fascinating, her personal narrative is charmingly honest, and the stakes are high: the "good life" pays off in 'sustainable living, healthy populations, happy families, good business, [and] sound economies.'" —Publisher's Weekly starred review
"Overwhelmed... brings a fresh perspective and needed insight into what's too often called the problem of the work-life balance." —Elle
"An unexpectedly liberating investigation into the plague of busyness that afflicts us all." —The Washington Post
"This artful blend of memoir and cultural exploration asks hard questions about how to create a well-lived life... For Lean In fans, and everyone who feels overwhelmed." —Booklist
"An eye-opening analysis of today's hectic lifestyles coupled with valuable practical advice on how to make better use of each day." —Kirkus
"Just reading the first chapter of Overwhelmed may be cathartic: as bad as it is... at least you're not the only one... Overwhelmed is Schulte's attempt to not merely survive but also unpack and analyze the quintessentially modern and increasingly universal experience of feeling utterly unable to cope. Putting her own crowded life (two children, thriving career) on the slab for dissection, Schulte tries to figure out how we got here and how we can get out of it." —Time
"Overwhelmed is a superb report from the front lines of the sputtering gender revolution. Brigid Schulte takes up the perennial problem of women's 'second shift' with fresh energy and fascinating new data, effortlessly blending academic findings and mothers' lived experiences, including her own often hilarious attempts to be both the perfect parent and a successful full-time journalist. Before you embark on parenthood, before you volunteer to make cupcakes for a school party or stay up late to finish a fourth grader's science project—and definitely before you pick up another copy of Martha Stewart Living—read this book!" —Barbara Ehrenreich, author of Nickel and Dimed: On(Not) Getting By in America
"Reflecting on her meticulous research, searching her feelings, and renegotiating the division of emotional labor with her husband, Tom, Brigid Schulte offers us a well-written and timely book, both witty and wise." —Arlie Hochschild, author of The Second Shift: Working Families and the Revolution at Home
"Beautifully written, with searing facts, engaging stories, illuminating history, and wry personal observations. A must-read by a truly perceptive author!" —John de Graaf, editor of Take Back Your Time: Fighting Overwork and Time Poverty in America
"Why is life so insanely busy? What happened to 'leisure' time? Tired of the modern hamster wheel, Brigid Schulte set out to find a better way to live. Her voice is delightful, her findings surprising and hopeful. Overwhelmed is a passionate, funny, very human book that reads like a detective story." —William Powers, author of Hamlet's BlackBerry: Building a Good Life in the Digital Age
"Overwhelmed is a time management book that's not just about how to be more productive and effective—it's about the broad and fascinating role time plays in our emotional satisfaction, our physical health, and even our notions of gender equality. The more overwhelmed you feel, the more crucial it is to take the time to read this important book." —Daniel H. Pink, author of Drive: The Surprising Truth About What Motivates Us
"Every parent, every caregiver, every person who feels besieged by permanent busyness, must read this book. A new wave of research, experience, and insight is challenging deep assumptions about why we have to live and work the way we do. Overwhelmed is a wake-up call and an exhilarating prescription for change." —Anne-Marie Slaughter, president and CEO of the New America Foundation and author of "Why Women Still Can't Have It All"
Friday, Jan 2, 2015
If waiting for help when your car breaks down doesn't strike you as a leisurely activity, it may be time to reconsider. A new book looks at time management challenges of being a working parent. More at NPR.org
Tuesday, Mar 11, 2014
If waiting for help when your car breaks down doesn't strike you as a leisurely activity, it may be time to reconsider. A new book looks at time management challenges of being a working parent. More at NPR.org
Tuesday, Mar 11, 2014
Brigid Schulte and her husband planned to have an equal partnership. But years down the road, "I realized that we had both fallen into very traditional roles without even realizing it," she says. More at NPR.org