A Life Worth Living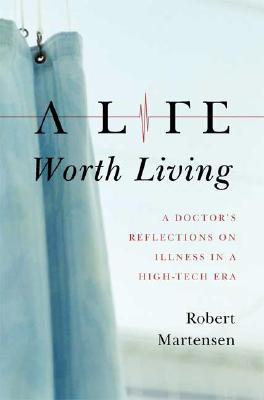 A Life Worth Living
A Doctor's Reflections on Illness in a High-Tech Era
Farrar, Straus and Giroux, Hardcover, 9780374266660, 240pp.
Publication Date: September 2, 2008
* Individual store prices may vary.
Not Currently Available for Direct Purchase
or
Shop Local
Enter your zip code below to purchase from an indie close to you.
Description
Critical illness is a fact of life. Even those of us who enjoy decades of good health are touched by it eventually, either in our own lives or in those of our loved ones. And when this happens, we grapple with serious and often confusing choices about how best to live with our afflictions. A Life Worth Living is a book for people facing these difficult decisions. Robert Martensen, a physician, historian, and ethicist, draws on decades of experience with patients and friends to explore the life cycle of serious illness, from diagnosis to end of life. He connects personal stories with reflections upon mortality, human agency, and the value of "cutting-edge" technology in caring for the critically ill. Timely questions emerge: To what extent should efforts to extend human life be made? What is the value of nontraditional medical treatment? How has the American health-care system affected treatment of the critically ill? And finally, what are our doctors' responsibilities to us as patients, and where do those responsibilities end? Using poignant case studies, Martensen demonstrates how we and our loved ones can maintain dignity and resilience in the face of life's most daunting circumstances.
About the Author
A physician, historian, and bioethicist, Robert Martensen has held several professorships. Recently, he joined the National Institutes of Health as director of its Office of History and Museum. In 2002 he received a Guggenheim Fellowship.
Praise For A Life Worth Living…
"Partly because it addresses one of the most critical, complex, and controversial issues of our time, this is an important book. It is also a highly readable, informative, even entertaining one . . . A Life Worth Living is a book for any citizen concerned about the continued well-being of this country . . . [Martensen] has the eye for telling detail, the ear for dialogue, and the narrative drive of a good fiction writer; the scholarly judgment to put modern medicine in the context of a long and complex history; the professional experience of treating seriously ill patients; and finally a profound and compassionate understanding of what constitutes health." —William T. Hamilton, The Bloomsbury Review

"Though it can be read in a single sitting, A Life Worth Living: A Doctor's Reflections on illness in a High-Tech Era…is so packed with information and insight that it can change your life and the lives of those who seek your advice about caring for the critically ill."—Lisa Wiseman, M.D., Diversion

"Martensen makes his case with clear, compelling writing that never flinches from his conclusion that some things you just can't 'win the battle again'; you can only hope for quality of life until the end."—Publisher's Weekly

"A Life Worth Living is a deeply engaging book. It can be read as a self-defense manual. In fact it should be read by, say, anyone over forty-five because we are all destined to do battle with the medical industrial complex which seems quite confused about helping us out of life. Martensen, who is both an M.D. and an historian of medicine, gracefully illumines the problems we all face." – Jim Harrison, author of Returning to Earth

"A Life Worth Living is a treasure. Robert Martensen tells compelling stories of people who are at once remarkable and familiar, and distills practical wisdom for living with serious illness. Their experiences illuminate common dilemmas and difficult decisions and shine a light on the wondrous and perilous world of contemporary medicine. Martensen writes with the insights of an experienced clinician, the perspective of a historian, and the voice of a close friend." —Ira Byock, MD, author of Dying Well and The Four Things That Matter Most

"This book looks straight in the eye at uncomfortable truths, yet it does so in an intimate, almost caressing way. The results provoke and make this book one of the few that may change how we see the world, and how we think." —John M. Barry, author of The Great Influenza