Soul of a Whore and Purvis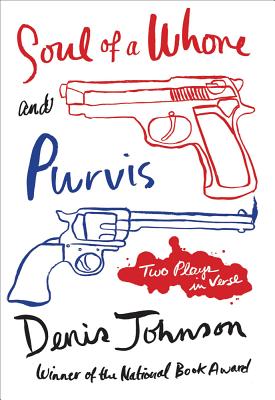 Soul of a Whore and Purvis
Two Plays in Verse
Farrar Straus Giroux, Paperback, 9780374277963, 227pp.
Publication Date: June 5, 2012
* Individual store prices may vary.
Buy at Local Store
Enter your zip code below to purchase from an indie close to you.
or
Buy Here
Description
Two plays hilarious and searing in equal measure by one of our most essential and original authors
In his poetry, short stories, novels, and plays, the National Book Award-winning author Denis Johnson has explored the story of America especially of the West, land of self-made men and self-perpetuating myths with searing honesty and genuine sympathy. These two plays, written in verse at once hypnotic and clear, confirm his position as one of our great verbal stylists and a literary conscience for our times.
In "Soul of a Whore," a lively cast of characters faith healers, pimps, strippers, actual demons converge, with unexpected hilarity, as Bess Cassandra awaits execution for the murder of her infant daughter. "Purvis"'s seven reverse-chronological scenes catalog the fall and rise of Melvin Purvis, the G-man who brought down John Dillinger and Charles Arthur "Pretty Boy" Floyd. Johnson takes us from Washington's back rooms to a Midwestern cornfield, dramatizing the seductive allure of power and our own human capacity for both pettiness and grace.
In these furiously entertaining, occasionally terrifying works, Johnson chronicles and questions America's myths, heroes, and everyday realities with verve and elegance, revealing himself once again to be at the height of his linguistic and insightful powers.
About the Author
Denis Johnson is the author of eight novels, one novella, one book of short stories, three collections of poetry, two collections of plays, and one book of reportage. His novel "Tree of Smoke" won the 2007 National Book Award.
Praise For Soul of a Whore and Purvis…
"The raw power of poetically concentrated passion . . . [Soul of a Whore] is a resonant fulfillment of the promise in [Johnson's] earlier work . . . [This is] Johnson's best constructed and most evocatively passionate outing yet." —Robert Hurwitt, San Francisco Chronicle
"Johnson has found a new speed, or a new style, for his age-old theme of hell, and it's a good, rare thing to watch a modern poet write so well for the stage." —Michael Scott Moore, SF Weekly
"Soul of a Whore and Purvis: Two Plays in Verse comprises Johnson's third- and fifth-ever attempts at playwriting, but his enthusiasm for experimentation is present and overriding, and it reads vividly." —Jillian Goodman, Slate
"These plays are everything you'd expect and want from a dramatic creation written by Denis Johnson—grit, poetry, passionate prose, a host of devilishly dirty characters steeped in backbreaking honesty, and a whirlwind ride that takes us to the polar reaches of the human experience." —Emily Temple, Flavorwire
"'Soul' inhabits a world of hookers and hoodlums and murderers and executioners. The tale is both hallucinatory and immediate, hilarious and horrifying. It moves from the god-forsaken way station to a hospital ward to an execution chamber, where one Bess Cassandra is awaiting her death for 'vehicular infanticide.' Along the way, it asks questions about the death penalty, the justice system, Christianity, and morality . . . These drifters and derelicts are the sort of folks who pop out of the pages of Johnson's fiction, and in writing for the stage, Johnson creates down-and-out characters with an uncommon attention to language." —Patti Hartigan, The Boston Globe