Funny How Things Change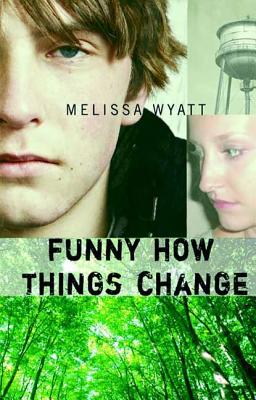 Funny How Things Change
Farrar, Straus and Giroux (Byr), Hardcover, 9780374302337, 208pp.
Publication Date: April 27, 2009
* Individual store prices may vary.
Buy at Local Store
Enter your zip code below to purchase from an indie close to you.
or
Buy Here
Description
Remy Walker has it all: he found the love of his life at home in crumbling little Dwyer, West Virginia, deep in his beloved Appalachian Mountains where his family settled more than one hundred and sixty years ago. But at seventeen, you're not supposed to already be where you want to be, right? You've got a whole world to make your way through, and you start by leaving your dead-end town. Like his girlfriend, Lisa. Lisa's going away to college. If Remy goes with her, it would be the start of everything they ever dreamed of. So when a fascinating young artist from out of state shows Remy his home through new eyes, why is he suddenly questioning his future?
The author vividly depicts a rich and beautiful place in this powerful novel about a young man who, over the course of a summer, learns how much he has to give up for a girl, and how much he needs to give up for a mountain.
About the Author
I have had the most boring life of any young adult author, and I ve read a lot of young adult author bios, so I know. I have never sailed to Australia or trekked through Tibet. I have never been a race-car driver, danced on Broadway, or run with the bulls.
I grew up in Weiglestown, Pennsylvania, a little town a few miles north of York, Pennsylvania, which of course is famous for the Peppermint Pattie. I was an accomplished liar as a child, though I didn t lie to be mean or to weasel out of things. I just made up things to make myself seem more interesting to friends, teachers, and total strangers. Even then, I had an amazingly boring life. But being a good liar is a great background for a writer. I started making up stories about people other than myself and writing them down in eighth grade. But when I graduated from high school in 1981, I d had about enough of school and took the first of a series of secretarial jobs for the State of Pennsylvania, jobs where the primary directive was to look busy. So I sat at the typewriter and wrote. Reams and reams of stuff. It was a great opportunity to stretch my writing wings and learn the craft.


I left the state after eight years, and for a little while I made a living as a doll artist, sometimes making dolls for famous people like Demi Moore and Anne Rice, and that was about as exciting as my life ever got. The doll market crashed after 9/11 and I decided it was time to get serious about publishing a book. My first novel, "Raising the Griffin", was published by Random House in 2004. Writing for teenagers appeals to me because being a teenager is all about change and choice and figuring out how you fit in the world, and those are great building blocks for stories.


When I m not writing, I m hanging out with my two boys and my husband or indulging in embarrassingly old-lady-like hobbies like gardening, bird-watching, and old movies. (I haven t yet taken up knitting, but there s time.)
Praise For Funny How Things Change…
"Wyatt's prose is tautly evocative throughout; her plot is a welcome departure from the stale conventions of the hero's journey." —Starred, Kirkus Reviews

"Good writing drives stellar characterization of this strong but introspective protagonist struggling with his own version of the universal questions of who he is and what matters most . . . . Kinship with Remy will come easily to readers facing similar decisions about growing up and leaving home." —School Library Journal


"Beautifully spare language portrays the quiet story of a good guy." —VOYA

"Readers will identify with Remy and his feeling of being torn between a comfortable past and uncertain future." —Booklist

"This timeless drama of a teen trying to make the right decision about his future is credibly set against timely issues about bad local economies based on unsustainable mining practices, making for a memorable and truly compelling coming-of-age-story." –Bulletin of the Center for Children's Books

"Thoughtfully written." —Teensreadtoo.com

"An intimate look into a young man's life and the decisions he must make." —Towerofbooks.wordpress.com

"A beautifully written male character." —Apatchworkofbooks.blogspot.com

"A great look at reasons to leave home versus reasons to stay (without involving any abuse, death or depression) and also has an environmental angle involving mountain top removal . . . . Very well done." —ChasingRay.com