The Chicken-Chasing Queen of Lamar County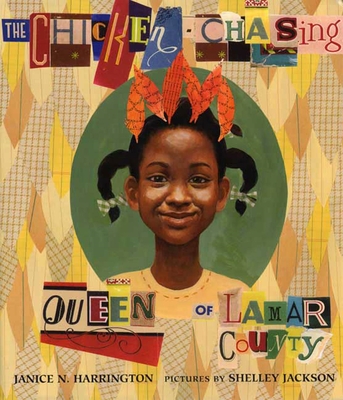 The Chicken-Chasing Queen of Lamar County
Farrar Straus Giroux, Hardcover, 9780374312510, 40pp.
Publication Date: March 20, 2007
* Individual store prices may vary.
Buy Now
or
Shop Local
Enter your zip code below to purchase from an indie close to you.
Description
Meet one smart chicken chaser. She can catch any chicken on her grandmother's farm except one the elusive Miss Hen. In a hilarious battle of wits, the spirited narrator regales readers with her campaign to catch Miss Hen, but this chicken is "fast as a mosquito buzzing and quick as a fleabite." Our chicken chaser has her mind set on winning, until she discovers that sometimes it's just as satisfying not to catch chickens as it is to catch them.
A fresh voice full of sass and inventive, bold collage illustrations full of surprises create a childlike escapade brimming with funny high jinks that leads the reader on a merry, memorable chase.
"The Chicken-Chasing Queen of Lamar County" is a 2008 Bank Street - Best Children's Book of the Year.
About the Author
Janice N. Harrington grew up in Vernon, Alabama. When she was eight years old, her family moved to Lincoln, Nebraska. A lover of stories both written and oral, she came to her interest in writing through childhood favorites such as "Jane Eyre", "Charlotte"" s Web", and the Greek myths she came upon in an antiquated set of the "Book of Knowledge "encyclopedia.
Ms. Harrington received the Ezra Jack Keat s New Writer Award for her first picture book, "Going North". The book, which "Kirkus Reviews" called gorgeous, and "School Library Journal" described as a solid choice for readers, was named a "Bulletin" "of the Center for Children s Books" Blue Ribbon Book, a "Kirkus Reviews "Editor s Choice, and a "Booklist "Editors Choice. Her second picture book, "The Chicken-Chasing Queen of Lamar County", has already received much acclaim, being selected for Fanfare, "The Horn Book" s Honor List and named a "Kirkus Reviews" Editor s Choice.
Ms. Harrington is also a nationally known storyteller who has been featured at the National Storytelling Festival, a widely published poet, and a children s librarian with over twenty-two years experience as a youth advocate. She lives in Champaign, Illinois.
Shelley Jackson is the author of the short story collection "The Melancholy of Anatomy", the hypertext novel "Patchwork Girl", several children's books, and "Skin," a story published in tattoos on the skin of more than two thousand volunteers. She lives in Brooklyn, New York.
Praise For The Chicken-Chasing Queen of Lamar County…
"This book just begs to be read aloud, with long pauses to take in the complexity of the gorgeous half painted, half collage illustrations."—Time Magazine "Never has the expression "feathers will fly" been aptly illustrated as in this vivacious story."  --Starred, Kirkus Reviews "Both words and pictures elevate a simple story about a girl's sly, barnyard game into a rollicking, well-told delight.  A first-rate read-aloud."  --Starred, Booklist "This funny story will have city kids longing for the chance to chase (and/or nurture) some chickens themselves." —Starred, The Horn Book "The mischief sings in every syllable fo this energetic tale . . . Harrington's storytelling style make the prose jump from page to ear."--Starred, The Bulletin of the Center for Children's Books "Exceptional."  —Book Links
 
"A marvelously delicious read-aloud." —School Library Journal "A spirited read-aloud." —Publishers Weekly