The Escape of Oney Judge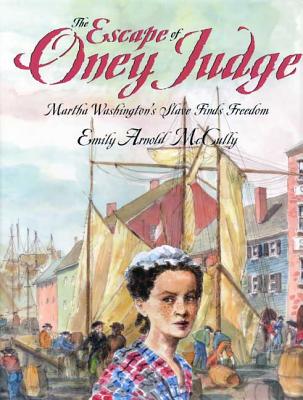 The Escape of Oney Judge
Martha Washington's Slave Finds Freedom
Farrar Straus Giroux, Hardcover, 9780374322250, 32pp.
Publication Date: January 23, 2007
* Individual store prices may vary.
Buy Now
or
Shop Local
Enter your zip code below to purchase from an indie close to you.
Description
When General George Washington is elected the first President of the United States, his wife chooses young Oney Judge, a house slave who works as a seamstress at Mount Vernon, to travel with her to the nation's capital in New York City as her personal maid. When the capital is moved to Philadelphia, the Washingtons and Oney move, too, and there Oney meets free blacks for the first time. At first Oney can't imagine being free she depends on the Washingtons for food, warmth, and clothing. But then Mrs. Washington tells Oney that after her death she will be sent to live with Mrs. Washington's granddaughter. Oney is horrified because she knows it is likely that she will then be sold to a stranger the worst fate she can imagine. Oney realizes she must run. One day she sees an opportunity and takes it, ending up in New Hampshire, where she lives the rest of her life, poor but free.
Pen-and-ink and watercolor illustrations bring to life this picture book biography of Oney Judge, a young woman who, in the end, has no mistress but herself.
"The Escape of Oney Judge" is a 2008 Bank Street - Best Children's Book of the Year.
About the Author
I was born in Galesburg, Illinois, in 1939, but grew up in Garden City, New York. My father was a writer/producer of network radio shows, and my mother had been an actress and singer. Noticing that I was trying to draw people and objects, my mother once said to me, "Why don't you practice that and get it right?" She saw a talent to be developed so that I could support myself when I grew up.
As a child, I doodled and sketched and created my own stories, binding them into books. As class artist in school, I designed posters, backdrops, and programs for concerts and plays. I often visited the Museum of Modern Art in New York City and sketched people sitting on benches in Union Square. The city fueled my ambitions for an active life in the arts, theater, and publishing.
I attended Pembroke College (now part of Brown University), majoring in art history and acting in plays. I also collaborated on an award-winning musical. For years, people stood around me as I drew, marveling that I could reproduce someone or something. If art was a performance, I wanted to try out other roles.
After graduation, I worked as a mat cutter in an advertising agency and earned an M.A. in art history at Columbia University. Realizing I had no future in the advertising agency, I put together a portfolio of drawings and took it around to art directors. Gradually, jobs trickled in, mostly for book covers. Finally, an editor at Harper & Row Junior Books spotted a poster I had done that featured children. I received my first book illustration assignment, which led to another, and so on.
Meanwhile, I wrote fiction and published a short story that was selected for the O. Henry Collection. It was followed by two novels. I was able to try acting again when the chance arose to audition for a friend's play. It opened in Albany and moved to Off Broadway in New York. It was a wonderful experience, but I knew I had to go back to books. I have now written or illustrated more than two hundred books for children.
My advice for aspiring artists and writers is this: You can't aim to please other people. Do what matters most to you, then hope readers respond.
I believe that books, rather than be palliative or merely instructive, should stir the imagination. I share Isaac Bashevis Singer's belief that children's books are the last refuge of storytelling.
Emily Arnold McCully divides her time between New York City and upstate New York. She has won many awards for her children's books, including the Caldecott Medal for "Mirette on the High Wire".
Praise For The Escape of Oney Judge…
"McCully, at the top of her game, takes a rather sophisticated piece of history and writes it in a way that will draw children.  Fascinating."  --Starred, Booklist "Straightforward and unapologetic in delivery, this offering stands as a noteworthy effort to add complexity to the mythology surrounding the country's first president. . . . Gutsy--and very nicely done." --Starred, Kirkus Reviews

"A nuanced presentation of what the early days of liberty looked like to those whose liberty was restricted." --Chicago Tribune

"The watercolor paintings, often circular cameos on the page, along with the text, create a good sense of household life and the rising issues of slavery in these early days of the new republic."--School Library Journal "Sentence after sentence . . . cut[s] like the flick of a whip."  --The Washington Post Book World