How Oliver Olson Changed the World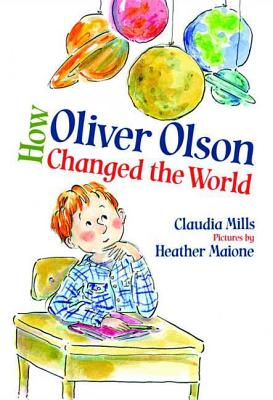 How Oliver Olson Changed the World
Farrar Straus Giroux, Hardcover, 9780374334871, 103pp.
Publication Date: March 17, 2009
* Individual store prices may vary.
Shop Local
Enter your zip code below to find indies closest to you.
Description
Oliver Olson's teacher is always saying that one person with a big idea can change the world. But how is Oliver supposed to change the world when his parents won't let him do anything on his own--not his class projects or even attending activities such as the space sleepover at school. Afraid he will become an outsider like ex-planet Pluto, Oliver decides to take control of his corner of the universe
"How Oliver Olson Changed the World" is an irresistible chapter book from Claudia Mills, featuring lively illustrations by Heather Maione. Oliver Olson learns that before you can change the world, sometimes you need to change yourself.
About the Author
Claudia Mills
Some writers say that they hate to write. I love to write. I write my books early in the morning, while the rest of my family is still asleep. I get up at 5 a.m., fix myself a mug of hot chocolate or Earl Grey tea, and then curl up on the couch with my pad and pen. I still write the first draft of every book by hand, always on a white, narrow-ruled pad, and always with a black, felt-tipped, fine-point pen. Sometimes I lie there half dreaming, making notes on my pad that say things like "Help! Where is the humor !!" or "I need more action!" Sometimes I scribble away as fast as my hand can move across the page, lost in the world of my story. I write until breakfast, or until my two boys wake up, whichever comes first. Usually I don't get much more than one page written in a day. But page by page, day by day, on the couch at dawn, I've written many books now.
I didn't always write on the couch, and I didn't always write with the same kind of pad and pen. When I was growing up in New Jersey, I wrote anywhere and everywhere often during math class, which is why I never learned much algebra. When I finally collected all my childhood writings from my parents' house, I had a drawer full of hundreds of poems I had written before I was sixteen. There were poems scrawled on napkins, on the backs of church bulletins, and, of course, on math tests, where the answers should have been. But I have always loved the early morning best.
Now I live in Boulder, Colorado, with my husband, Richard Wahl, and my two sons, Christopher and Gregory. All my first books were about girls show-off girls, shy girls, selfish girls, unselfish girls but all somehow me, reflections of the girl I once was, and still am deep inside. Now I find myself writing about boys, too, inspired by the two real-life boys who share my days. When I was expecting the birth of my first child, I was stunned when the doctor told me it would be a boy: "But all my books are about girls!" "Well, now you'll have to start writing books about boys,"he told me, and his prediction came true.
I've also started writing stories about younger children, though most of my stories are set in the middle grades. I remember a poem I wrote the day before I turned ten, which began: "There is much magic in the
age / Of ten, that year as rich as gold " Ten and eleven and twelve have certainly been magical and rich ages for me as a writer. When I go to schools, I tell the children that they could spend the rest of their lives just writing books about the things that happened to them in fifth grade.
So between 5 and 7 a.m. every day, I return to fifth grade, or sixth grade, sometimes even seventh, and, between sips of cocoa or tea, I bring that world to life again.
And I love doing it.
Heather Maione grew up on Long Island, New York, and she received her Bachelor of the Arts at University at Buffalo, The State University of New York. She has always loved art, design, and doodling. She has illustrated many books for young readers, including "How Oliver Olson Changed the World "by Claudia Mills.
Praise For How Oliver Olson Changed the World…
"Kids . . . will appreciate this warm and humorous story about one family's struggle for balance." —BookPage

"Personable and friendly, with touches of rueful humor."—STARRED, Bulletin of the Center for Children's Books
"Mills has a knack for creating characters who demand compassion due to a pitch-perfect sense of humor and pathos." —School Library Journal

"An engaging and though-provoking chapter book." —Booklist

"Mills's previous beginning chapter books have been stellar, and this one is no exception." —The Horn Book

"Oliver may not change the world by the end of his diorama project, but he will certainly provide a fast-paced, entertaining read to the chapter-book audience."—Kirkus Reviews