Lexapros and Cons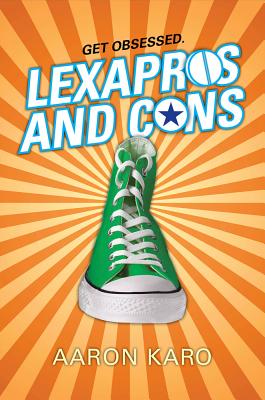 Lexapros and Cons
Farrar Straus Giroux, Hardcover, 9780374343965, 240pp.
Publication Date: April 10, 2012
* Individual store prices may vary.
Not Currently Available for Direct Purchase
or
Shop Local
Enter your zip code below to purchase from an indie close to you.
Description
Chuck Taylor's OCD has rendered him a high school outcast. His endless routines and habitual hand washing threaten to scare away both his closest friend and the amazing new girl in town. Sure he happens to share the name of the icon behind the coolest sneakers in the world, but even Chuck knows his bizarre system of wearing different color "Cons" depending on his mood is completely crazy.
In this hilariously candid debut novel from comedian Aaron Karo who grew up with a few obsessions and compulsions of his own very bad things are going to happen to Chuck. But maybe that's a good thing. Because with graduation looming, Chuck finds himself with one last chance to face his inner demons, defend his best friend, and win over the girl of his dreams. No matter what happens, though, he'll have to get his hands dirty.
About the Author
Aaron Karo is the author of Ruminations on College Life and Ruminations on Twentysomething Life, and has been writing his celebrated email column Ruminations since 1997. Also a nationally headlining comedian, Karo has performed on The Late Late Show with Craig Ferguson, and Comedy Central Records released his latest stand-up album, Just Go Talk to Her, in 2008. Originally from New York, Karo lives in Los Angeles, where he runs Ruminations.com, the web site he founded to make sure no one gets anything done at work.
Praise For Lexapros and Cons…
"A madcap coming-of-age first novel . . . Chuck's agreeably foul-mouthed narrative voice rings totally true: Everything from his laugh-out-loud repartee with Steve to his inner longing and lusting for Amy feels fully fleshed and real. Short chapters and clever pacing help Karo's plot move quickly. Karo is definitely an author to watch." —Kirkus Reviews
"Adult author Karo's background as a comedian is evident in his bawdy yet affecting YA debut, about a 17-year-old boy with obsessive-compulsive disorder. Karo offers a solid primer to OCD, including its treatments . . . Chuck is a funny, honest narrator. Readers will be impressed with Chuck's bravery in working to solve his problems." —Publishers Weekly
"The way Chuck describes the people he meets, situations he finds himself in, and strange thoughts he has will leave you in stitches! You'll love it if you're looking for a book that will make you laugh out loud. Chuck's one-liners and odd behaviors will make you completely appreciate Aaron Karo's ability to shed a humorous light on a serious issue." —Seventeen
"Aaron Karo, who is best known for his stand-up comedy and for his "Ruminations" series of humorous columns, takes a light-hearted approach to his debut YA novel. Chuck's first-person narration, not to mention his banter with best friend Steve, is hilariously raunchy, and the situations in which he finds himself are sometimes outright absurd. But as funny as Karo's writing is, his approach to dealing with an anxiety disorder like OCD is actually pretty serious. Karo talks about OCD candidly and accurately, and Chuck's psychiatrist leads him through the various options for dealing with his disorder. Even if kids reading Lexapros and Cons don't suffer from Chuck's condition, they're likely to relate to his feelings of frustration about not being able to engage with the world in the way he'd like to. Chuck's story can illustrate how to cope with these disorders with hope, heart, and hilarity."    —TeenReads.com
"Karo's . . . novel has some interesting high notes: Chuck's changing relationship with his psychiatrist and the prescription drug she suggests, his romantic dreams sparked—and befuddled—by the beautiful new girl at school, and the well-rendered emotional lives of his friends and enemies. Karo's use of "real guy" motifs is noteworthy; one of Chuck's obsessions is making a pencil tally on paper every time he masturbates, and he invents a shoe color code to reflect his moods (the shoes, of course, being Converse Chuck Taylors) . . . Offers a humorous hook for guys who would normally shy away from the romance angle." —Booklist
"The strength here is the easygoing relationship between Chuck and his nerdy best friends, portrayed in honest, credible dialogue that effectively conveys their affectionate closeness. Readers with OCD may find inspiration here to get help . . . and readers without the disorder will develop a greater level of understanding."  —Bulletin of the Center for Children's Books
"High school senior Chuck Taylor becomes likable early on. With its satisfying conclusion, the book is suitable for secondary school and public libraries; its absurdities and age-appropriate expletives may appeal to reluctant male readers." —Voice of Youth Advocates
"Karo captures the frustration of someone with OCD and its impact on friends and family . . . Characters such as the bumbling psychiatrist and obnoxious bully provide some targets for humor. The author's success in making Chuck's character 'bizarre and profane,' plus his celebrity status and previous books for adults, will generate interest in the title." —School Library Journal