My Brother's Shadow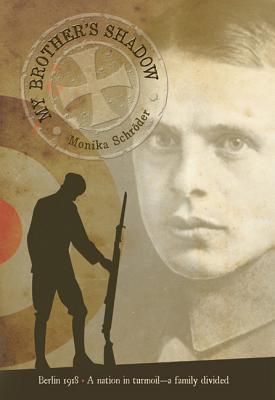 My Brother's Shadow
Farrar Straus Giroux, Hardcover, 9780374351229, 217pp.
Publication Date: September 27, 2011
* Individual store prices may vary.
Buy Now
or
Shop Local
Enter your zip code below to purchase from an indie close to you.
Description
As World War I draws to a close in 1918, German citizens are starving and suffering under a repressive regime. Sixteen-year-old Moritz is torn. His father died in the war and his older brother still risks his life in the trenches, but his mother does not support the patriotic cause and attends subversive socialist meetings. While his mother participates in the revolution to sweep away the monarchy, Moritz falls in love with a Jewish girl who also is a socialist. When Moritz's brother returns home a bitter, maimed war veteran, ready to blame Germany's defeat on everything but the old order, Moritz must choose between his allegiance to his dangerously radicalized brother and those who usher in the new democracy.
About the Author
Monika Schroder
I grew up in Germany in a small town near the Ruhr Valley. After finishing my university education with a master s degree in history and social studies, I worked for several years as a research assistant in the German parliament. In 1995, I met my future husband while on a vacation in Egypt. At the time he was a teacher at Cairo American College, and in the summer of 1996 I joined him in Cairo. Since then I have taught in international schools in Egypt, Chile and Oman. In 2002, we moved to India where I am currently the elementary school librarian at the American Embassy School in New Delhi.
I love to travel to new places and to learn about different cultures. Of course, for my job as children s librarian I read a lot of children s books, but I also make time for adult literature, mostly historical fiction novels. If I m not reading or writing, I love to bake or watch movies. And when my husband and I visit Germany, which we do each summer, we like to hike in the beautiful German forests.
Praise For My Brother's Shadow…
"Readers who are aware of the aftermath closing in on Moritz and his family will feel a chill looming over his romance with a Jewish neighbor and the illusory nature of the family's brief respite after the war." --BCCB "A good choice for sharing across the curriculum, this is a novel readers will want to discuss." --Booklist "In this nuanced and realistic work of historical fiction, Schröder (Saraswati's Way) immerses readers in her setting with meticulous details and dynamic characters that contribute to a palpable sense of tension. Moritz's intimate narration captures the conflicts, divided loyalties, and everyday horrors of the period." --Publishers Weekly " 'War gives meaning to some men's lives. For other men, the experience of war extinguishes all meaning in life,' says a man who becomes Moritz's mentor; Schröder makes this sad and ever-timely lesson all too clear."--Kirkus Reviews "The sorrow and the pity of World War I haunt every page of this unsparing coming-of-age story set in Berlin during the war's final days. Monika Schröder skillfully sketches in the fractured political background of a disintegrating imperial Germany. She doesn't miss a beat in her fast-paced first-person narrative as sixteen-year-old Moritz copes with his family's misfortunes, finds his calling, and discovers love.  I found the innocence of the meetings between Moritz and Rebecca particularly affecting, and because she happens to be Jewish, the story ends on a note of foreboding.  This is a memorable and instructive novel."—Russell Freedman, Newbery-award winning author of The War to End All Wars: World War I