Rex Zero, King of Nothing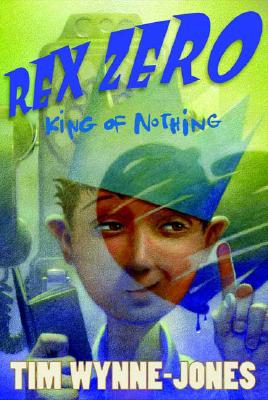 Rex Zero, King of Nothing
Farrar Straus Giroux, Hardcover, 9780374362591, 217pp.
Publication Date: April 1, 2008
* Individual store prices may vary.
Not Currently Available for Direct Purchase
or
Shop Local
Enter your zip code below to purchase from an indie close to you.
Description
In sixth grade now, the wildly imaginative Rex Zero and his friends hatch a plan to replace Miss Garr, the substitute teacher from hell, and Rex takes on the persona of none other than "Dr. Love." Of course, events spin hilariously out of control. Miss Garr's cruel behavior is a mystery to Rex. But then, Rex's world is full of mysteries There's the beautiful woman in white. Why does she have a black eye? There's the little black book filled with names. Who could it belong to? And why has Rex's father hidden a letter that begins: "Mein Liebchen"? Could all these things have something to do with the mystery of love? Underneath all of this is the age-old question of how to stand up and be a man. For if, as Rex's dad says, "a man's got to do what a man's got to do," how does Rex know what to do and when to do it?
Delightfully eccentric characters, humorous scenes of well-intended plans gone awry, a finely crafted plot interwoven with serious themes about love and war this new Rex Zero is a gem
"Rex Zero, King of Nothing" is a 2009 Bank Street - Best Children's Book of the Year.
About the Author
Tim Wynne-Jones is the accomplished author of numerous young adult novels, including Blink & Caution, winner of a Boston Globe-Horn Book Award, and The Uninvited, short-listed for the Arthur Ellis Award and the Governor General s Award. In 2012, Tim Wynne-Jones was named an Officer of the Order of Canada for his services to literature.
Praise For Rex Zero, King of Nothing…
"That smart and funny sixth grader introduced in Rex Zero and the End of the World (Farrar, 2007) is back. . . . While it is not necessary to have read the first book to enjoy this one, children will no doubt want to read it after and will look forward to more adventures." —Starred, School Library Journal "Wynne-Jones brilliantly plays Rex's comfortable childhood world against the adult one Rex is just beginning to discern; the elegantly simple child-logic he applies to the latter yields both catastrophic and heroic results... Well worth the ride." —Starred, The Horn Book "Set in Ottawa in 1962, the story offers well-crafted, eccentric characters, laugh-out-loud humor, and a generous dose of 1960s culture....Fans and preteens contemplating that long bridge to adulthood will be charmed." —Starred, Booklist "These seemingly uncorrupted characters are well aware of darkness. None of it touches their heroic childlike determination." —Kirkus Reviews "There are some laugh out loud moments. Descriptions are often memorable or lyrical as when Mother says things that happened during the war are 'like stones on your father's heart.' Thoroughly enjoyable tale of Ottawa in the sixties and some neat kids." —Sue Carita, The Toadstool Bookshop "Once again, Wynne-Jones handily balances the humorous quirkiness of his hero with truly troublesome undercurrents of adult concerns that disturb his peace." —Bulletin for the Center of Children's Books "Rex's fans . . . will be charmed." —Book Links