The Totally Made-Up Civil War Diary of Amanda MacLeish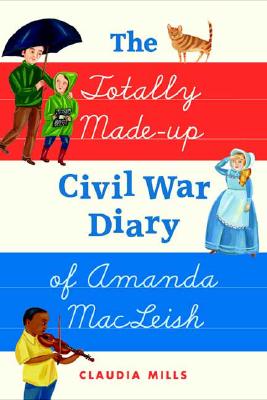 The Totally Made-Up Civil War Diary of Amanda MacLeish
Farrar Straus Giroux, Hardcover, 9780374376963, 197pp.
Publication Date: March 18, 2008
* Individual store prices may vary.
Not Currently Available for Direct Purchase
or
Shop Local
Enter your zip code below to purchase from an indie close to you.
Description
Amanda MacLeish might be the only student in Mr. Abrams's fifth-grade class who doesn't mind doing her homework. Now that her father has left home and moved into a motel, the only thing that brings Amanda any joy is writing her fictional diary entries about a young girl named Polly who lives amid the chaos of the Civil War. Polly would understand Amanda. With one brother fighting for the North and one fighting for the South, Polly knows just how it feels to have a family split in half. But if the North and the South could find a way to reunite despite their differences, can't Amanda's family do the same?
In this touching novel by Claudia Mills, the heroine learns that enduring a split doesn't have to mean losing a family.
"The Totally Made-up Civil War Diary of Amanda MacLeish" is a 2009 Bank Street - Best Children's Book of the Year.
About the Author
Claudia Mills
Some writers say that they hate to write. I love to write. I write my books early in the morning, while the rest of my family is still asleep. I get up at 5 a.m., fix myself a mug of hot chocolate or Earl Grey tea, and then curl up on the couch with my pad and pen. I still write the first draft of every book by hand, always on a white, narrow-ruled pad, and always with a black, felt-tipped, fine-point pen. Sometimes I lie there half dreaming, making notes on my pad that say things like "Help! Where is the humor !!" or "I need more action!" Sometimes I scribble away as fast as my hand can move across the page, lost in the world of my story. I write until breakfast, or until my two boys wake up, whichever comes first. Usually I don't get much more than one page written in a day. But page by page, day by day, on the couch at dawn, I've written many books now.
I didn't always write on the couch, and I didn't always write with the same kind of pad and pen. When I was growing up in New Jersey, I wrote anywhere and everywhere often during math class, which is why I never learned much algebra. When I finally collected all my childhood writings from my parents' house, I had a drawer full of hundreds of poems I had written before I was sixteen. There were poems scrawled on napkins, on the backs of church bulletins, and, of course, on math tests, where the answers should have been. But I have always loved the early morning best.
Now I live in Boulder, Colorado, with my husband, Richard Wahl, and my two sons, Christopher and Gregory. All my first books were about girls show-off girls, shy girls, selfish girls, unselfish girls but all somehow me, reflections of the girl I once was, and still am deep inside. Now I find myself writing about boys, too, inspired by the two real-life boys who share my days. When I was expecting the birth of my first child, I was stunned when the doctor told me it would be a boy: "But all my books are about girls!" "Well, now you'll have to start writing books about boys,"he told me, and his prediction came true.
I've also started writing stories about younger children, though most of my stories are set in the middle grades. I remember a poem I wrote the day before I turned ten, which began: "There is much magic in the
age / Of ten, that year as rich as gold " Ten and eleven and twelve have certainly been magical and rich ages for me as a writer. When I go to schools, I tell the children that they could spend the rest of their lives just writing books about the things that happened to them in fifth grade.
So between 5 and 7 a.m. every day, I return to fifth grade, or sixth grade, sometimes even seventh, and, between sips of cocoa or tea, I bring that world to life again.
And I love doing it.
Praise For The Totally Made-Up Civil War Diary of Amanda MacLeish…
"Addresses many issues of relevance in a straightforward style and provides age-appropriate food for thought." —School Library Journal "A polished and accessible exploration of a tough situation, sure to resonate with kids." —The Bulletin of the Center for Children's Books "Mills wins again, with an eminently likable protagonist, well-integrated subplots, and an emotionally involving story, perfectly aimed at her middle-grade audience." —The Horn Book "Believable and appealing" —Kirkus Reviews "This makes a good choice for Mills' many fans, as well as for children in search of a satisfying family story." —Booklist "Mills deftly connects Amanda's current situation with her diary entries about a fictional character named Polly." —Pittsburgh Post-Gazette
"Claudia Mills's newest novel sparkles like a glass of ginger ale, peppery and sweet. . . . A splash of American history, a dollop of friendship, a pinch of philosophy, humor, pathos, even a dash of romance." —Barnes & Noble Review