Ava and the Real Lucille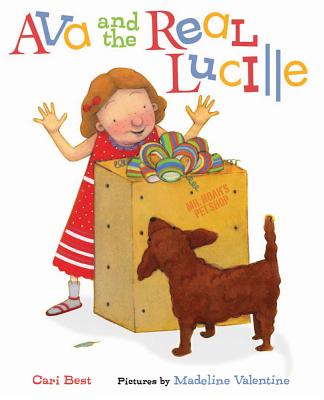 Ava and the Real Lucille
Farrar Straus Giroux, Hardcover, 9780374399030, 32pp.
Publication Date: September 4, 2012
* Individual store prices may vary.
Buy at Local Store
Enter your zip code below to purchase from an indie close to you.
or
Buy Here
Description
When Ava and her sister Arlie see the "Write a Poem / Win a Pet" sign in Mr. Noah's pet shop window, Ava is sure the prize is going to be a dog and convinces Arlie to enter the contest with her. The girls write the best poem they can, and while waiting and hoping to win, they decide that "Lucille" would be the perfect name for a dog. But when Mr. Noah finally announces that they have won, Ava is so disappointed when she sees the prize, a parakeet, that she says, "You're not the real Lucille " Ava must discover for herself that with a little patience, a little imagination, and a lot of love, her new pet will be every bit as much fun as a dog and a fine friend besides.
About the Author
When I was ten I did a brave thing. I traded my fancy birthday bicycle with its chrome fenders, balloon tires, and uncool foot brakes to my cousin for her no-frills yard-sale bike with its streamlined fenders, skinny tires, and very cool hand brakes. We were both deliriously happy with our trade. "No backsies, touch blacksies," we said to each other. The only person who was not happy was my mother, who was convinced that I had done something really stupid. But I hadn t. I had followed my heart, which for me, a shy, submissive child, was quite an accomplishment.
I rode my "new" bicycle everywhere with great pride -- to the park to play ball with the boys, to the public library and back, my paper shopping bag bulging with the likes of "The Borrowers", "Little Women", "Ginger Pye", and "All-of-a-Kind Family". I even pedaled to LaGuardia Airport and rode across the shadows of the giant planes parked on the ground.
I used to pretend that my bike was my car. We didn t own one, and almost never took a vacation. But I didn t miss going on car trips because I had my bike. The world outside our apartment was fantastic: the sidewalks and the stoops, the sprinklers at the playground, other neighborhoods, streets, and schoolyards. A neighbor showed me how to garden, a teacher encouraged me to speak up when I was afraid, and a librarian let me watch while she worked. There were animals, too: a beagle named Freedom, alley cats just hanging out, wild birds and tame birds, and every sort of insect that I tried my hardest not to run over. I was so shy as a young person that I never raised my hand in class and didn t even like to answer the telephone. I know that I discovered writing as early as the third grade because recently, after my third-grade teacher had seen an article about me in "The New York Times", she sent me some stories and poems that I d written when I was in her class.
When I was almost forty, I did another brave thing. I mailed away what would one day be "Three Cheers for Catherine the Great!" to fourteen different publishers. I received several encouraging letters. One was from Melanie Kroupa, who told me that my story about my Russian grandmother reminded her of her own grandmother, who was Czech. Would I be interested in working with her? she wrote. Would I be? You bet I would! That letter started me off on my writing career, with Melanie as my one and only editor.
One of the things I like best about being a writer is getting letters. Here is one of my most memorable:
"Dear Cari Best: "
"I like your books. They re real nice and so interesting. Even my teacher likes them. Maybe someday you could make a cereal with a lot of vitamins or be on the computer or make a CD. All of this stuff you could do because you are a arthur."
"Love, Kevin"
Growing up in New York City in an extended European family dominated by confident, beautiful women who loved to talk, I did a lot of listening. I still do. And a lot of looking, too. One of the highlights of my childhood was winning a schoolwide spelling bee with the words "aurora borealis." One of the highlights of my adulthood was being invited to the Baseball Hall of Fame to talk about my childhood. A graduate of Queens College of the City University of New York, I have a master s degree in library science from Drexel University in Philadelphia and served as the first librarian at the International Reading Association s headquarters in Newark, Delaware. Later, while I was growing my children, my dogs, and my flowers, I was Editorial Director at Weston Woods Studios. Two of my children are now teachers. I have a dog named Gypsy, a bird named Bo Peep, and a husband named Poops. I know I am lucky to be able to write every day and to ride my bike, too.
Cari Best lives in Weston, Connecticut.
Praise For Ava and the Real Lucille…
"Many kids will relate to Ava's craving for a canine…"--BCCB  "Endearing."—Publishers Weekly "Lucille is the real deal." —Kirkus 
"Reads aloud well . . . A warm story with its own quirky charm." -- Booklist