Empire of Signs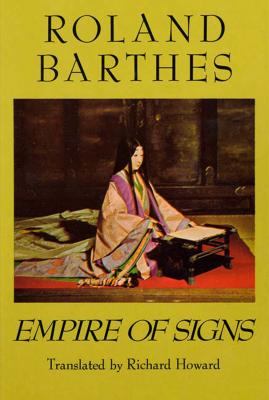 Empire of Signs
Hill & Wang, Paperback, 9780374522070, 122pp.
Publication Date: September 1983
* Individual store prices may vary.
Shop Local
Enter your zip code below to find indies closest to you.
Description
With this book, Barthes offers a broad-ranging meditation on the culture, society, art, literature, language, and iconography--in short, both the sign-oriented realities and fantasies--of Japan itself.
About the Author
Roland Barthes (1915-1980) was a French cultural and literary critic, whose clever and lyrical writings on semiotics made structuralism one of the leading movements of the twentieth century. Barthes had a cult following and published seventeen books, including "Camera Lucida", "Mythologies", and "A Lover's Discourse".

Brassai (born Gyula Halasz, 1899-1984) was a photographer, journalist, and author of photographic monographs and literary works, including "Letters to My Parents" and "Conversations with Picasso," both published by the University of Chicago Press.
Richard Howard, a professor at the School of the Arts at Columbia University, is an award-winning poet and translator. His translations include books by Gide, Cocteau, Giraudoux, De Beauvoir, Barthes, Cioran, and Proust, and Baudelaire's "Fleurs du Mal," for which he received the American Book Award.
Praise For Empire of Signs…
"If Japan did not exist, Barthes would have had to invent it--not that Japan does exist in Empire of Signs, for Barthes is careful to point out that he is not analyzing the real Japan, there is no terrible innerness as in the West, no soul, no God, no fate, no ego, no grandeur, no metaphysics, no 'promotional fever' and finally no meaning . . . For Barthes Japan is a test, a challenge to think the unthinkable, a place where meaning is finally banished. Paradise, indeed, for the great student of signs." --Edmund White, The New York Times Book Review