High Line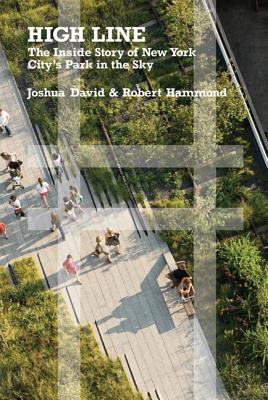 High Line
The Inside Story of New York City's Park in the Sky
Farrar Straus Giroux, Paperback, 9780374532994, 339pp.
Publication Date: October 11, 2011
* Individual store prices may vary.
Buy Now
or
Shop Local
Enter your zip code below to purchase from an indie close to you.
Description
How two New Yorkers led the transformation of a derelict elevated railway into a grand and beloved open space
The High Line, a new park atop an ele-vated rail structure on Manhattan's West Side, is among the most innovative urban reclamation projects in memory. The story of how it came to be is a remarkable one: two young citizens with no prior experience in planning and development collaborated with their neighbors, elected officials, artists, local business owners, and leaders of burgeoning movements in horticulture and landscape architecture to create a park celebrated worldwide as a model for creatively designed, socially vibrant, ecologically sound public space.
Joshua David and Robert Hammond met in 1999 at a community board meeting to consider the fate of the High Line. Built in the 1930s, it carried freight trains to the West Side when the area was defined by factories and warehouses. But when trains were replaced by truck transport, the High Line became obsolete. By century's end it was a rusty, forbidding ruin. Plants grew between the tracks, giving it a wild and striking beauty.
David and Hammond loved the ruin and saw in it an opportunity to create a new way to experience their city. Over ten years, they did so. In this candid and inspiring book lavishly illustrated they tell how they relied on skill, luck, and good timing: a crucial court ruling, an inspiring design contest, the enthusiasm of Mayor Bloomberg, the concern for urban planning issues following 9/11. Now the High Line a half-mile expanse of plants, paths, staircases, and framed vistas runs through a transformed West Side and reminds us that extraordinary things are possible when creative people work together for the common good.
About the Author


Robert Hammond is an award-winning screenwriter, producer and author of over a dozen books including The Light and Ready When You Are: Cecil B. DeMille's Ten Commandments for Success. In addition to developing projects for film and television, Hammond is a literary consultant, creative writing teacher, and a popular talk-show guest on personal transformation, creativity, and Hollywood history. His mission is to help others find their inner light and share their stories with the world. Hammond's book Life After Debt sold over 100,000 copies. He was the spokesperson for Capital One Financial Corporation's identity theft prevention program related to his book, Identity Theft: How to Protect Your Most Valuable Asset. Hammond holds a Master of Fine Arts in Creative Writing, has taught at several universities, and has appeared on over 300 radio and television talk shows.
Praise For High Line…
"This lushly illustrated volume showcases the range of imaginative designs [Joshua David and Robert Hammond] explored and, in some cases, rejected. In recounting their decade-long experiment, they provide an inspiring primer for grass-roots urban planning." —Sam Roberts, The New York Times
"This account by the founders of the nonprofit responsible for the groundbreaking reclamation project chronicles the struggles and successes that led to the realization of what was deemed a far-fetched dream—and resulted in a new Manhattan landmark." —Travel + Leisure
"A fascinating first-person tale." —The New York Observer
"The High Line is not only a great work of design—surely the most important addition to the public realm of New York in this century; it is also a great saga. In this book Robert Hammond and Joshua David, who led the grass-roots movement to rescue the High Line from demolition, tell with energy, passion, and refreshing candor the story of how this industrial artifact became, against all odds, a magnificent park." —Paul Goldberger
"This book is the record of a bright and in fact heroic part of New York City's history. The story of the struggle, against very long odds, by two young men to create the High Line is a story of perseverance, determination and courage, and the photographs which accompany it show the brilliance of their achievement." —Robert A. Caro
"This is a fundamentally uplifting story of two young men with a dream who scythed through red tape and skepticism, summoning a village to help reimagine what a park could be in the twenty-first century. Thanks to their vision, and to the dedication, enthusiasm, and brilliance of their collaborators, a walk in the park has been transformed into an exhilarating urban experience that helps all of us to see our extraordinary city with new eyes." —Anna Wintour
"If God is in the details, then few projects can be more divine than the High Line. Christo, the man who wraps bridges and the Reichstag, once said that for him the creative part of his work is not the finished product but the seemingly frustrating process of getting all those permits and raising funds and convincing ecologists and city planners. This careful account of how the High Line came to exist despite all the odds proves just how creative and suspenseful realizing a plan can be; it's a real cliff-hanger." —Edmund White
"The story of the High Line is one of the great encouraging improbable stories of New York life in the past few decades. This book should read by anyone who cares about New York, or green and urban life." —Adam Gopnik
"There is no more miraculous and important and gratifying piece of new American urban design than the High Line. What's more, how it was conjured into existence is a compelling story, and here's that story—with pictures!—told lucidly and charmingly by the two extraordinary ordinary guys who pulled it off." —Kurt Andersen