The Spirit Catches You and You Fall Down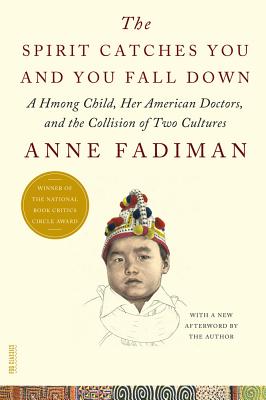 The Spirit Catches You and You Fall Down
A Hmong Child, Her American Doctors, and the Collision of Two Cultures
Farrar, Straus and Giroux, Paperback, 9780374533403, 368pp.
Publication Date: April 24, 2012
* Individual store prices may vary.
Buy at Local Store
Enter your zip code below to purchase from an indie close to you.
or
Buy Here
Description
"The Spirit Catches You and You Fall Down "explores the clash between a small county hospital in California and a refugee family from Laos over the care of Lia Lee, a Hmong child diagnosed with severe epilepsy. Lia's parents and her doctors both wanted what was best for Lia, but the lack of understanding between them led to tragedy. Winner of the National Book Critics Circle Award for Nonfiction, the Los Angeles Times Book Prize for Current Interest, and the Salon Book Award, Anne Fadiman's compassionate account of this cultural impasse is literary journalism at its finest.
______

Lia Lee 1982-2012
Lia Lee died on August 31, 2012. She was thirty years old and had been in a vegetative state since the age of four. Until the day of her death, her family cared for her lovingly at home.
About the Author
Anne Fadiman is the author of "The Spirit Catches You" and "You Fall Down", winner of a National Book Critics Circle Award, an L.A. Times Book Prize, and a Salon Book Award. She is also the author of two essay collections, "At Large and ""At Small" and "Ex Libris", and the editor of "Rereadings: Seventeen Writers Revisit Books They Love". Her essays and articles have appeared in "Harper's, The New Yorker", and "The New York Times", among other publications. She is the Francis Writer-in-Residence at Yale.


Praise For The Spirit Catches You and You Fall Down…
"Superb, informal cultural anthropology—eye-opening, readable, utterly engaging." —Carole Horn, The Washington Post Book World
"This is a book that should be deeply disturbing to anyone who has given so much as a moment's thought to the state of American medicine. But it is much more . . . People are presented as [Fadiman] saw them, in their humility and their frailty—and their nobility." —Sherwin B. Nuland, The New Republic
"The Spirit Catches You and You Fall Down changed how doctors see themselves and how they see their patients. Anne Fadiman celebrates the complexity and the individuality of the human interactions that make up the practice of medicine while simultaneously pointing out directions for change and breaking readers' hearts with the tragedies of cultural displacement, medical limitations, and futile good intentions." —Perri Klass, M.D., author of A Not Entirely Benign Procedure