The Deleted World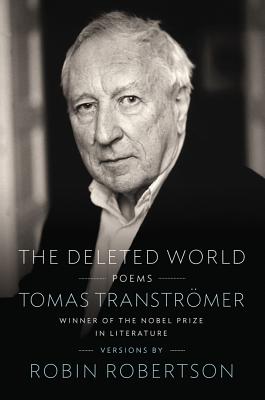 The Deleted World
Poems
Farrar, Straus and Giroux, Paperback, 9780374533533, 64pp.
Publication Date: December 19, 2011
* Individual store prices may vary.
Buy at Local Store
Enter your zip code below to purchase from an indie close to you.
or
Buy Here
Description
A short selection of haunting, meditative poems from the winner of the 2011 Nobel Prize in Literature
Tomas Transtromer can be clearly recognized not just as Sweden's most important poet, but as a writer of international stature whose work speaks to us now with undiminished clarity and resonance. Long celebrated as a master of the arresting, suggestive image, Transtromer is a poet of the liminal: drawn again and again to thresholds of light and of water, the boundaries between man and nature, wakefulness and dream. A deeply spiritual but secular writer, his skepticism about humanity is continually challenged by the implacable renewing power of the natural world. His poems are epiphanies rooted in experience: spare, luminous meditations that his extraordinary images split open exposing something sudden, mysterious, and unforgettable.
About the Author
Tomas Transtromer, winner of the 2011 Nobel Prize in Literature, is one of the most celebrated and influential poetic figures of his generation. He was born in Stockholm in 1931 and educated at the Sodra Latin School and the University of Stockholm, where he received a degree in psychology. He began his psychology career in the early 1960s at Roxtuna, a juvenile corrections institute in Sweden, and worked for several decades in the field. Since the publication of 17 Dikter (17 Poems) in 1954, Transtromer has written eleven full-length collections of poetry, most recently Den stora gatan (The Vast Enigma) in 2004. He is one of the world's most translated poets (with books appearing in numerous editions in over fifty languages). In addition to his renown as a poet, Transtromer is also a highly regarded concert pianist and entomologist. He lives with his wife in Stockholm.



Robin Robertson is a veteran restaurant chef, cooking teacher, and an acclaimed writer. She pens a regular column for VegNews Magazine and has written for Vegetarian Times, Health Naturally, Restaurant Business, National Culinary Review, American Culinary Federation Magazine, and Better Nutrition. She has written numerous cookbooks including the best-selling titles Vegan Planet, Vegan on the Cheap, and Quick-Fix Vegan. Robertson currently writes, promotes her books, and teaches classes on her innovative vegan cuisine from her home in the Shenandoah Valley of Virginia, where she lives with her husband and two cats. Her website is www.globalvegankitchen.com.
Praise For The Deleted World…
Praise for The Deleted World 
"For decades U.S. poets and those in the know have been talking about Tranströmer, the haunting Swedish poet who's supposedly been on the Nobel shortlist for years. Now that he's actually taken this year's prize, he's no longer a secret. Readers can choose from several selections of poems with different English translators—from New Directions, Ecco, Graywolf, and others—all of which are pretty good, though this little book rushed out by FSG may be the best introduction . . . U.K. poetry star Robertson offers his lucid versions of 15 poems from throughout Tranströmer's long career, which began in the '50s . . . While readers will certainly be left wanting more pages, the fact that they will is a tribute to Robertson's clear and deep sympathy with Tranströmer's world." —Publishers Weekly (starred review)
"His renderings are more fluid when it comes to English syntax than some translations I've read that may be more accurate but are somewhat stilted . . . Robertson has done justice to the greatest qualities of Tranströmer's poems: their evocative, striking imagery and uncanny metaphorical resonance . . . It's a collection that sparks with an exquisite, awakened awareness of the world." —Barbara Carey, Toronto Star
"Robin Robertson, himself no mean verse-maker, has taken a small selection from Tranströmer's 11 volumes and rendered them beautifully. And he has done so in a form that maintains the resonance and forceful imagery of the originals, and their engagement with the natural world, as well as providing a nimble introduction . . . Lovely stuff." —Globe & Mail
"Robertson's fine work comes at an ideal time . . . Tranströmer's world is deeply northern, with scenes of snow, islands in chill waters, clouds and mists. But always, he is really speaking about innerscapes of the human soul . . . Robertson transmits the startle." —Philadelphia Inquirer