Reading Lyrics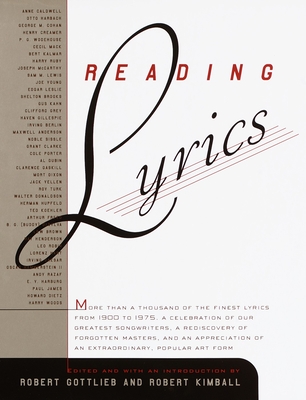 Reading Lyrics
More Than 1,000 of the Century's Finest Lyrics--A Celebration of Our Greatest Songwriters, a Rediscovery of Forgotten
Pantheon Books, Hardcover, 9780375400810, 736pp.
Publication Date: November 21, 2000
* Individual store prices may vary.
Buy at Local Store
Enter your zip code below to purchase from an indie close to you.
or
Not Currently Available for Direct Purchase
Description
A vast anthology bringing together more than one thousand of the best American and English lyrics of the twentieth century, this is an extraordinary celebration of a unique art form.
"Reading Lyrics" begins with the first masters of the colloquial phrase, including George M. Cohan ( Give My Regards to Broadway ), P. G. Wodehouse ( Till the Clouds Roll By ), and Irving Berlin, whose versatility and career span the period from Alexander's Ragtime Band to Annie Get Your Gun and beyond. The Broadway musical emerges as a distinct dramatic form in the 1920s and 1930s, its evolution propelled by a trio of lyricists Cole Porter, Ira Gershwin, and Lorenz Hart whose explorations of the psychological and emotional nuances of falling in and out of love have lost none of their wit and sophistication. Their songs, including Night and Day, The Man I Love, and Bewitched, Bothered and Bewildered, have become standards performed and recorded by generation after generation of singers. The lure of Broadway and Hollywood and the performing genius of such artists as Al Jolson, Fred Astaire, Ethel Waters, Judy Garland, Frank Sinatra, and Ethel Merman inspired a remarkable array of talented writers, including Dorothy Fields ( A Fine Romance, I Can t Give You Anything but Love ), Frank Loesser ( Guys and Dolls ), Oscar Hammerstein II (from the groundbreaking Show Boat of 1927 through his extraordinary collaboration with Richard Rodgers), Johnny Mercer, Yip Harburg, Andy Razaf, Noel Coward, and Stephen Sondheim.
"Reading Lyrics" also celebrates the work of dozens of superb craftsmen whose songs remain known, but who today are themselves less known writers like Haven Gillespie (whose Santa Claus Is Coming to Town may be the most widely recorded song of its era); Herman Hupfeld (not only the composer/lyricist of As Time Goes By but also of Are You Makin Any Money? and When Yuba Plays the Rumba on the Tuba ); the great light versifier Ogden Nash ( Speak Low, I m a Stranger Here Myself, and, yes, The Sea-Gull and the Ea-Gull ); Don Raye ( Boogie Woogie Bugle Boy, Mister Five by Five, and, of course, Milkman, Keep Those Bottles Quiet ); Bobby Troup ( Route 66 ); Billy Strayhorn (not only for the omnipresent Lush Life but for Something to Live For and A Lonely Coed ); Peggy Lee (not only a superb singer but also an original and appealing lyricist); and the unique Dave Frishberg ( I m Hip, Peel Me a Grape, Van Lingo Mungo ).
Robert Gottlieb and Robert Kimball have created an indispensable reference work and history. The lyricists are presented chronologically, each introduced by a succinct biography and incisive commentary. "Reading Lyrics" is a magnificent gathering of words whose power to stir memories and evoke romance is akin to that of lyric poetry. Collected in one volume, it represents one of the twentieth century's most enduring and cherished legacies.
About the Author
Robert Gottlieb is the editor of "Reading Jazz," "The Collected Stories of Rudyard Kipling," and "The Journals of John Cheever."

Robert Kimball is the editor of "The Complete Lyrics of Cole Porter, The Complete Lyrics of Ira Gershwin, " and" The Complete Lyrics of Lorenz Hart" and is the co-editor of "The Complete Lyrics of Irving Berlin.""
Praise For Reading Lyrics…
"Indispensable, stellar new anthology. This eclectic book provides enough humor, romance and sophistication to make you forget that Seussical even existed."
—Jason Zinoman, Time Out New York

"This music is an amazing art form; it's a substantial cultural phenomenon."
—Newsweek

"Reading Lyrics is both a groundbreaking social document and its own pleasure dome. Its seven hundred and six pages confirm the accomplishments of the greats, but they also provide surprises."
—The New Yorker

"America was the laboratory that proved Plato's contention that songs are 'spells for souls for the creation of concord.' If you read between the lines of many of the lyrics in the anthology, you hear an alarmed society calming its frazzled nerves."
—The New Yorker

"[Reading Lyrics] defies literary categorization. It's reference work. It's a singalong book . . . It's a shadow history of taste and mores over much of the past century. It's a valentine to a now-vanished artistic craft. And it's an act of fond provocation."
—The Boston Globe

"Reading Lyrics demonstrates one of the may magic tricks that words can do: the way that letters and lines on a page can (with years of practice) learn how to carry a tune."
—Elle

"With around 170 lyricists on offer, the book makes its share of worthwhile rediscoveries . . . That's the fun of Reading Lyrics. Readers can hum along with songs they know, while songs they don't will have them hurrying off to the nearest music megastore."
—The New York Times Book Review

"Sparklingly entertaining, Reading Lyrics exalts the lyrical sublimity of such cunning wordsmiths as Porter, Gershwin, and Coward."
—Vanity Fair

"Tuneless, but what joy! . . . For no sooner do the lyrics appear before one's eyes than reading gives way to song."
—Billboard Magazine

"This wondrous and magical concoction is highly recommended."
—Wall Street Journal

"This is one of the finest collections of words there is. To quote P.G. Wodehouse. . . 'And I wish someday I could find my way/To the land where the good songs go.' That land is Reading Lyrics. 'S wonderful." —Newsday