Julia and Jacques Cooking at Home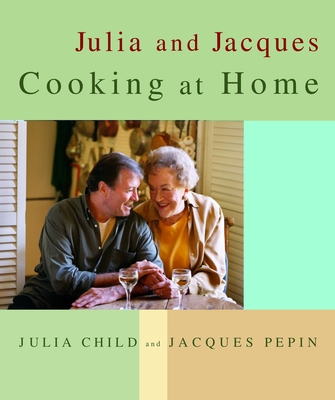 Julia and Jacques Cooking at Home
Alfred A. Knopf, Hardcover, 9780375404313, 448pp.
Publication Date: September 14, 1999
* Individual store prices may vary.
Buy at Local Store
Enter your zip code below to purchase from an indie close to you.
or
Buy Here
Description
The companion volume to the public television series "Julia and Jacques Cooking at Home"
Two legendary cooks, Julia Child and Jacques Pepin, invite us into their kitchen and show us the basics of good home cooking.
What makes this book unique is the richness of information they offer on every page, as they demonstrate techniques (on which they don't always agree), discuss ingredients, improvise, balance flavors to round out a meal, and conjure up new dishes from leftovers. Center stage in these pages are carefully spelled-out recipes flanked by Julia's comments and Jacques's comments--the accumulated wisdom of a lifetime of honing their cooking skills. Nothing is written in stone, they imply. And that is one of the most important lessons for every good cook.
So sharpen your knives and join in the fun as you learn to make . . .
*--Appetizers--from traditional and instant grav-lax to your own sausage in brioche and a country pate
*--Soups--from New England chicken chowder and onion soup gratinee to Mediterranean seafood stew and that creamy essence of mussels, billi-bi
*--Eggs--omelets and "tortillas"; scrambled, poached, and coddled eggs; eggs as a liaison for sauces and as the puffing power for souffles
*--Salads and Sandwiches--basic green and near-Nicoise salads; a crusty round seafood-stuffed bread, a lobster roll, and a pan bagnat
*--Potatoes--baked, mashed, hash-browned, scalloped, souffled, and French-fried
*--Vegetables--the favorites from artichokes to tomatoes, blanched, steamed, sauteed, braised, glazed, and gratineed
*--Fish--familiar varieties whole and filleted (with step-by-step instructions for preparing your own), steamed en papillote, grilled, seared, roasted, and poached, plus a classic sole meuniere and the essentials of lobster cookery
*--Poultry--the perfect roast chicken (Julia's way and Jacques's way); holiday turkey, Julia's deconstructed and Jacques's galantine; their two novel approaches to duck
*--Meat--the right technique for each cut of meat (along with lessons in cutting up), from steaks and hamburger to boeuf bourguignon and roast leg of lamb
*--Desserts--creme caramel, profiteroles, chocolate roulade, free-form apple tart--as you make them you'll learn all the important building blocks for handling dough, cooking custards, preparing fillings and frostings
And much, much more . . .
Throughout this richly illustrated book you'll see Julia's and Jacques's hands at work, and you'll sense the pleasure the two are having cooking together, tasting, exchanging ideas, joshing with each other, and raising a glass to savor the fruits of their labor. Again and again they demonstrate that cooking is endlessly fascinating and challenging and, while ultimately personal, it is a joy to be shared.
About the Author
The unflappable Julia Child brought the intricacies of French cuisine to American home cooks through her television series and books. "Baking with Julia" is a testament to her know-how and teaching tradition. She died on Aug. 12, 2004 just two days before her 92nd birthday.

JACQUES PEPIN has written twenty-five cookbooks, including the best-selling Jacques Pepin Fast Food My Way, More Fast Food My Way, and his memoir, The Apprentice. He has also starred in numerous acclaimed cooking series on public television. He has won multiple James Beard Awards, several IACP Cookbook Awards, and the Legion of Honor, France's highest distinction.

Christopher Hirsheimer is an award-winning photographer and cofounder of Canal House. Her experience includes establishing a publishing venture, running a culinary and design studio, and publishing an annual series of three seasonal cookbooks titled "Canal House Cooking". Prior to starting Canal House in 2007, in Lambertville, New Jersey, Hirsheimer was the executive editor of "Saveur", which she cofounded in 1994, and the food and design editor of "Metropolitan Home". She cowrote the award-winning "Saveur Cooks" series and "The San Francisco Ferry Plaza Farmers' Market Cookbook". Her photographs have appeared in more than 50 cookbooks for such notables as Lidia Bastianich, Mario Batali, Julia Child, Jacques Pepin, and Alice Waters, and in numerous magazines, including "Bon Appetit, Food & Wine, InStyle", and "Town&Country".