Julia and Jacques Cooking at Home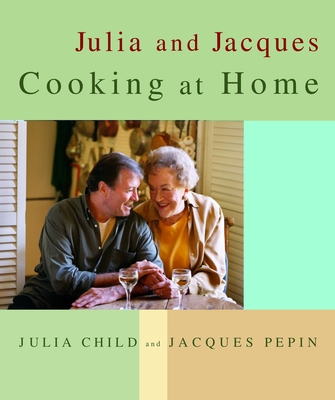 Julia and Jacques Cooking at Home
Alfred A. Knopf, Hardcover, 9780375404313, 448pp.
Publication Date: September 14, 1999
* Individual store prices may vary.
Buy at Local Store
Enter your zip code below to purchase from an indie close to you.
or
Buy Here
Description
The companion volume to the public television series Julia and Jacques Cooking at Home
Two legendary cooks, Julia Child and Jacques Pepin, invite us into their kitchen and show us the basics of good home cooking.
What makes this book unique is the richness of information they offer on every page, as they demonstrate techniques (on which they don't always agree), discuss ingredients, improvise, balance flavors to round out a meal, and conjure up new dishes from leftovers. Center stage in these pages are carefully spelled-out recipes flanked by Julia's comments and Jacques's comments--the accumulated wisdom of a lifetime of honing their cooking skills. Nothing is written in stone, they imply. And that is one of the most important lessons for every good cook.
So sharpen your knives and join in the fun as you learn to make . . .
*--Appetizers--from traditional and instant grav-lax to your own sausage in brioche and a country pate
*--Soups--from New England chicken chowder and onion soup gratinee to Mediterranean seafood stew and that creamy essence of mussels, billi-bi
*--Eggs--omelets and "tortillas"; scrambled, poached, and coddled eggs; eggs as a liaison for sauces and as the puffing power for souffles
*--Salads and Sandwiches--basic green and near-Nicoise salads; a crusty round seafood-stuffed bread, a lobster roll, and a pan bagnat
*--Potatoes--baked, mashed, hash-browned, scalloped, souffled, and French-fried
*--Vegetables--the favorites from artichokes to tomatoes, blanched, steamed, sauteed, braised, glazed, and gratineed
*--Fish--familiar varieties whole and filleted (with step-by-step instructions for preparing your own), steamed en papillote, grilled, seared, roasted, and poached, plus a classic sole meuniere and the essentials of lobster cookery
*--Poultry--the perfect roast chicken (Julia's way and Jacques's way); holiday turkey, Julia's deconstructed and Jacques's galantine; their two novel approaches to duck
*--Meat--the right technique for each cut of meat (along with lessons in cutting up), from steaks and hamburger to boeuf bourguignon and roast leg of lamb
*--Desserts--creme caramel, profiteroles, chocolate roulade, free-form apple tart--as you make them you'll learn all the important building blocks for handling dough, cooking custards, preparing fillings and frostings
And much, much more . . .
Throughout this richly illustrated book you'll see Julia's and Jacques's hands at work, and you'll sense the pleasure the two are having cooking together, tasting, exchanging ideas, joshing with each other, and raising a glass to savor the fruits of their labor. Again and again they demonstrate that cooking is endlessly fascinating and challenging and, while ultimately personal, it is a joy to be shared.
About the Author
Julia Child was born in Pasadena, California and graduated from Smith College in 1934.After college she worked in publicity and advertising in New York, and during World War II she served with the Office of Strategic Services in Washington DC, Ceylon (now Sri Lanka), and China.After the war, at the end of 1948, her husband Paul Child was assigned to the US Information Service at the Cordon Bleu Cooking School in Paris.Together with her two French colleagues, Simone Beck and Louisette Bertholle, they opened a cooking school, "L'Ecole des Trois Gourmandes," which eventually resulted in their joint book, Mastering the Art of French Cooking, published in 1961. Julia and Paul eventually returned to the States, and after a television interview at WGBH-Boston, the station asked Julia to try out a series of TV cooking shows, and The French Chef was born on February 11, 1963.After some 200 programs on classical French cooking, she branched out into contemporary cuisine with the television series Julia Child & Company, Julia Child & More Company, and Dinner at Julia's.In 1984, she completed six The Way to Cook teaching videocassettes. She has appeared on national television programs including: Good Morning America, The Johnny Carson Show, The David Letterman Show, Phil Donahue, and The Rosie O'Donnell Show.She was host for the PBS Cooking with Master Chefs series, with a different well-known chef for each of the programs, and also for the 39-part series, Baking with Julia.Her newest television venture is a 22-part series with Jacques Pepin.It is a technique-based program aimed at teaching the serious home cook and would-be chef. Julia Child's books include The French Chef Cookbook (1968), Mastering the Art of French Cooking, Volumes I and II, co-authored with Simone Beck (1970), and From Julia Child's Kitchen (1975).Julia Child & Company and Julia Child & More Company, originally published in the late 1970's, were combined into four books issued in the fall of 1998.Her large, fully illustrated book, The Way to Cook, was issued in October 1989, and is now available both in hardcover and paperback editions.Cooking with Master Chefs was issued in the fall of 1993 to accompany the TV series, and was followed by In Julia's Kitchen with Master Chefs. Julia Child has been interviewed and written about in many publications, including: Time, Newsweek, The New Yorker, The Christian Science Monitor, The New York Times, and TV Guide.She has received honorary degrees from Boston University, Bates College, Rutgers University, Smith College, and Harvard University.She was awarded two national Emmy's: in 1995 for her Master Chefs series and in 1997 for Baking with Julia. Mrs. Child is an active member of the International Association of Culinary Professionals, and a co-founder of the American Institute of Wine & Food. Jacques Pepin, celebrated host of award-winning cooking shows on National Public Television, master chef, food columnist, cooking teacher, and author of 18 cookbooks, was born in Bourg-en-Bresse, near Lyon.His first exposure to cooking was as a child in his parents' restaurant, Le Pelican.At 13 years of age, he began his formal apprenticeship at the distinguished Grand Hotel de L'Europe in his hometown.He subsequently worked in Paris, training under Lucien Diat at the famed Plaza Athenee.From 1956 to 1958, Mr. Pepin was the personal chef to three French heads of state, including Charles de Gaulle. Moving to the United States in 1959, Mr. Pepin worked first at New York's historic Le Pavilion restaurant, then served for 10 years as director of research and new development for the Howard Johnson Company, a position that enabled him to learn about mass production, marketing, food chemistry, and American food tastes.He studied at Columbia University during this period, ultimately earning an MA degree in 18th-century French literature in 1972.Deciding then to devote much of his time to writing, he authored two groundbreaking step-by-step books on French culinary technique, La Technique (1976) and La Methode (1979).These works, and others that followed, earned him a place in the James Beard Foundation's Cookbook Hall of Fame in 1996, an honor bestowed each year on one author whose contributions to the literature of food have had a substantial and enduring impact on the American kitchen. A new series hosted by Mr. Pepin, his sixth produced by KQED in San Francisco, is currently airing on PBS-TV stations throughout the United States.Entitled Jacques Pepin's Kitchen: Encore with Claudine, it is a second season of 26 cooking shows with his daughter.The first season of this series, entitled, Jacques Pepin's Kitchen: Cooking with Claudine, was a James Beard Award winner (Best National Cooking Segment, 1997).His other recent television series include the acclaimed Jacques Pepin's Cooking Techniques and three successful seasons of Today's Gourmet with Jacques Pepin, which received a Beard Award (Outstanding Culinary Video) in 1994. Several of Mr. Pepin's series have companion cookbooks.The most recent, like the series entitled Jacques Pepin's Kitchen: Encore with Claudine (1998), follows Jacques Pepin's Kitchen: Cooking with Claudine (1996), which received a Julia Child Cookbook Award (Best General Cookbook) at the 1997 Conference of the International Association of Culinary Professionals (IACP).He has also published Jacques Pepin's Table (1995, a compilation containing all the recipes prepared on the three seasons of Today's Gourmet with Jacques Pepin), Sweet Simplicity: Jacques Pepin's Fruit Desserts, and a five-tape video guide to the fundamentals of cooking, Jacques Pepin's Cooking Techniques (1996). A former columnist for the New York Times, Mr. Pepin writes a quarterly column for Food & Wine.He also participates regularly in the magazine's prestigious Food & Wine Classic in Aspen and at other culinary festivals and fund-raising events worldwide.In addition, he is a popular guest on such commercial TV programs as The Late Show with David Letterman, The Today Show, and Good Morning America. Mr. Pepin teamed with Napa Valley Kitchens and KQED in 1997 to produce a line of specialty food products bearing the "Jacques Pepin's Kitchen" signature.In collaboration with Bourgeat, Inc., he has a line of copper cookware ("Jacques Pepin's Signature Series") created to his specifications, and, with Lamson & Goodnow Manufacturing Company, a line of kitchen textiles featuring his designs. Mr. Pepin is the recipient of two of the French government's highest honors: he is the Chevalier de L'Ordre des Arts et des Lettres (1997) and a Chevalier de L'Ordre du Merite Agricole (1992).The Dean of Special Programs at The French Culinary Institute of Wine and Food, a member of the IACP, and is on the board of trustees of The James Beard Foundation.He and his wife, Gloria, live in Madison, Connecticut."