The Pickwick Papers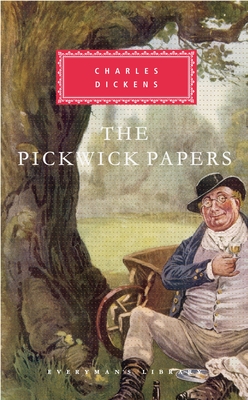 The Pickwick Papers
Everyman's Library, Hardcover, 9780375405488, 976pp.
Publication Date: March 2, 1999
* Individual store prices may vary.
Buy at Local Store
Enter your zip code below to purchase from an indie close to you.
or
Not Currently Available for Direct Purchase
Description
In this classic social commentary from Dickens, Mr. Samuel Pickwick, retired business man and confirmed bachelor, is determined that after a quiet life of enterprise the time has come to go out into the world.Together with the other members of the Pickwick Club: Tracy Tupman, Augustus Snodgrass and Nathaniel Winkle, the portly innocent embarks on a series of hilariously comic adventures.But can Pickwick retain his good will towards his fellow humans once he discovers the evils of the world?
Charles Dickens's satirical masterpiece, "The Pickwick Papers," catapulted the young writer into literary fame when it was first serialized in 1836 37. It recounts the rollicking adventures of the members of the Pickwick Club as they travel about England getting into all sorts of mischief.
Laugh-out-loud funny and endlessly entertaining, the book also reveals Dickens's burgeoning interest in the parliamentary system, lawyers, the Poor Laws, and the ills of debtors prisons.
As G. K. Chesterton noted, Before Dickens] wrote a single real story, he had a kind of vision . . . a map full of fantastic towns, thundering coaches, clamorous market-places, uproarious inns, strange and swaggering figures. That vision was Pickwick.
(Book Jacket Status: Not Jacketed)

About the Author
Arguably one of the greatest writers of the Victorian era, Charles Dickens is the author of such literary masterpieces as A Tale of Two Cities (1859), A Christmas Carol (1843), David Copperfield (1850), and The Adventures of Oliver Twist (1839), among many others. Dickens' s indelible characters and timeless stories continue to resonate with readers around the world more than 130 years after his death. Dickens was born in 1812 and died in 1870.

Peter Washington is the author of "Madame Blavatsky's Baboon," He is the editor of several Everyman's Library Pocket Poet anthologies including "Love Poems" and" Friendship Poems,"
Praise For The Pickwick Papers…
"No essay in fiction ever gave more incontestable assurance of genius. . . . Never, perhaps, was satire so large-hearted and so entertaining."—George Gissing