The Scarlet Pimpernel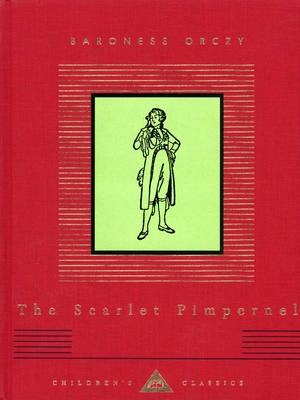 The Scarlet Pimpernel
Everyman's Library, Hardcover, 9780375406584, 320pp.
Publication Date: September 21, 1999
* Individual store prices may vary.
Buy at Local Store
Enter your zip code below to purchase from an indie close to you.
or
Not Currently Available for Direct Purchase
Description
The first and most successful in the Baroness's series of books that feature Percy Blakeney, who leads a double life as an English fop and a swashbuckling rescuer of aristocrats, "The Scarlet Pimpernel" was the blueprint for what became known as the masked-avenger genre. As Anne Perry writes in her Introduction, the novel has almost reached its first centenary, and it is as vivid and appealing as ever because the plotting is perfect. It is a classic example of how to construct, pace, and conclude a plot. . . . To rise on the crest of laughter without capsizing, to survive being written, rewritten, and reinterpreted by each generation, is the mark of a plot that is timeless and universal, even though it happens to be set in England and France of 1792.
About the Author
Baroness Emmuska Orczy (1865-1947) was a British novelist, playwright and artist of Hungarian noble origin. She was most notable for her series of novels featuring the Scarlet Pimpernel. Some of her paintings were exhibited at the Royal Academy in London. In 1903, she and her husband wrote a play based on one of her short stories about an English aristocrat, Sir Percy Blakeney, Bart., who rescued French aristocrats from the French Revolution: The Scarlet Pimpernel. This theatrical success generated huge sales for the novel that followed. She went on to write over a dozen sequels featuring Sir Percy Blakeney, his family, and the other members of the League of the Scarlet Pimpernel, of which the first, I Will Repay (1906), was the most popular. The last Pimpernel book, Mam'zelle Guillotine, was published in 1940. None of her three subsequent plays matched the success of The Scarlet Pimpernel. She also wrote popular mystery fiction and many adventure romances. Her Lady Molly of Scotland Yard was an early example of a female detective as the main character. During the First World War, Baroness Orczy formed the Women of England's Active Service League, an unofficial organization aimed at the recruitment of male volunteers for active service. Her aim was to enlist 100,000 women who would pledge "to persuade every man I know to offer his service to his country." Some 20,000 women joined her organization.


Praise For The Scarlet Pimpernel…
"Arguably the best adventure story ever published and certainly the most influential that appeared during the early decades of the twentieth century."—Gary Hoppenstand