Prisoners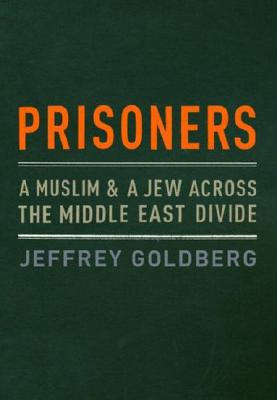 Prisoners
A Muslim and a Jew Across the Middle East Divide
Knopf, Hardcover, 9780375412349, 336pp.
Publication Date: October 3, 2006
* Individual store prices may vary.
Not Currently Available for Direct Purchase
or
Shop Local
Enter your zip code below to purchase from an indie close to you.
Description
They met in 1990 during the first Palestinian uprising—one was an American Jew who served as a prison guard in the largest prison in Israel, the other, his prisoner, Rafiq, a rising leader in the PLO. Despite their fears and prejudices, they began a dialogue there that grew into a remarkable friendship—and now a remarkable book. It is a book that confronts head-on the issues dividing the Middle East, but one that also shines a ray of hope on that dark, embattled region.

Jeffrey Goldberg, now an award-winning correspondent for The New Yorker, moved to Israel while still a college student. When he arrived, there was already a war in his heart—a war between the magnetic pull of tribe and the equally determined pull of the universalist ideal. He saw the conflict between the Jews and Arabs as the essence of tragedy, because tragedy is born not in the collision of right and wrong, but of right and right.

Soon, as a military policeman in the Israeli army, he was sent to the Ketziot military prison camp, a barbed-wire city of tents and machine gun towers buried deep in the Negev Desert. Ketziot held six thousand Arabs, the flower of the Intifada: its rock-throwers, knifemen, bomb-makers, and propagandists. He realized that this was an extraordinary opportunity to learn from them about themselves, especially because among the prisoners may have been the future leaders of Palestine.

Prisoners is an account of life in that harsh desert prison—mean, overcrowded, and violent — and of Goldberg's extraordinary dialogue with Rafiq, which continues to this day.

We hear their accusations, explanations, fears, prejudices, and aspirations. We see how their relationship deepened over the years as Goldberg returned to Washington, D.C., where Rafiq, quite coincidentally, had become a graduate student, and as the Middle East cycled through periods of soaring hope and ceaseless despair. And we see again and again how these two men—both of them loyal sons of their warring peoples—confront their religious, cultural, and political differences in ways that allowed them to finally acknowledge a true, if necessarily tenuous, friendship.

A riveting, deeply affecting book: spare, impassioned, energetic, and unstinting in its candor about the truths that lie buried within the animosities of the Middle East.
About the Author
Jeffrey Goldberg is Washington correspondent for The New Yorker. He was for ten years a Middle East correspondent for The New Yorker and for The New York Times Magazine. A winner of the National Magazine Award for Reporting, he is also a former columnist for The Jerusalem Post and The Forward. He lives with his family in Washington, D.C. This is his first book.
Praise For Prisoners…
"Revelatory . . . [Goldberg is] talented and ambitious . . . A tale far more grim than hopeful and, in that sense, a useful primer on why things seem so pessimistic just now. And yet, the final encounter between Mr. Hijazi [the Palestinian prisoner Goldberg guards] and Mr. Goldberg has a poignancy and power that bar utter despair. For the bittersweet complexity of that moment, offered in the context of all that has preceded it, this is a genuinely admirable book."
- The New York Times

"Sensitive, forthright and perceptive . . . a forceful reminder of how rewarding, and how difficult, discourse between Israelis and Palestinians can be."
- The Washington Post

"Sharply observed and beautifully written . . . a bracingly clear-eyed, deeply emotional and often humorous account of his life as an American Jew in love with Israel."
-Los Angeles Times Book Review


"Goldberg's sensitive portrayal of the nuances of his freighted relationship . . . gives soul and depth to Prisoners, a vivid account of the passions and prejudices, the tensions and terrors that exist in every camp, and every household, in today's volatile Middle East."
-Francine Prose, O: The Oprah Magazine

"A rich, large-hearted and melancholy political bildungsroman . . . The author has a novelistic gift for conjuring the optimism of the Oslo era, which makes the nihilistic nosedive of the second Intifada even more searing. But while Prisoners is a story of multiple disenchantments, there's a defiant hopefulness about it–a faith, despite too much evidence to the contrary, that individual human understanding can transcend historic hatreds."
- The New York Observer

"Chilling . . . Goldberg escapes predictability by tunneling past received notions and antique resentments."
- St. Petersburg Times

"Brilliant . . . Perhaps the best on-the-ground portrait since Thomas Friedman's From Beirut to Jerusalem of the hatreds, passions, and illusions gripping the contemporary Middle East . . . Those familiar with his work . . . will recognize the skills that have made him one of America's finest foreign correspondents: an eye for detail, a flair for story-telling, an unflinching self regard, and a measured tone that lends his work an air of authenticity and authority . . . breathtaking."
-Washington Monthly

"One of the finest journalists of his generation . . . a classic coming of age story . . . [Goldberg has] a magnificent sense of irony, timing, and surprise . . . Ketzoit was a desert prison in which Israel held Palestinian Arabs and in which Mr. Goldberg, during his days in the IDF, had served as a military policeman. Mr. Goldberg's description of this prison is worthy of Kafka and will no doubt end up on a shelf where classics of the genre are kept . . . [Goldberg is] one of the most eloquent narrators of the struggle in which new leaders arise in every generation."
-The New York Sun

"Fascinating . . . an intimate portrait. . . he takes us somewhere we usually don't go . . . [a] brave and relentlessly honest new memoir."
- The Forward


"Jeffrey Goldberg has done the impossible–found some hope in the rubble of the Middle East. Prisoners will bring you to tears."
–Malcolm Gladwell

"This brutal, beautiful book about the discovery of decency in an indecent war is morally refreshing. With vivacious candor, Jeffrey Goldberg describes the unexpected refinement of his identity by an encounter with his enemy. The story of his unsentimental education is not only deeply heartening, it is also deeply Jewish."
–Leon Wieseltier

"Jeffrey Goldberg's Prisoners is brilliant–at once a memoir of a young man's spiritual and political education, and a lucid and perceptive account of the Israeli-Palestinian struggle. The story of Goldberg's evolution from Long Island Zionist to Israeli prison guard to hardened but hopeful observer is both an education and a delight."
–Jeffrey Toobin

"Jeffrey Goldberg's brilliant journey of self-discovery carries his reader crashing through barriers of old, facile assumptions about the Israeli-Palestinian struggle. He manages the near-impossible task of proclaiming his Zionism while embracing some dreams of Palestinian nationalism without sacrificing good humor, great reporting, and wonderful storytelling."
–Ted Koppel

"Jeffrey Goldberg has written an important book about his struggle as an American Jew to discover roots of common humanity buried in centuries of hatred in the Middle East. What a powerful story he tells, how moving, smart, hard-headed, and honest. Anyone who had lived his story would have a good book in him, but in the hands of a reporter and writer as skilled as Goldberg it becomes a great one."
–Mark Bowden, author, Black Hawk Down

"From the most intimate human details to the enduring desert truths, Jeffrey Goldberg's Prisoners touches the entire sweep of the Israeli-Palestinian tragedy. Insightful, closely observed, and often improbably funny, it offers wisdom gained not from mere research but from experience lived."
—Caroline Alexander

"Fiercely honest, alive and kicking on every page, and grippingly suspenseful, this memoir by an American Jew of his friendship with the Palestinian he once guarded in an Israeli prison camp takes us deep inside the paradigmatic dilemma of the Jews and the Arabs of the Holy Land: Can the guards and the guarded ever dismantle the prison that holds them both?"
–Jack Miles, author, God: A Biography