Zeno's Conscience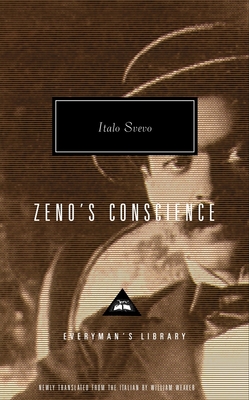 Zeno's Conscience
Everyman's Library, Hardcover, 9780375413308, 496pp.
Publication Date: November 6, 2001
* Individual store prices may vary.
Buy at Local Store
Enter your zip code below to purchase from an indie close to you.
or
Buy Here
Description
The modern Italian classic discovered and championed by James Joyce, "Zeno's Conscience" is a marvel of psychological insight, published here in a fine new translation by William Weaver the first in more than seventy years.
Italo Svevo's masterpiece tells the story of a hapless, doubting, guilt-ridden man paralyzed by fits of ecstasy and despair and tickled by his own cleverness. His doctor advises him, as a form of therapy, to write his memoirs; in doing so, Zeno reconstructs and ultimately reshapes the events of his life into a palatable reality for himself a reality, however, founded on compromise, delusion, and rationalization.
With cigarette in hand, Zeno sets out in search of health and happiness, hoping along the way to free himself from countless vices, not least of which is his accursed last cigarette (Zeno's famously ineffectual refrain is inevitably followed by a lapse in resolve.) His amorous wanderings win him the shrill affections of an aspiring coloratura, and his confidence in his financial savoir-faire involves him in a hopeless speculative enterprise. Meanwhile, his trusting wife reliably awaits his return at appointed mealtimes.
Zeno's adventures rise to antic heights in this pioneering psychoanalytic novel, as his restlessly self-preserving commentary inventively embroiders the truth. Absorbing and devilishly entertaining, "Zeno's Conscience "is at once a comedy of errors, a sly testimonial to the joys of procrastination, and a surpassingly lucid vision of human nature by one of the most important Italian literary figures of the twentieth century.

(Book Jacket Status: Jacketed)

About the Author
Italo Svevo, nato Aron Hector Schmitz (Trieste, 19 dicembre 1861 - Motta di Livenza, 13 settembre 1928), fu uno scrittore e drammaturgo italiano, autore di numerosi romanzi, racconti brevi e opere teatrali. Nato Aron Hector Schmitz a Trieste, nell'allora impero austro-ungarico, la notte tra il 19 e il 20 dicembre 1861 da agiata famiglia ebraica (padre tedesco, Franz, commerciante, e madre italiana, Allegra Moravia), cambio in seguito il suo nome in Ettore Schmitz e a seguire lo italianizzo definitivamente Ettore Samigli a seguito dell'annessione all'Italia della Venezia Giulia. Con tale ultimo nome pubblico i suoi primi lavori. Nel 1874 fu mandato dal padre a vivere e a studiare, assieme ai due fratelli Adolfo ed Elio, al collegio di Segnitz, in Baviera, dove studio il tedesco e altre materie utili per l'attivita commerciale. La sua formazione avvenne quindi in un ambiente linguistico prettamente tedesco - benche italofono fin dall'infanzia - elemento che influenzera profondamente il suo stile letterario portandolo a caratteristiche forzature stilistiche, spesso criticate da taluni esponenti dell'ambiente letterario italiano. La biculturalita sara un elemento importante nella vita dello scrittore, che egli tuttavia (a differenza di molti letterati risorgimentali) non vivra mai in modo conflittuale o doloroso, ma sempre in armonia, sottolineando anzi la propria doppia culturalita nella scelta dello pseudonimo Italo Svevo. Nel 1878 torno a Trieste e termino il suo percorso di studi commerciali all'istituto commerciale Pasquale Revoltella senza trascurare la cultura letteraria leggendo prima i classici tedeschi e successivamente i classici italiani. Nel 1880, con il fallimento dell'azienda paterna, dovette iniziare a lavorare presso la filiale cittadina della Banca Union di Vienna, impiego che, sebbene mai amato, mantenne per diciotto anni. Nello stesso periodo inizio la collaborazione con L'Indipendente, giornale di ampie vedute socialiste per il quale scrisse 25 recensioni e saggi teatrali e letterari.

WILLIAM WEAVER has been the leading translator of Italian writing into English for half a century and several samples of his own work are included in "Open City," Among his previous books is "A Legacy of Excellence: The Story of Villa I Tatti," Weaver divides his year among Italy, New York City, and Annandale-on-Hudson, where he is on the faculty of Bard College.

Elizabeth Hardwick is the author of many books and essays, including "Herman Melville" (Penguin Lives), "Sleepless Nights," and "American Fictions," available as a Modern Library paperback. She lives in New York City.
Praise For Zeno's Conscience…
"Italo Svevo remains, with Joyce, Proust, and Kafka, one of the four unrivaled figures of twentieth-century literature. An accomplished ironist, a complex visionary of the modern soul, an anatomist whose scalpel is as fierce as it is compassionate, Svevo is without a doubt Italy's most serious modern novelist. From the self-deceived protagonist who forswears each of his attempts to give up cigarettes, to the final detonation which seems uncannily prescient of our atomic age, Zeno's Conscience, in the expert hands of William Weaver's elegant and vigorous translation, reminds us ever again that if there is one phrase we should confer on Svevo it would be this: Svevo, our contemporary." – André Aciman