Essays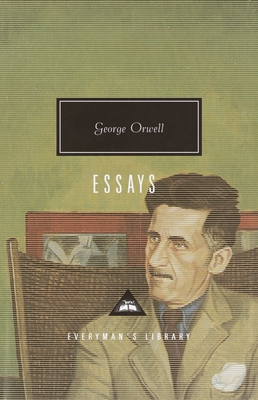 Essays
Everyman's Library, Hardcover, 9780375415036, 1416pp.
Publication Date: October 15, 2002
* Individual store prices may vary.
Buy at Local Store
Enter your zip code below to purchase from an indie close to you.
or
Not Currently Available for Direct Purchase
Description
A generous and varied selection the only hardcover edition available of the literary and political writings of one of the greatest essayists of the twentieth century.
Although best known as the author of "Animal Farm" and "Nineteen Eighty-four," George Orwell left an even more lastingly significant achievement in his voluminous essays, which dealt with all the great social, political, and literary questions of the day and exemplified an incisive prose style that is still universally admired. Included among the more than 240 essays in this volume are Orwell's famous discussion of pacifism, My Country Right or Left; his scathingly complicated views on the dirty work of imperialism in Shooting an Elephant; and his very firm opinion on how to make A Nice Cup of Tea.
In his essays, Orwell elevated political writing to the level of art, and his motivating ideas his desire for social justice, his belief in universal freedom and equality, and his concern for truth in language are as enduringly relevant now, a hundred years after his birth, as ever.
(Book Jacket Status: Jacketed)
About the Author
ERIC ARTHUR BLAIR (19031950), better known by his pen name George Orwell, was an English author and journalist whose best-known works include the dystopian novel 1984 and the satirical novella Animal Farm. He is consistently ranked among the best English writers of the 20th century, and his writing has had a huge, lasting influence on contemporary culture. Several of his coined words have since entered the English language, and the word "Orwellian" is now used to describe totalitarian or authoritarian social practices.

Sigmund Freud (1856-1939) lived his entire life in Vienna until Hitler's invasion of Austria forced him to seek asylum in London in 1938. The father of psychoanalysis, he exerted a profound influence over the whole intellectual climate of the twentieth century.
Adam Phillips was formerly Principal Child Psychotherapist at Charing Cross Hospital in London. He is the author of several books on psychoanalysis, including "On Kissing, Tickling, and Being Bored"; "Darwin's Worms"; "Promises, Promises"; and "Houdini's Box,"
Joyce Crick was for many years a senior lecturer in German at University College London. In 2000, she was awarded the Schlegel Tieck Prize for her translation of Freud's "The Interpretation of Dreams" for Oxford University Press.
John Carey is an emeritus professor of English at Oxford, a fellow of the British Academy, and chief book reviewer for the London "Sunday Times,"
Praise For Essays…
"Orwell is the most influential political writer of the twentieth century…He gives us a gritty, personal example of how to engage as a writer in politics." –New York Review of Books

"[Orwell] evolved, in his seemingly offhand way, the clearest and most compelling English prose style this century…But of course he was more than just a great writer. We need him today because [of] his passion for the truth." –The Sunday Times (London)

"Had Orwell lived to a full term, he might well have gone on to become the greatest modern literary critic in the language. But he lived more than long enough to make writing about politics a branch of the humanities, setting a standard of civilized response to the intractably complex texture of life." –The New Yorker

"The real reason we read Orwell is because his own fault-line, his fundamental schism, his hybridity, left him exceptionally sensitive to the fissure–which is everywhere apparent–between what ought to be the case and what actually is the case. He says the unsayable." –Financial Times

"Orwell was the conscience of his generation." –V. S. Pritchett