The Art of Travel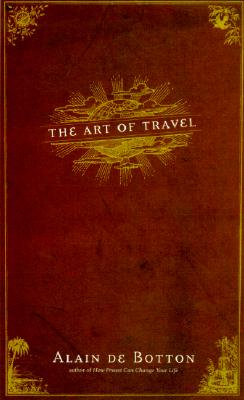 The Art of Travel
Pantheon, Hardcover, 9780375420825, 272pp.
Publication Date: July 30, 2002
* Individual store prices may vary.
Buy at Local Store
Enter your zip code below to purchase from an indie close to you.
or
Not Currently Available for Direct Purchase
Description
Aside from love, few actvities seem to promise us as much happiness as going traveling: taking off for somewhere else, somewhere far from home, a place with more interesting weather, customs, and landscapes. But although we are inundated with advice on where to travel, few people seem to talk about why we should go and how we can become more fulfilled by doing so. In The Art of Travel, Alain de Botton, author of How Proust Can Change Your Life, explores what the point of travel might be and modestly suggets how we can learn to be a little happier in our travels.
About the Author
Alain de Botton is the author of On Love, The Romantic Movement, Kiss and Tell, How Proust Can Change Your Life, and The Consolations of Philosophy. He lives in London.
Praise For The Art of Travel…
"A jewel of civility, wit and insight; de Botton has produced wondrous essays. An invitation to hyperbole . . . a volume to give one an expansive sense of wonder."—The Baltimore Sun

"Illuminating. . .a lovely combination of enthusiasm, sensitivity, a care for the large and small, and the local and the foreign. . . reading de Botton's book will help a person discover something fabulous in everyday.— Chicago Tribune

"There is something Proustian in The Art of Travel, in the best sense, for Mr. de Botton is a kind of flaneur, strolling through his subject thoughtfully and offering nuanced truths based on his reading, experience and philosophical temperament."—The Wall Street Journal

"It would be difficult to name a writer as erudite and yet as reader friendly. . .With a wry, self-deprecating charm, he passes his enthusiasms along in such manner that you can't help being delighted by them." – The Seattle Times

"[R]efreshing and profoundly readable. . . . Thanks to de Botton's detailed and thoughtful writing, coupled with his clever curiosity, The Art of Travel has the potential to enrich not only our journeys, but also our lives." –The Philadelphia Inquirer
 
"[De Botton] relates even the most disappointing experiences with delightful wit, graceful prose and surprising insight.." –The Los Angeles Times
 
"Wickedly funny . . . De Botton travels like the rest of us, but he brings with him the amazing erudition, crisp, lovely prose, and entertaining intellect that made How Proust Can Change Your Life and The Consolations of Philosophy such phenomenal successes." –The Boston Globe
 
"[E]xudes erudition and artfulness. . . . Delightful." –Minneapolis Star-Tribune
 
"[A] wonderful book: inventive, witty, intelligent, and beautifully written. At its best, its prose achieves the intensity of aphorism . . . provocative and insightful . . . teeming with tantalizing detail." –The Boston Phoenix
 
"Charmingly and capably convinces us how unaware most of us are as we move about in the world . . . will leave the reader mentally reaching for a pencil to check off the graceful, witty turns of Mr. de Botton's mind." –The Washington Times
 
"A thoughtful and anecdote-rich meditation on how trips can alter us in unexpected ways." –Elle Magazine
 
"An erudite, funny brand of philosophy . . . will make you think and laugh and want to plan a trip to test out some of de Botton's ideas for yourself." –Atlanta Journal-Constitution
 
"[A] quirky, delightful meditation on why we go where we go . . . What makes his book so much fun and so utterly unique is the way his mind works as he contemplates his (and our) responses to museums, airports, landscapes, hotels–even to a gas station. Read just a few pages of de Botton and you'll follow him anywhere." –O Magazine
 
"Quietly terrific . . . It says a great deal about his ability that no matter whom he might invoke he does not pale by comparison." –The NewYork Sun
 
"De Botton . . . gives voice and meaning to the thousands of epiphanies great and small brought about by voyaging." –Esquire
 
"Alain de Botton piques curiosity not only about where we go but why and how–questions worth considering even if our destination is no farther than the nearest cabana." –Vogue
 
"Journeys of the de Botton kind . . . expand our perspective, they broaden our mind, they enrich the intellect. We travel, this precocious young man reminds us, to find ourselves." –The Dallas Morning News
 
"Delicious writing . . . pure, unalloyed pleasure . . . [De Botton's] thoughts are original, startling, and what is more, feel true." –The Arizona Republic
 
"Utterly charming. . . . De Botton notices the details, and as we grow accustomed to seeing the world through his eyes, perhaps we will notice more too. . . . [A] fine writer." –The Times Picayune
 
"An elegant and subtle work, unlike any other. Beguiling." –The Times (London)
 
"One of the very best contemporary travel writers–an artist in the genre." —Jan Morris, The New Statesman