The Kalahari Typing School for Men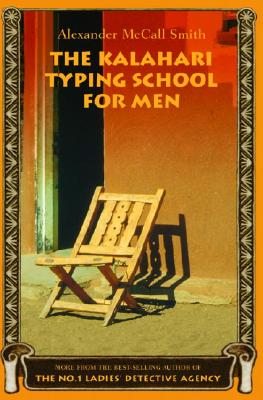 The Kalahari Typing School for Men
Pantheon Books, Hardcover, 9780375422171, 186pp.
Publication Date: April 29, 2003
* Individual store prices may vary.
Buy Now
or
Shop Local
Enter your zip code below to purchase from an indie close to you.
Description
THE NO. 1 LADIES DETECTIVE AGENCY.
FOR ALL CONFIDENTIAL MATTERS AND ENQUIRIES. SATISFACTION GUARANTEED FOR ALL PARTIES.
UNDER PERSONAL MANAGEMENT.
A beguiling mystery and lyrical novel of Africa -- the fourth in a series that the L.A. Times calls thoroughly engaging and entertaining.
Now that The No. 1 Ladies Detective Agency (the only detective agency for ladies and others in Botswana) is established, its founder, Precious Ramotswe, can look upon her life with pride: she's reached her late thirties ( the finest age to be ), has a house, two children, a good fiance -- Mr. J. L. B. Matekoni -- and many satisfied customers. But life is never without its problems. It turns out that her adopted son is responsible for the dead hoopoe bird in the garden; her assistant, Mma Makutsi, wants a husband and needs help with her idea to open the Kalahari Typing School for Men; yet Mma Ramotswe's sexist rival has no trouble opening his Satisfaction Guaranteed Detective Agency across town. Will Precious Ramotswe's delightfully cunning and profoundly moral methods save the day? Follow the continuing story of Botswana's first lady detective in the irresistible The Kalahari Typing School for Men.
About the Author
Alexander McCall Smith is best known for The No. 1 Ladies' Detective Agency series, beloved New York Times and international best sellers. A practicing professor of medical law and the author of over fifty books, ranging from children's fiction to folktales to The Criminal Law of Botswana, he lives in Edinburgh.
Praise For The Kalahari Typing School for Men…
"The apparent simplicity of the story belies McCall Smith's keen eye and sly sense of humour." -- Layla Dabby, The Gazette (Montreal)

"They [McCall Smith's books] are closer to being moral fables, fascinating explorations of guilt and conscience and reparation and atonement. … [Mma Ramotswe's] cleverness lies in her way of resolving the situations that arise to the satisfaction of all parties. I can't even begin to say how profoundly satisfying this makes the books. …[A]t a certain point in reading the Ladies' Detective books, I experienced something I haven't felt since reading Nancy Drew books as a child. I no longer wanted to read about Mma Ramotswe: I wanted to be her." -- Sara O'Leary, The Vancouver Sun

"Reader, be warned: This is not your ordinary detective novel. With more than a touch of whimsy, Alexander McCall Smith filters his sometime homeland of Southern Africa through the Agatha Christie medium, and emerges triumphant…. The Kalahari Typing School for Men maintains the breezy-to-read, gentle tone of Smith's previous work, and leaves us wanting more adventures ASAP" -- Daneet Steffens, The Globe and Mail, April 26, 2003

"There are no great mysteries in this book, simply a sweet tale of a small town, some dastardly tactics and some evocative descriptions of a satisfied life lived in a barren and unforgiving place." -- Winnipeg Free Press

"[A] sweet and uplifting tale." -- Toronto Star

"I confess: I love spending time with Precious Ramotswe. She makes me feel good. She is an oasis of calm in my hectic world. … Alexander McCall Smith spins sparkling gems about human nature. McCall Smith's crystalline writing -- not a word too many nor too few -- lets the readers discover the depth. Like Faulkner or Twain, the joy is finding your own truths reflected back at you or refracted through the lenses of the characters. Here the epiphanies are less smack-on-the-forehead moments than crinkle-at-the-corner-of-your-mouth." -- Mark Whittington, The Hamilton Spectator

"There's no mystery as to why Alexander McCall Smith's books are everywhere. … His works are engaging, delightful events, immersing readers in a world that is foreign, yet familiar, where good people try to do their best in life, with mixed results. … [T]his is a love letter to Botswana and her people. … The memorable characters, cadence, turns of phrase and imagery create a pleasing, haunting, [sic] tableaux readers will want to visit more than once." -- Ruth Myles, Calgary Herald

"The fourth appearance of Precious Ramotswe, protagonist of The No. 1 Ladies' Detective Agency and two sequels, is once again a charming account of the everyday challenges facing a female private detective in Botswana…. But the real appeal of this slender novel is Ramotswe's solid common sense, a proficient blend of folk wisdom, experience and simple intelligence…. A dose of easy humor laces the pages, as McCall Smith throws in wry observations, effortlessly commenting on the vagaries his protagonist encounters as she negotiates Botswana bureaucracy. This is another graceful entry in a pleasingly modest and wise series." -- Publisher's Weekly

"His fondness for the country is deeply felt and his highly amusing books are gems. … Smith's characters, too, are captivating, their sanguine celebrations of life the perfect backdrop to small and curious adventures." -- The London Free Press

"Gentle humour plus the exotic setting of Botswana add up to a fun light read." -- Chatelaine

"It's a novel rich in humour and insight that provides a glimpse into African culture." -- The Observer

Praise for The No. 1 Ladies' Detective Agency series and Alexander McCall Smith:
"General audiences will welcome this little gem of a book just as much, if not more, than mystery readers." -- Publishers Weekly

"The author's prose has the merits of simplicity, euphony and precision. His descriptions leave one as if standing in the Botswanan landscape. This is art that conceals art. I haven't read anything with such unalloyed pleasure for a long time." -- Anthony Daniels, The Sunday Telegraph

"I was enchanted by the character of Precious Ramotswe and the sly humor of Alexander McCall Smith's writing, his deft evocation of a culture." -- Anthony Minghella, who, with Sydney Pollack's company Mirage, will be producing The No. 1 Ladies' Detective Agency TV series with New Africa Media Films

"A standout series." -- The New Brunswick Reader

"In the course of her work, Mma Ramotswe offers ample evidence of her country's complexities and contradictions....Practical yet softhearted, inventive yet steeped in convention, Mma Ramotswe is an appealing personality.... Mma Ramotswe's methods -- and her results -- are as unusual as the novels they inhabit." -- Alida Becker, The New York Times Book Review

"One of the best, most charming, honest, hilarious and life-affirming books to appear in years." -- The Plain Dealer (Cleveland)

"Smart and sassy…. Precious's progress is charted in passages that have the power to amuse or shock or touch the heart, sometimes all at once…. Thoroughly engaging and entertaining." -- The Los Angeles Times

"One of the most entrancing literary treats of many a year…. A tapestry of extraordinary nuance and richness." -- The Wall Street Journal

"A quiet joy, a little gem of a book set apart from the genre by the quality of its writing, as well as by its exotic setting. [It] uses simple but tellingly descriptive language to introduce readers to its warm and appealing heroine." -- The Boston Globe