War Trash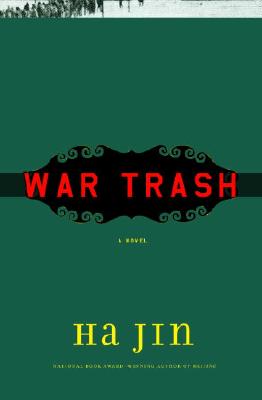 War Trash
A novel
Pantheon, Hardcover, 9780375422768, 368pp.
Publication Date: October 5, 2004
* Individual store prices may vary.
Buy at Local Store
Enter your zip code below to purchase from an indie close to you.
or
Not Currently Available for Direct Purchase
Description
War Trash, the extraordinary new novel by the National Book Award–winning author of Waiting, is Ha Jin's most ambitious work to date: a powerful, unflinching story that opens a window on an unknown aspect of a little-known war—the experiences of Chinese POWs held by Americans during the Korean conflict—and paints an intimate portrait of conformity and dissent against a sweeping canvas of confrontation.

Set in 1951–53, War Trash takes the form of the memoir of Yu Yuan, a young Chinese army officer, one of a corps of "volunteers" sent by Mao to help shore up the Communist side in Korea. When Yu is captured, his command of English thrusts him into the role of unofficial interpreter in the psychological warfare that defines the POW camp.

Taking us behind the barbed wire, Ha Jin draws on true historical accounts to render the complex world the prisoners inhabit—a world of strict surveillance and complete allegiance to authority. Under the rules of war and the constraints of captivity, every human instinct is called into question, to the point that what it means to be human comes to occupy the foremost position in every prisoner's mind.

As Yu and his fellow captives struggle to create some sense of community while remaining watchful of the deceptions inherent in every exchange, only the idea of home can begin to hold out the promise that they might return to their former selves. But by the end of this unforgettable novel—an astonishing addition to the literature of war that echoes classics like Dostoevsky's Memoirs from the House of the Dead and the works of Siegfried Sassoon and Wilfred Owen—the very concept of home will be more profoundly altered than they can even begin to imagine.
About the Author
Ha Jin left his native China in 1985 to attend Brandeis University. He is the author of the internationally bestselling novel Waiting, which won the PEN/Faulkner Award and the National Book Award, and War Trash, which won the PEN/Faulkner Award for Fiction, and was a Finalist for the Pulitzer Prize and the Kiriyama Pacific Rim Book Prize; the story collections The Bridegroom, which won the Asian American Literary Award, Under the Red Flag, which won the Flannery O'Connor Award for Short Fiction, and Ocean of Words, which won the PEN/Hemingway Award; the novels The Crazed and In the Pond; and three books of poetry. His latest novel, A Free Life is his first novel set in the United States. He lives in the Boston area and is a professor of English at Boston University.

War Trash, The Crazed, The Bridegroom, Waiting, In the Pond, and Ocean of Words are available in paperback from Vintage Books.
Praise For War Trash…
"I am enthralled by Ha Jin's work: he always presents moral conundrums within historical contexts; the frayed edges of humanity; the ways in which both the tenacious and hopeless survive. He is one of our most gifted and essential writers." –Amy Tan

"This is more than a novel. It's an historical document about a forgotten part of a forgotten war. No historian could bring to light this tale of interminable loneliness and suffering about Chinese prisoners during the Korean War as well as Ha Jin has." –Robert D. Kaplan, author of Warrior Politics

"Ha Jin is one of the finest writers in America: subtle, huge-hearted, possessed of an utterly original, mind-altering vision of the world, and an exquisite, disciplined style. His work never fails to thrill me, and expand my ideas about life, and about the transformative powers of fiction." –George Saunders

"Ha Jin's historical novel about Chinese prisoners held during the Korean War couldn't be more topical. In telling this story from the loser's perspective, he has called upon all of his wonderful and impressive skills as a writer. He never shies away from the degradation of the prisoners, while at the time revealing small humanities that happen in even the most desperate of circumstances." –Lisa See, author of On Gold Mountain

"Ha Jin's stark, evocative prose transports us to a harrowing world we have never before seen and which we will not soon forget." –Michael Shapiro, author of The Shadow in the Sun: A Korean Year of Love and Sorrow

"Ha Jin is emerging as a major figure in the literary interpretation of life in Communist China. War Trash shows how Chinese men trapped in POW camps in Korea endured cruelty, manipulation, and mind-boggling turns of fate. Still, under Ha Jin's steady moral vision, their humanity, sympathy, and rationality remain apparent. In the end, the trampled 'trash' uplifts the reader." –Perry Link, Professor of Chinese, Princeton University