Epileptic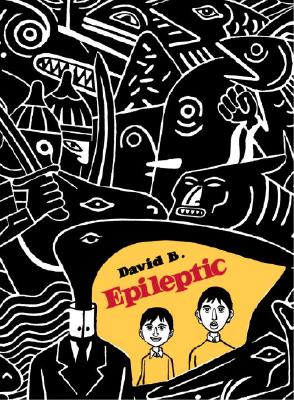 Epileptic
Pantheon Books, Hardcover, 9780375423185, 368pp.
Publication Date: January 4, 2005
* Individual store prices may vary.
Not Currently Available for Direct Purchase
or
Shop Local
Enter your zip code below to purchase from an indie close to you.
Description
Hailed by The Comics Journal as one of Europe's most important and innovative comics artists, David B. has created a masterpiece in Epileptic, his stunning and emotionally resonant autobiography about growing up with an epileptic brother. Epileptic gathers together and makes available in English for the first time all six volumes of the internationally acclaimed graphic work.

David B. was born Pierre-François Beauchard in a small town near Orléans, France. He spent an idyllic early childhood playing with the neighborhood kids and, along with his older brother, Jean-Christophe, ganging up on his little sister, Florence. But their lives changed abruptly when Jean-Christophe was struck with epilepsy at age eleven. In search of a cure, their parents dragged the family to acupuncturists and magnetic therapists, to mediums and macrobiotic communes. But every new cure ended in disappointment as Jean-Christophe, after brief periods of remission, would only get worse.

Angry at his brother for abandoning him and at all the quacks who offered them false hope, Pierre-François learned to cope by drawing fantastically elaborate battle scenes, creating images that provide a fascinating window into his interior life. An honest and horrifying portrait of the disease and of the pain and fear it sowed in the family, Epileptic is also a moving depiction of one family's intricate history. Through flashbacks, we are introduced to the stories of Pierre-François's grandparents and we relive his grandfathers' experiences in both World Wars. We follow Pierre-François through his childhood, adolescence, and adulthood, all the while charting his complicated relationship with his brother and Jean-Christophe"s losing battle with epilepsy. Illustrated with beautiful and striking black-and-white images, Epileptic is as astonishing, intimate, and heartbreaking as the best literary memoir.
About the Author
David B first came to the attention of US readers through his EPILEPTIC. This is his first new effort since that groundbreaking graphic novel.



David B. splits his time between France and Italy. His graphic novels include the award-winning Epileptic and The Littlest Pirate King.
Praise For Epileptic…
"A painfully honest examination of the effects of debilitating epilepsy on one man and his family, told through a combination of straightforward text and expressionist imagery that ranges in its palette from centuries-old symbolism to the secret worlds of childhood. Even as he shows up the hollow promises of every school of esoteric and alternative medicine his family encounters in their quest for help, David B. works a real kind of deeply human magic on the page-- something forged from black ink and a soul's struggle--that marks Epileptic as one of the first truly great narrative artworks of the new millennium."--Jason Lutes, author of Jar of Fools and Berlin

"David B has created a wildly beautiful fantasia on human frailty, on the making of an artist and the unmaking of his own brother -- a memoir that is hopeful and bitterly poignant all at once." -- Paul Collins, author of Not Even Wrong: Adventures in Autism

"David B.'s sprawling tale of his family, overrun by his brother's illness and obsessed with curing it, is a masterful depiction of people searching for answers when there may be none. David B. is clearly one of the best storytellers in the medium of comics."--Joe Sacco, author of The Fixer, Palestine and Safe Area Gorazde

"In Epileptic, the distortions of family life caused by his brother's illness are the cracked lens through which David B. explores on his own family's history and, by extension, the conflicts of 20th century France and even, to an extent, the world. The thing that makes this memoir unlike any ever seen before is the wonderful, inky, intricate artwork, and the way that allows us to enter into the story via the rich and angry fantasy life of a growing boy."--Jessica Abel, author of La Perdida, Mirror, Window and Soundtrack