Why Most Things Fail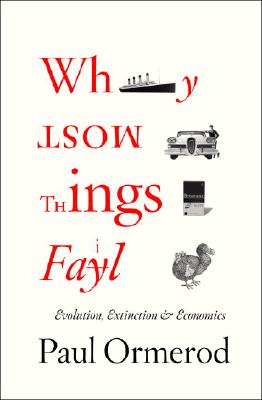 Why Most Things Fail
Evolution, Extinction and Economics
Pantheon, Hardcover, 9780375424052, 272pp.
Publication Date: February 28, 2006
* Individual store prices may vary.
Buy at Local Store
Enter your zip code below to purchase from an indie close to you.
or
Not Currently Available for Direct Purchase
Description
With the same originality and astuteness that marked his widely praised Butterfly Economics, Paul Ormerod now examines the "Iron Law of Failure" as it applies to business and government–and explains what can be done about it.

"Failure is all around us," asserts Ormerod. For every General Electric–still going strong after more than one hundred years–there are dozens of businesses like Central Leather, which was one of the world's largest companies in 1912 but was liquidated in 1952. Ormerod debunks conventional economic theory–that the world economy ticks along in perfect equilibrium according to the best-laid plans of business and government–and delves into the reasons for the failure of brands, entire companies, and public policies. Inspired by recent advances in evolutionary theory and biology, Ormerod illuminates the ways in which companies and policy-setting sectors of government behave much like living organisms: unless they evolve, they die. But he also makes clear how desirable social and economic outcomes may be achieved when individuals, companies and governments adapt in response to the actual behavior and requirements of their customers and constituents.

Why Most Things Fail is a fascinating and provocative study of a truth all too seldom acknowledged.
About the Author
Paul Ormerod was the head of the Economic Assessment Unit at "The Economist" and the director of economics at the Henley Centre for Forecasting in England. He has taught economics at the universities of London and Manchester, and was a founder of the consulting firm Volterra. He lives in London.
Praise For Why Most Things Fail…
Praise from Great Britain for Why Most Things Fail:

"This is a fascinating analysis. Few economists have such a sure grasp of physics and biology . . . [Ormerod's book] deserves a wide readership."
–The Times

"Paul Ormerod begins construct[ing] a new way of looking at human affairs . . . The real importance of what he is saying goes far beyond economics." –New Statesman

"This engrossing and entertaining book is much more than a mordant moan on mortality. It is a careful, comprehensible analysis of the limits of human rationality's ability to control the world and of the implications for public policy of the failure of most rational calculation to produce its intended results." –The Sunday Telegraph

"Ormerod writes fluently, with a merciful lack of equations . . . [He offers] an intriguing argument, well explained."–Financial Times

"Interesting and entertaining . . . The scale and breadth of Ormerod's analysis deserve commendation." –Nature