Twenty-eight Artists and Two Saints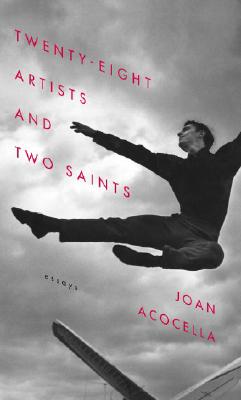 Twenty-eight Artists and Two Saints
Essays
Pantheon, Hardcover, 9780375424168, 544pp.
Publication Date: February 6, 2007
* Individual store prices may vary.
Buy at Local Store
Enter your zip code below to purchase from an indie close to you.
or
Not Currently Available for Direct Purchase
Description
From one of our most admired cultural critics ("A marvelous, canny writer"––Terry Castle, London Review of Books), thirty-one essays on some of the most influential artists of our time––writers, dancers, choreographers, sculptors––and two saints of all time, Joan of Arc and Mary Magdalene. Among the people discussed: Italo Svevo, Stefan Zweig, Simone de Beauvoir, Marguerite Yourcenar, Joseph Roth, Vaslav Nijinsky, Lincoln Kirstein, Jerome Robbins, Martha Graham, Bob Fosse, H. L. Mencken, Dorothy Parker, Susan Sontag, and Philip Roth.

What unites the book is Acocella's interest in the making of art and in the courage, perseverance, and, sometimes, dumb luck that it requires.

Here is Acocella on Primo Levi, a chemist who, after the Nazis failed to kill him, wrote Survival in Auschwitz, the noblest of the camp memoirs, and followed it with twelve more books . . . Hilary Mantel, the aspiring young lawyer stuck on a couch with a chronic and debilitating illness, who asked herself, "What can one do on a couch?" (well, one could write) and went on to become one of England's premier novelists . . . M. F. K. Fisher, who, numb with grief over her husband's suicide, dictated to her sister the witty and classic How to Cook a Wolf . . . Marguerite Yourcenar, the victim of a ten-year writer's block, who found in an old trunk a draft of a forgotten novel and finished the book: Memoirs of Hadrian . . . George Balanchine, who, after losing his family at age nine, survived the Russian Revolution, escaped from the Soviet Union at twenty, was for five years house choreographer for Diaghilev's Ballets Russes, came to the United States with the promise that he could set up a ballet company, and had to wait another fifteen years before being able to establish his extraordinary New York City Ballet . . . And Acocella on Mary Magdalene and Joan of Arc reminds us that saints in the service of their visions–like artists in the creation of their art–draw power from the very blows of fortune that might be expected to defeat them.
About the Author
Joan Acocella is a staff writer for The New Yorker, where she covers dance and books. She has also written for The New York Review of Books and The Wall Street Journal. She is the author of the critical biography Mark Morris; Creating Hysteria: Women and Multiple Personality Disorder; and Willa Cather and the Politics of Criticism. She edited the unexpurgated Diary of Vaslav Nijinsky and, with Lynn Garafola, André Levinson on Dance. Acocella was a recipient of a Guggenheim Fellowship. She lives in New York.
Praise For Twenty-eight Artists and Two Saints…
"[An] elegant collection. [Acocella's] passionate and penetrating endorsements of other works make you want to discover their pleasures firsthand–the best service a critic can render."
–Publishers Weekly (starred review)

"Critic Acocella's deep knowledge of and organic feel for dance infuses her fleet-footed and witty prose. Like a dancer, she makes her art look easy, which it certainly is not, and what poise and range she evinces. She has now collected 30 of her stellar artist profiles, electrifying portraits that seamlessly pair biography and criticism and draw authoritatively on psychology and history. How agile these firmly rooted yet whirling essays are, and how very enlightening."
–Booklist (starred review)

"So subtle, cogent, and pellucid are Joan Acocella's essays, so penetrating and direct, that each one is a revelation. And collected together they are testament to courage and persistence by a writer of tensile strength and sharp-eyed moral conviction. A pleasure from start to finish."
–Brenda Wineapple, author of Hawthorne: A Life

"Joan Acocella's essays are more than a window into the heart of modern Europe. They are urgent and fresh bulletins written with the exquisite brilliance of a pen that is at once profound, uncompromising, and inspired. Joan Acocella doesn't just know Europe; she sees through it. She knows its ins and outs, spells out its genius, and as always brings luminous insights into a continent that continues to beckon, to mystify, and to elude."
–André Aciman

"A hefty collection of profiles and essays centered around the question of what allows genius to flower in the face of often gargantuan difficulties. The galvanizing force in an artist's success is tenacity, concludes critic Acocella . . . specifically "the ability to survive disappointment." These 31 pieces–most originally appearing in The New Yorker, others from the New York Review of Books–reveal the author to be terrifically attracted to the underdog. Acocella's obsessively detailed essays on dancers and choreographers are the book's most enthralling. The emphasis here is on iconic lives, and these beautifully researched pieces provide riveting insights into the nature of creativity. Tight, intriguing and astute: Acocella is a critic with staying power."
–Kirkus starred review

"Joan Acocella writes brilliantly about a lot of brilliant artistic creators and a couple of saints. She admires patience, tenacity, and courage. She appreciates candor, resilience, and imagination in the figures she so lovingly evokes, and these qualities also characterize her own work, which is not only lucid and insightful but also generous and even noble. She is one of our finest cultural critics."
–Edward Hirsch