The Long Chalkboard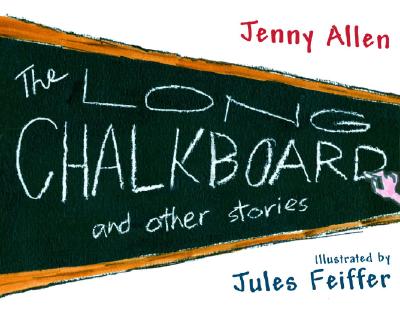 The Long Chalkboard
and Other Stories
Pantheon, Hardcover, 9780375424533, 136pp.
Publication Date: October 10, 2006
* Individual store prices may vary.
Not Currently Available for Direct Purchase
or
Shop Local
Enter your zip code below to purchase from an indie close to you.
Description
Here are three delightful, bittersweet, especially-for-our-time adult stories of modern life as lived by men and women of a certain age: the baby boomer. Jenny Allen's brilliant and witty narratives and Jules Feiffer's playfully expressive drawings coax to the surface the hidden anxieties, familiar frustrations, and downright fury that we try to convince ourselves we don't really feel. The characters in these stories are reckoning with life's little surprises. But what they don't expect sometimes turns out to be all right anyway: a little redemption bubbling up in the kitchen where "Judy's Wonder Chili" is made. . . or hiding in the folds of an origami crane, waiting to be found by the children's book writer in "Something Happened". . . or revealing itself on the surface of the well-used chalkboard of the title tale.

In their humor, simplicity, and subtlety, these stories--brought to life perfectly through Feiffer's drawings--speak to our deepest adult-yet-childlike selves. There's not a grown-up among us who won't be completely charmed.
About the Author
Jenny Allen is a journalist whose work has appeared in Esquire, New York, Child, Real Simple, Good Housekeeping, and The New York Times. She produces and performs stand-up comedy in New York City.


Jules Feiffer's Pulitzer Prize--winning comic strip ran for forty-two years in The Village Voice. He is also a playwright (Little Murders, Grown-Ups) and a screenwriter (Carnal Knowledge, Popeye). His children's books include Bark, George, and A Room with a Zoo.

Jenny Allen and Jules Feiffer live in New York City with their two children.