In A Sunburned Country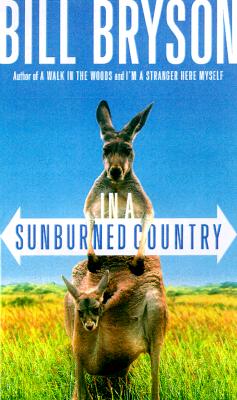 In A Sunburned Country
Random House Large Print, Hardcover, Large Print, Large Print, 9780375430565, 592pp.
Publication Date: June 6, 2000
* Individual store prices may vary.
Not Currently Available for Direct Purchase
or
Shop Local
Enter your zip code below to purchase from an indie close to you.
Description
Compared to his Australian excursions, Bill Bryson had it easy on the Appalachian Trail.  Nonetheless, Bryson has on serveral occasions embarked on seemingly endless flights bound for a land where Little Debbies are scarce but insects are abundant (up to 220,000 species of them), not to mention the crodiles.

Taking readers on a rollicking ride far beyond packaged-tour routes, IN A SUNBURNED COUNTRY introduces a country where interesting things happen all the time, from a Prime Minister who was lost at sea while swimming at a Victoria beach to Japanese cult members who managed to set off an atomic bomb unnoticed on their 500,000-acre property.  Leaving no Vegemite unsavored, readers will accompany Bryson as he dodges jellyfish while learning to surf at Bondi Beach, discovers a fish that can climb trees, dehydrates in deserts where the temperatures leap to 140 degrees, and tells the true story of the rejected Danish architect who designed the Sydney Opera House.

Published just in time for the Olympics, IN A SUNBURNED COUNTRY provides a singularly intriguing, wonderfully wacky take on a glorious, adventure-filled locale.
About the Author
Bill Bryon's many books include the smash New York Times bestseller A Walk In The Woods and, most recently, I'm A Stranger Here Myself.  He now lives in Hanover, New Hampshire, with his wife and their four children.
Praise For In A Sunburned Country…
"Bill Bryson is...an artist who needs a big canvas. Australia has provided this. He's painted a masterpiece in travel literature." — The Globe and Mail