As I Lay Dying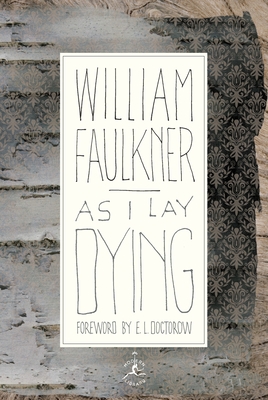 As I Lay Dying
Modern Library, Hardcover, 9780375504525, 256pp.
Publication Date: November 28, 2000
* Individual store prices may vary.
Shop Local
Enter your zip code below to find indies closest to you.
Description
Selected by the Modern Library as one of the 100 best novels of all time
From the Modern Library's new set of beautifully repackaged hardcover classics by William Faulkner--also available are "Snopes, The Sound and the Fury, Light in August, Absalom, Absalom , "and "Selected Short Stories"
One of William Faulkner's finest novels, "As I Lay Dying, " originally published in 1930, remains a captivating and stylistically innovative work. The story revolves around a grim yet darkly humorous pilgrimage, as Addie Bundren's family sets out to fulfill her last wish: to be buried in her native Jefferson, Mississippi, far from the miserable backwater surroundings of her married life. Told through multiple voices, "As I Lay Dying" vividly brings to life Faulkner's imaginary South, one of literature's great invented landscapes, and is replete with the poignant, impoverished, violent, and hypnotically fascinating characters that were his trademark. Along with a new Foreword by E. L. Doctorow, this edition reproduces the corrected text of "As I Lay Dying" as established in 1985 by Faulkner expert Noel Polk.
About the Author
William Faulkner was an American writer, Nobel Prize laureate and Pulitzer Prize winner. A prolific writer, Faulkner is best known for his novels and short stories, including The Sound and the Fury and As I Lay Dying, which are set in fictional Yoknapatawpha County, and the Snopes trilogy which includes The Hamlet, The Town and The Mansion. Along with Mark Twain, Truman Capote, Tennessee Williams and Harper Lee, Faulkner is considered one of the most important writers of Southern literature and is known for his experimental style, including the use of stream of consciousness. Faulkner died in 1962.

F. Scott Fitzgerald (1896-1941) was one of the literary titans of the 20th century. A member of the "Lost Generation" of the 1920s, Fitzgerald's writings best captured what he termed "The Jazz Age," a period of declining traditional American values, prohibition and speakeasies, and great leaps in modernist trends.
Praise For As I Lay Dying…
"For range of effect, philosophical weight, originality of style, variety of characterization, humor, and tragic intensity, [Faulkner's works] are without equal in our time and country."
--Robert Penn Warren