Emily Post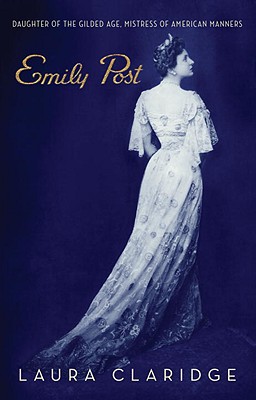 Emily Post
Daughter of the Gilded Age, Mistress of American Manners
Random House, Hardcover, 9780375509216, 544pp.
Publication Date: October 14, 2008
* Individual store prices may vary.
Buy at Local Store
Enter your zip code below to purchase from an indie close to you.
or
Not Currently Available for Direct Purchase
Description
"What would Emily Post do?" Even today, Americans cite the author of the perennial bestseller Etiquette as a touchstone for proper behavior. But who was the woman behind the myth, the authority on good manners who has outlasted all comers? Award-winning author Laura Claridge presents the first authoritative biography of the unforgettable woman who changed the mindset of millions of Americans, an engaging book that sweeps from the Gilded Age to the 1960s.

Born shortly after the Civil War, Emily Post was a daughter of high society, the only child of an ambitious Baltimore architect, Bruce Price, and his wellborn wife. Within a few years of his daughter's birth, Price moved his family to New York City, where they mingled with the Roosevelts and the Astors as well as with the new crowd in town–J. P. Morgan and the Vanderbilt clan. Blossoming into one of Manhattan's most sought-after debutantes, Emily went on to marry Edwin Post, planning to re-create in her own home the happiness she'd observed between her parents. Instead, she would find herself in the middle of a scandalous divorce, its humiliating details splashed across the front pages of New York newspapers for months.

Traumatic though it was, the end of her marriage forced Emily Post to become her own person. She would spend the next fifteen years writing novels and attending high-powered literary events alongside the likes of Mark Twain and Edith Wharton, but in middle age she decided she would try something different.

When it debuted in 1922 with a tiny first print run, Etiquette represented a fifty-year-old woman at her wisest–and a country at its wildest. Claridge addresses the secret of Etiquette's tremendous success and gives us a panoramic view of the culture from which Etiquette took its shape, as its author meticulously updated her book twice a decade to keep it consistent with America's constantly changing social landscape.

A tireless advocate for middle-class and immigrant Americans, Emily Post became the emblem of a new kind of manners in which etiquette and ethics were forever entwined. Now, nearly fifty years after her death, we still feel her enormous influence on how we think Best Society should behave.

Praise for Emily Post

"Given the ubiquitousness of her repeatedly revised magnum opus, Etiquette, first published in 1922, we think of Emily Post as an institution rather than a human being. But she was a woman of substance and sensitivity. The first to fully portray this pioneer, Claridge is becoming the sort of biographer readers will follow anywhere, and one hopes she'll continue in the vein that yielded Norman Rockwell (2001) and now this absorbing study of a keenly perceptive ethicist second only to Eleanor Roosevelt in the immensity of her influence. A child of privilege born in the wake of the Civil War, smart and beautiful Emily Price married a rascal. The pain and humiliation of her divorce from Edwin Post fostered her devotion to writing (she was a successful novelist) and seeded the compassion and advocacy for women that shaped her highly moral approach to etiquette. Claridge chronicles Post's remarkable ability to discern the needs of a Claridge chronicles Post's remarkable ability to discern the needs of a burgeoning American public transformed by immigration, industrialization, war, and women's and civil rights, and hungry for guidance in social and familial situations. A best-selling writer and hugely popular radio personality, Post equated etiquette with character and ensured a 'democratization of manners.' Claridge greatly deepens our appreciation for Post's achievements and brings forward the impressive woman behind the do's and don'ts." ---Donna Seaman, Booklist (starred review)

"It was the genius of Emily Post to show us that manners are the small coin of morality….Emily Post became perhaps the most important and certainly the most influential moralist of the 20th century. It is Laura Claridge's genius to explain the surprising and improbable background and equally amazing personality of Emily Post." — P.J. O'Rourke, author of Modern Manners: An Etiquette Book for Rude People

"What she [Claridge] has given us is not only a canny and insightful read, but when she calls her Emily 'a domestic anthropologist,' you know she's right. Brava!"–Nancy Milford, author of Savage Beauty: The Life of Edna St. Vincent Millay

"Laura Claridge has given us so much more than a mere biography of this august arbiter of good manners; [She] has flung open the doors of an entire society — she has shown us in enchanting, mesmerizing detail how the modern city of New York was built and made." -- Carolyn See, author of Making a Literary Life

"… a biography as rich and engaging as a portrait by John Singer Sargent." — Daniel Mark Epstein, author of The Lincolns: Portrait of a Marriage

"Laura Claridge's masterful Emily Post tells the story of a lively heroine, raised in a Gilded Age New York of silk-stockings and debutante balls, who wrote one of the enduring bestsellers of the 20th century…. Laura Claridge's vivid, graceful biography of Emily Post is an essential contribution to American social history."  ——Eric Homberger, author of Mrs. Astor's New York


About the Author
Laura Claridge is the author of several books, including Norman Rockwell: A Life and Tamara de Lempicka: A Life of Deco and Decadence. Emily Post: Daughter of the Gilded Age, Mistress of American Manners received a National Endowment for the Humanities grant and won the J. Anthony Lukas Work-in-Progress Award. Claridge received her Ph.D. in British Romanticism and literary theory and was a tenured professor of English at the U.S. Naval Academy in Annapolis until 1997. She has written features and reviews for The Boston Globe, Los Angeles Times, and The Christian Science Monitor and has appeared frequently in the national media, including Today, CNN, NPR, and the BBC. She lives in New York's Hudson Valley.
Praise For Emily Post…
"The story of [Emily Post's] life is full of surprises."—USA Today

"Compelling reading–a biography as rich and engaging as a portrait by John Singer Sargent." —Daniel Mark Epstein, author of The Lincolns: Portrait of a Marriage

"Meticulously researched . . . a rich portrait of an era."—Entertainment Weekly

"A rich, almost novelistic portrait of a woman [who] embodied the dramatic changes that transformed American society."—Chicago Tribune

"It is something of a surprise nearly fifty years after Emily Post's death to be reminded that there was a real person behind the name. . . . And it is to Laura Claridge's credit that she has written the first full biography of Post. An exhaustive researcher, Ms. Claridge . . . has in this book provided beguiling new details about the taxonomies that governed Post's life."—New York Times