The Rule of Saint Benedict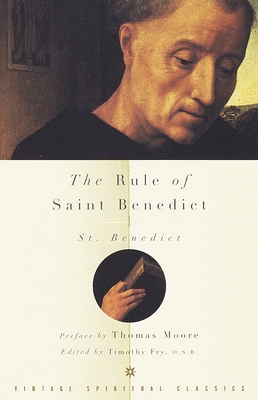 The Rule of Saint Benedict
Vintage, Paperback, 9780375700170, 112pp.
Publication Date: March 24, 1998
* Individual store prices may vary.
Buy Now
or
Shop Local
Enter your zip code below to purchase from an indie close to you.
Description
Composed nearly fifteen hundred years ago by the father of Western monasticism, The Rule of St. Benedict has for centuries been the guide of religious communities. St. Benedict's rules of obedience, humility, and contemplation are not only prerequisites for formal religious societies, they also provide an invaluable model for anyone desiring to live more simply. While they presuppose a certain detachment from the world, they provide guidance and inspiration for anyone seeking peace and fulfillment in their home and work communities. As prepared by the Benedictine monk and priest Timothy Fry, this translation of The Rule of St. Benedict can be a life-transforming book. With a new Preface by Thomas Moore, author of The Care of the Soul.

"God is our home but many of us have strayed from our native land. The venerable authors of these Spiritual Classics are expert guides--may we follow their directions home."
--Archbishop Desmond Tutu
About the Author


A former publishing executive, John F. Thornton is a literary agent and co-editor of Tongues of Angels, Tongues of Men: A Book of Sermons. He lives in New York City.

About the Author ROBERT P. BENEDICT is a Fellow Mechanical Engineer with the Westinghouse Electric Corporation, and Adjunct Professor of Mechanical Engineering at Drexel University. After serving as a fighterbomber pilot in the CBI Theater from 1942 to 1946, he received his BME from Rensselaer Polytechnic Institute in 1951, and his MS from Cornell University in 1954. He has done additional graduate work at the University of Pennsylvania. Mr. Benedict has written over 80 technical articles and is the coauthor of two books: Generalized Gas Dynamics(1966); and Specific Losses in Flow Systems (1966). He is editor of ASTM Special Technical Publications 470, 470A, and 470B on Thermocouples (1971, 1974, and 1981). He is the author of the texts: Fundamentals of Pipe Flow (1980); and Fundamentals of Gas Dynamics (1983). He has written two nontechnical books: Journey Away From God (1971); and The Christian Connection (1984). He is past Chairman of the ASME Research Committee on Temperature Measurement; Chairman of the ASTM Monograph Committee on Thermocouples; Member of the ASME Fluid Meters Research Committee; Chairman of ASME PTC-19 Committee on Instruments and Apparatus, Chairman of ASME PTC 19.1 Committee on Measurement Uncertainty, and Chairman of ASME PTC 19.3.1 Committee on Thermowells. He is a Fellow of ASTM and a Fellow of ASME.