Evening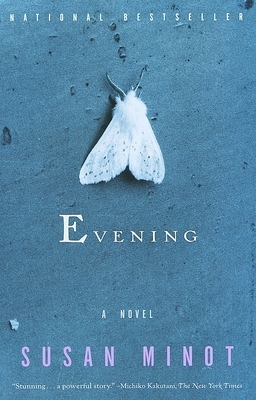 Evening
Vintage Books USA, Paperback, 9780375700262, 288pp.
Publication Date: September 7, 1999
* Individual store prices may vary.
Buy at Local Store
Enter your zip code below to purchase from an indie close to you.
or
Buy Here
Description
With two novels and one short story collection published to overwhelming critical acclaim ("Monkeys takes your breath away," said Anne Tyler; "heartbreaking, exhilarating," raved the New York Times Book Review), Susan Minot has emerged as one of the most gifted writers in America, praised for her ability to strike at powerful emotional truths in language that is sensual and commanding, mesmerizing in its vitality and intelligence. Now, with Evening, she gives us her most ambitious novel, a work of surpassing beauty. During a summer weekend on the coast of Maine, at the wedding of her best friend, Ann Grant fell in love. She was twenty-five. Forty years later--after three marriages and five children--Ann Lord finds herself in the dim claustrophobia of illness, careening between lucidity and delirium and only vaguely conscious of the friends and family parading by her bedside, when the memory of that weekend returns to her with the clarity and intensity of a fever-dream. Evening unfolds in the rushlight of that memory, as Ann relives those three vivid days on the New England coast, with motorboats buzzing and bands playing in the night, and the devastating tragedy that followed a spectacular wedding. Here, in the surge of hope and possibility that coursed through her at twenty-five--in a singular time of complete surrender--Ann discovers the highest point of her life. Superbly written and miraculously uplifting, Evening is a stirring exploration of time and memory, of love's transcendence and of its failure to transcend--a rich testament to the depths of grief and passion, and a stunning achievement.
About the Author
Susan Minot is an award-winning novelist, short-story writer, poet, and screenwriter. Her first novel, "Monkeys", was published in a dozen countries and won the Prix Femina Etranger in France. Her novel "Evening" was a worldwide bestseller and became a major motion picture. She received her MFA from Columbia University and lives with her daughter in New York City and on an island off the coast of Maine.
Praise For Evening…
"Her best work yet, assured, supple, exhilarating in its nerve and cool momentum" --Joan Didion

"A stunning novel...a powerful story that cuts back and forth in time to give us both the defining moment in a woman's life and an understanding of how that moment has reverberated through the remainder of her days...Her evocation of her heroine's passion for Harris Arden is so convincing, her depiction of the world she inhabits is so fiercely observed...The difference between [Monkeys and Evening] attests to Susan Minot's growing ambition and
assurance as an artist" --Michiko Kakutani, New York Times

"An absorbing drama...Minot writes with quiet perceptiveness and grace, pulling the
reader into Ann's deathbed reverie" --Elle

"A brilliant lyric performance" --John Casey

"In spare and lovely language, Susan Minot has set forth a real life, in all its particularity and splendor and pain. This is the task of the novelist, and in Evening Minot has succeeded
admirably" --Roxana Robinson, New York Times Book Review

"It astounds in its craftsmanship and imprints itself indelibly on the heart...A haunting work of art that moves at the pace of a suspense thriller" --Sheila Bosworth, New Orleans Times-Picayune

"Evening is a beautifully realized work...more mature and confident than anything she has written...An exquisite novel" --Gail Caldwell, Boston Globe

"A wonderful, truthful, heartbreaking book. . .. Evening vindicates the wildest assertions any of us have made about Susan Minot's talent" --Tom McGuane

"Evening is a supremely sensual, sensitive and dramatic novel...So rich in color and motion, music and atmosphere" --Donna Seaman, Booklist

"I was swept up in it...It moved me and made me cry" --D. T. Max, New York Observer