The Beast in the Nursery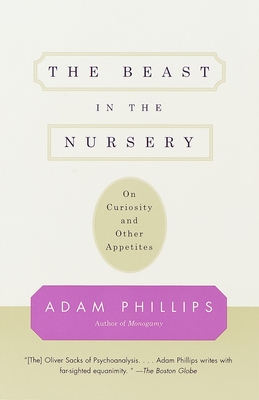 The Beast in the Nursery
On Curiosity and Other Appetites
Vintage, Paperback, 9780375700477, 192pp.
Publication Date: March 30, 1999
* Individual store prices may vary.
Buy Now
or
Shop Local
Enter your zip code below to purchase from an indie close to you.
Description
If you are disturbed by the idea that to grow up is to learn to live with disillusionment, if you are fascinated by the perplexity of child-rearing, or if you fear you were more creative as a child, The Beast in the Nursery offers an illuminating and possibly life-changing experience.
In four interrelated essays, Adam Phillips arrives at startling new insights into issues that preoccupied Freud, showing in the process that far from having lost its relevance, psychoanalysis is still one of our most incisive tools for the exploration of the human psyche and its possibilities.Phillips transforms the genre of the essay into an instrument for intellectual investigation of the most absorbing kind.
About the Author
Adam Phillips has been working in traditional 2D animation for Disney since early 1993, with eight of those years spent in special effects. With all his free time, he writes and animates short stories for his personal website and online gallery, www.biteycastle.com.
Most recently, Adam convinced US band, Ween, to let him animate the video for their single "Transdermal Celebration." All involved were happy with the result, and an optimized QuickTime version of the video can be found on the book's CD.
Adam is quite small, but has big hands.
Praise For The Beast in the Nursery…
The restoration of a vigorous, wide-ranging interest in life is an admirable goal, and Phillips addresses himself to the task with wit, humane intelligence and . . . sensitivity." --The New York Times Book Review

"Elegantly contentious. . . . There is no one writing better than [Phillips] about desire in all of its complexity, with all of its dark secrets and dark possbility, its necessity and compulsion and satiability. The Beast in the Nursery is a difficult, cerebral and beautiful book." --New York Observer

"[Phillips is] a writer with a unique voice, a gadfly permissive to his own curiosity. His stylistic feints startle us into sympathy with the unexpected." --The Washington Post

"[The] Oliver Sacks of Psychoanalysis. . . . Adam Phillips writes with far-sighted equanimity. " --The Boston Globe