Lincoln's Virtues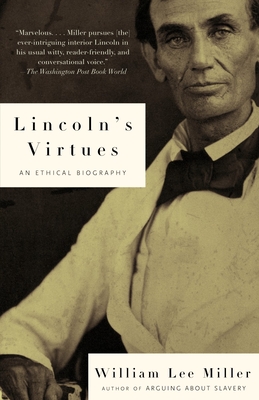 Lincoln's Virtues
An Ethical Biography
Vintage Books USA, Paperback, 9780375701733, 544pp.
Publication Date: February 4, 2003
* Individual store prices may vary.
Buy at Local Store
Enter your zip code below to purchase from an indie close to you.
or
Buy Here
Description
William Lee Miller's ethical biography is a fresh, engaging telling of the story of Lincoln's rise to power. Through careful scrutiny of Lincoln's actions, speeches, and writings, and of accounts from those who knew him, Miller gives us insight into the moral development of a great politician one who made the choice to go into politics, and ultimately realized that vocation's fullest moral possibilities.
As Lincoln's Virtues makes refreshingly clear, Lincoln was not born with his face on Mount Rushmore; he was an actual human being making choices moral choices in a real world. In an account animated by wit and humor, Miller follows this unschooled frontier politician's rise, showing that the higher he went and the greater his power, the worthier his conduct would become. He would become that rare bird, a great man who was also a good man. Uniquely revealing of its subject's heart and mind, it represents a major contribution to our understanding and of Lincoln, and to the perennial American discussion of the relationship between politics and morality.
About the Author
William Lee Miller, Scholar in Ethics and Institutions at the Miller Center of Public Affairs at the University of Virginia, is the author of Lincoln's Virtues: An Ethical Biography.
Praise For Lincoln's Virtues…
"Marvelous . . . Miller pursues [the] ever-intriguing interior Lincoln in his usual witty, reader-friendly, and conversational voice." –The Washington Post Book World

"Compelling and readable." –The Wall Street Journal

"A fascinating account, sensitively written, rich in insight, of the moral self-education of our greatest president." –Arthur Schlesinger, Jr.

"By tracing the development of Lincoln's moral reasoning and his steadfast commitment to doing what he saw as right, Miller refutes convincingly any notion that Lincoln was an accidental politician who stumbled into the presidency."–St. Louis Post-Dispatch

"Outstanding interpretative biography. William Lee Miller explores Lincoln's life and career from a unique perspective and helps us to better understand the man within the context of his times in his thoughtful, stimulating new book."–BookPage

"Is it possible to say something new about Lincoln? The somewhat surprising answer, as William Lee Miller demonstrates in Lincoln's Virtues, is yes." –The New York Times Book Review

"A useful addition to the library of Lincoln books because it tackles a familiar subject from an unusual angle, giving appropriate centrality to Lincoln's moral convictions." –Los Angeles Times Book Review

"Miller offers a distinctly new view of the Great Emancipator." –The Christian Science Monitor

"Lincoln's Virtues is an extraordinary book. . . . Miller proves that a lively presentation, animated by wit and humor, can co-exist with careful scholarship. The result is a new and surprisingly fresh look at the historical Lincoln." –Douglas L. Wilson

"A captivating study . . . of Abe Lincoln's moral development." –Esquire

"The depth of [Miller's] study is obvious. He presents his ideas with a youthful enthusiasm, leavened with . . . wisdom." –Providence Journal

"I have digested this book completely now, and I think it the best book ever on Abraham Lincoln." –Fred J. Martin, Jr., member of the board, Abraham Lincoln Institute.

"A fresh perspective on the man about whom more has been written than any other American." –North & South

"Masterful. . . . Bill Miller exhibits the same cluster of worthy qualities he assigns to his subject -- penetrating insight, wisdom about human nature, tenacious purpose, a wonderful sense of humor, and an eloquent style of expression." –Doris Kearns Goodwin, author of No Ordinary Time: Franklin and Eleanor Roosevelt

"Miller's celebration of Lincoln's evolution as a moral man and a moral politician will persuade, reinforce, and inspire.... Very accessible and thought-provoking." –Arizona Republic

"Lincoln's Virtues is unquestionably the most important study on Lincoln to appear in the last decade." –Steven Rogstad, Review Editor, Lincoln Herald

"One of the most innovative studies of the sixteenth president yet to emerge." –William C. Davis, History Book Club