God's Fool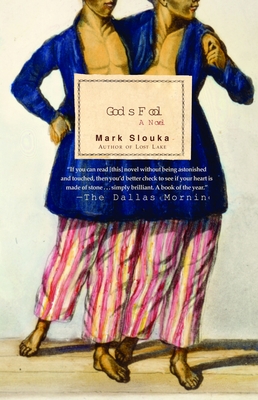 God's Fool
Vintage, Paperback, 9780375702099, 288pp.
Publication Date: July 8, 2003
* Individual store prices may vary.
Shop Local
Enter your zip code below to find indies closest to you.
Description
In God's Fool""Mark Slouka, the acclaimed author of Lost Lake and Other Stories, presents us with an unparalleled novel about Chang and Eng, the original Siamese twins. In a masterstroke of creative storytelling, we experience their lives through Chang's eyes.
Despite the incomparable predicament of their physical condition, Chang is wrapped in ordinary grace and suffering, searching for tranquility as he travels from Siam's marketplace to Parisian salons, to London's underworld and P.T. Barnum's side show, all the while improbably connected to a man who becomes his sworn enemy. In a last attempt at a normal life, Chang and Eng retire from the sideshow and move to the American South where they marry two sisters and Chang finds short-lived peace and redemption in his love for his son Christopher. This peace, however, is overtaken as events in their adopted home country force them into a final terrifying battle with fate.
About the Author
Mark Slouka is the author of Lost Lake, a New York Times Notable Book. He is a contributing editor at Harper's and lives in Brewster, New York.
Praise For God's Fool…
"If you can read [this] novel without being astonished and touched, then you'd better check to see if your heart is made of stone . . . simply brilliant. A book of the year." —The Dallas Morning News

"Slouka writes with the bare-bones ferocity of Jerzy Kosinski and the visual intensity of John Updike." —Boston Herald

"Exceptionally beautiful. . . . [A] story where the power of language and of reflection on the nature of connection is more essential, and compelling, than any retelling of historical events." —The Washington Post Book World