The Bridge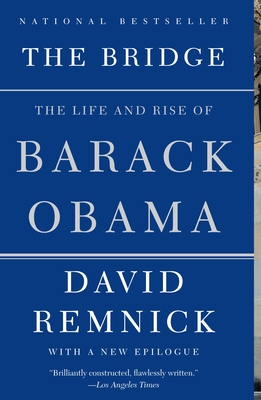 The Bridge
The Life and Rise of Barack Obama
Vintage Books USA, Paperback, 9780375702303, 662pp.
Publication Date: January 11, 2011
* Individual store prices may vary.
Buy at Local Store
Enter your zip code below to purchase from an indie close to you.
or
Buy Here
Description
In this nuanced and complex portrait of Barack Obama, Pulitzer Prize-winner David Remnick offers a thorough, intricate, and riveting account of the unique experiences that shaped our nation's first African American president.
Through extensive on-the-record interviews with friends and teachers, mentors and disparagers, family members and Obama himself, Remnick explores the elite institutions that first exposed Obama to social tensions, and the intellectual currents that contributed to his identity. Using America's racial history as a backdrop for Obama's own story, Remnick further reveals how an initially rootless and confused young man built on the experiences of an earlier generation of black leaders to become one of the central figures of our time.
Masterfully written and eminently readable, "The Bridge" is destined to be a lasting and illuminating work for years to come, by a writer with an unparalleled gift for revealing the historical significance of our present moment.
About the Author
David Remnick is a staff writer at The New Yorker. He won the Pulitzer Prize for Lenin s Tomb, his first book, which was selected by The New York Times Book Review as one of the nine Best Books of the Year. He is the author of two other books, including a collection of essays. He lives in New York.
Praise For The Bridge…
"Brilliantly constructed, flawlessly written….A near-definitive study of Obama." –The Los Angeles Times

"If you care about American politics, you have to read The Bridge." –Salon

"Superb. . . . Remnick is a master blender of history, reporting and narrative." —The Seattle Times

"Insight[ful] and nuance[d]. . . .Writing with emotional precision and a sure knowledge of politics, Mr. Remnick situates Mr. Obama's career firmly within a historical context." –Michiko Kakutani, The New York Times
 
"There are a few people of such skill that envy gives way to admiration, and one is left feeling not hostility but respect. Remnick is one of those exceptional practitioners."–Newsweek
 
"His work will serve as a building block for all future works on Obama. . . .Lovely and assured." –Entertainment Weekly
 
"Engaging. . . .Sparkling." –San Francisco Chronicle
 
"An expansive work. . . .Recounting a pivotal March 2007 speech in Selma, Remnick writes that Obama's words were 'at once personal, tribal, national and universal.' The same can be said of The Bridge." –Time
 
"An insightful, nuanced look at the making of the 44th president, placing his career in the context of history." –The Chicago Tribune
 
"Absorbing and seminal. . . .Remnick is the most gifted and versatile journalist in America. . . .The Bridge is the first truly great biography of the man in all his promise and complexities." –San Antonio Express-News
 
"Remnick deserves credit for telling Obama's story more completely than others, for lending a reporter's zeal to the task, for not ducking the discussion of race and for peeling back several layers of the onion that is Barack Obama." –Gwen Ifill, The Washington Post
 
"What Remnick brings to a complex story are the tools of an exceptional reporter: persistence, curiosity, insight. . . .Rich in reflections and refractions." –Bloomberg.com
 
"Compelling. . . .A living metaphor for an increasingly diverse America. . . .Remnick is one of the finest journalists in America, and has delivered a thorough, well-crafted early entry in what is sure to be a long list of Obama biographies." –St. Petersburg Times
 
"[Remnick] manages to mine this young president's familiar story—the absent Kenyan father, the itinerant and idealistic young white mother, a childhood of wandering from Hawaii to Indonesia and back again—and find new insights." –The Christian Science Monitor
 
"Insightful, [a] valuable book. . . .Remnick places Obama's story squarely in the framework of America's civil rights struggle." –The New Statesman
 
"Masterful, absorbing. . . .A splendid synthesis, an argument for [Remnick's] reporting gifts. . . .For those interested in race as a social construct, The Bridge is essential reading." –The Cleveland Plain Dealer
 
"The book's strengths should appeal to readers of all political stripes: a real depth of reporting and the elegant grace of Remnick's literary style. . . .The reader is left with a nuanced account of our president's self-crafted development." –St. Louis Post-Dispatch
 
"A lively and enjoyable biography that is likely to remain definitive. . . .Remnick should already be planning a sequel." –The Washington Monthly