Slam Dunks and No-Brainers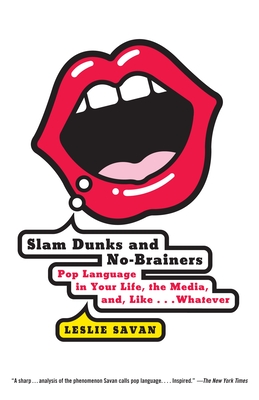 Slam Dunks and No-Brainers
Pop Language in Your Life, the Media, and Like . . . Whatever
Vintage Books USA, Paperback, 9780375702426, 340pp.
Publication Date: October 10, 2006
* Individual store prices may vary.
Not Currently Available for Direct Purchase
or
Shop Local
Enter your zip code below to purchase from an indie close to you.
Description
In this marvelously original book, three-time Pulitzer Prize finalist Leslie Savan offers fascinating insights into why we're all talking the talk—Duh; Bring it on!; Bling; Whatever!—and what this reveals about America today. Savan traces the paths that phrases like these travel from obscure slang to pop stardom, selling everything from cars (ads for VWs, Mitsubishis, and Mercurys all pitch them as "no-brainer"s) to wars (finding WMD in Iraq was to be a "slam dunk"). Real people create these catchy phrases, but once media, politics, and businesses broadcast them, they burst out of our mouths as celebrity words, newly glamorous and powerful. Witty, fun, and full of thought-provoking stories about the origins of popular expressions, Slam Dunks and No-Brainers is for everyone who loves the mysteries of language.
About the Author
Leslie Savan wrote a column about advertising and commercial culture for <i>The Village Voice</i> for thirteen years. She was a finalist for the Pulitzer Prize for criticism in 1991, 1992, and 1997. Her writing has appeared in <i>Time, The New Yorker, The New York Times, </i>and <i>Salon, </i>and she has been a commentator for National Public Radio. Savan is the author of <i>The Sponsored Life: Ads, TV, and American Culture. </i>She lives with her husband and son in New Jersey.
Praise For Slam Dunks and No-Brainers…
"A sharp . . . analysis of the phenomenon Savan calls pop language. . . . Inspired." –The New York Times"Savvy and entertaining. . . . The range of influences on pop talk is astonishing." –The Seattle Times"A super-smart explanation of modern pop vocabulary . . . studded with observational gems and conversational jams." –The Miami Herald"Entertaining. . . . From a crisp etymology of the word cool to an articulate defense of the word like. . . . A highly readable story about rhetoric and American culture." –Time Out New York