The Peter Matthiessen Reader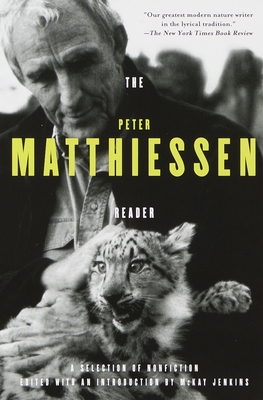 The Peter Matthiessen Reader
Vintage, Paperback, 9780375702723, 400pp.
Publication Date: January 4, 2000
* Individual store prices may vary.
Buy Now
or
Shop Local
Enter your zip code below to purchase from an indie close to you.
Description
"Our greatest modern nature writer in the lyrical tradition." --"The New York Times Book Review"
"Matthiessen is a great travel companion. . . . His knowledge of plants, animals and people is breathtaking." --"The Boston Globe"
Perhaps no writer has better articulated our relationship to the environment than Peter Matthiessen. From Wildlife in America to Men's Lives, his work has captured the wonder of the natural world--and the horrors of resource exploitation, with its violent effects on traditional peoples and the poor.
In The Peter Matthiessen Reader, editor McKay Jenkins presents a single-volume collection of this distinguished author's nonfiction. Here are essays and excerpts that highlight the spiritual, literary, and political daring so crucial to Matthiessen's vision. Matthiessen chronicles his 250-mile trek across the Himalaya to the Tibetan Plateau in a selection from the National Book Award winner The Snow Leopard. Wild peoples, wilderness, and wildlife--common themes throughout Matthiessen's oeuvre--are examined with grace and power in The Tree Where Man Was Born. Here too are excerpts from Indian Country and In the Spirit of Crazy Horse, Matthiessen's stunning expose of the Leonard Peltier case and the ongoing conflict between the U.S. government and the American Indian Movement. Comprehensive and engrossing, The Peter Matthiessen Reader celebrates an American voice unequaled in its commitment to literature's noblest aspiration: to challenge us to perceive our world--as well as ourselves--truthfully and clearly.
About the Author
Winner of the National Book Award and the American Book Award, Peter Matthiessen is the author of over fifteen books of fiction and nonfiction, including "The Snow Leopard " (1978), "At Play in the Fields of the Lord" (1965), "Far Tortuga" (1975), "In the Spirit of Crazy Horse" (1992), and "Bone by Bone" (1999). Ilan Stavans teaches at Amherst College. He is the author of "The Hispanic Condition" (1995), "Art and Anger" (1996), and "The Riddle of Cantinflas" (1998), and editor of "The Oxford Book of Latin American Essays" (1997).




McKay Jenkins holds degrees from Amherst College, Columbia's Graduate School of Journalism, and Princeton. He is the author of The Last Ridge, The White Death, and Bloody Falls of the Coppermine. A professor of English, journalism, and environmental humanities at the University of Delaware, McKay lives in Baltimore.