Holy Clues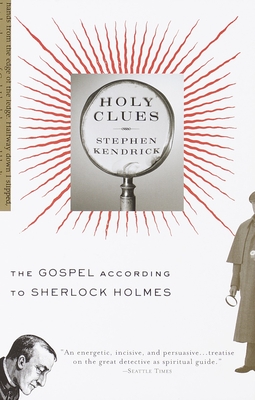 Holy Clues
The Gospel According to Sherlock Holmes
Vintage, Paperback, 9780375703386, 208pp.
Publication Date: July 11, 2000
* Individual store prices may vary.
Buy Now
or
Shop Local
Enter your zip code below to purchase from an indie close to you.
Description
If God is the greatest mystery of them all, then why not, in pursuit of God, consult the greatest detective of them all? In this imaginative and surprisingly profound book, Stephen Kendrick reveals Sherlock Holmes as spiritual guide.

Drawing on the teachings of Christianity, Buddhism, and Judaism--as well as a host of thinkers as varied as Albert Einstein, Gandhi, and Vincent van Gogh--Kendrick explores the stories of Sherlock Holmes and finds remarkably prescient religious insights. He shows us the link between careful observation of clues and the Buddhist concept of "Bare Attention." He illuminates the parallel between the great sleuth's pursuit of justice and God's actions on the scene of the first murder, when Cain slew Abel. And in the detective's open, engaged mind, Kendrick finds a model for uniting the principles of science with a sincere spiritual quest. The result is a book of inspiration for the modern, skeptical searcher--and an entertaining work that sheds new light on the methods of the world's greatest detective.
About the Author
Stephen Kendrick is a speaker, screenwriter, and producer whose film credits include "Flywheel", "Facing the Giants", "Fireproof", and "Courageous". Stephen co-authored the "New York Times" bestsellers "The Love Dare" and "The Resolution for Men". He is an associate pastor of preaching and prayer at Sherwood Church and serves on the board of the Fatherhood CoMission. Stephen and his wife, Jill, have six children.
Praise For Holy Clues…
"An energetic, incisive, and persuasive.. . treatise on the great detective as spiritual guide." --Seattle Times

"Holy Clues makes a convincing case for the proposition that a mystery story is always and inevitably a kind of morality tale." --Jonathan Kirsch, Los Angeles Times

"It has always been my contention that the complete Sherlock Holmes stories form a sort of secular Bible. . . . Beyond being merely clever, Holy Clues is unexpectedly moving and wise." -Nicholas Meyer, author of The Seven-Percent Solution

"Kendrock's lively readings of the Sherlock Holmes stories contain a deep sense of how attentiveness to the details of ordinary life can yield extraordinary insights into the life of the spirit." --Publishers Weekly